May 12, 2019 by Klaus Crow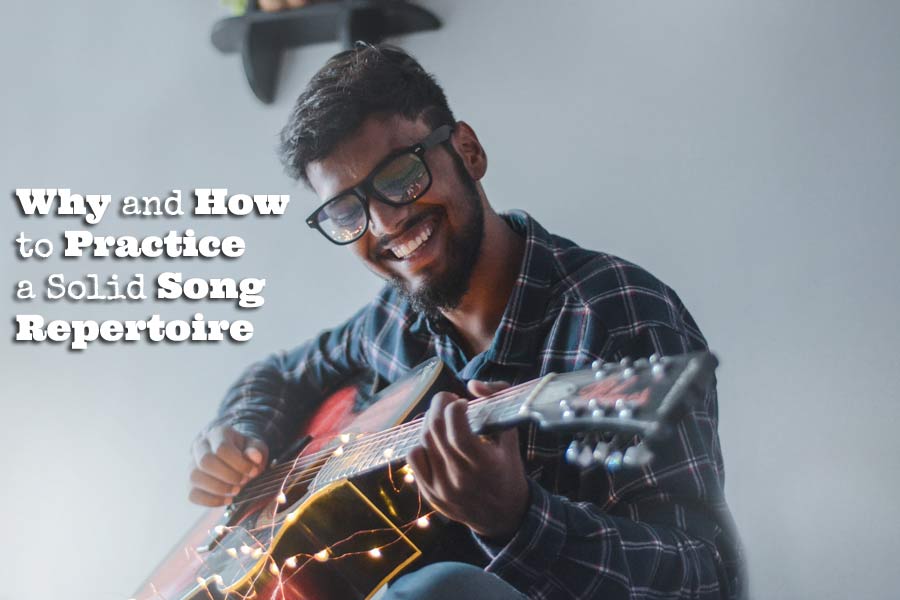 As a student of the guitar you play and practice songs for enjoyment and to improve your skills to become a better guitar player.
After a period of time of regular and serious practice you can probably play a couple of songs. If you're lucky you can play a few songs from the top of your head but with most songs you probably need music sheets, chords or tabs to help you out. And even then you might need to look into some of the parts of the song again to refresh your memory before you can play it from beginning to end.
This is what distinguishes the amateur from the professional. An amateur can play a couple of songs (sort of) and a professional can play a solid repertoire of songs with total conviction.
What you want is to start practicing like a pro. Create the habits of a pro and a repertoire is becoming part of your skill set.
So why do you want to build and play a repertoire of songs?
Having a repertoire is an amazing asset and a profound goal for any guitar player.
Working on a repertoire will build your confidence as a guitar player and a human being.
You will work towards becoming an accomplished guitar player and musician.
You will practice and build skills like a real pro.
You'll be able to play songs instantly from the top of your head, so whenever friends, family or anyone else asks you to play something, you are ready to rock.
You are working towards becoming not just a better guitar player but also a musician and performer.
You will be able to play with other musicians more easily.
You'll be ready to perform with great confidence before any audience anywhere and anytime.
You will face your fears and crush them head on!
Being able to play songs from the top of your head will give a feeling of freedom, flexibility and independence.
Having a repertoire is a great musical accomplishment and continues journey that will set the path for a lot of new discoveries, possibilities and opportunities for you as a musician.
How to practice a song repertoire
Choose 3 to 5 songs to begin with. Don't overwhelm yourself, you can always add songs later.
Choose songs within your skill level, songs that feel comfortable enough and not out of reach.
Learn one song thoroughly before going to the next.
Practice your song(s) on a daily basis.
Set a fixed time to practice every day. Write it down on your calendar.
Make sure practicing and playing these songs becomes not something you MUST do, but something you WANT to do.
Create an environment (I love playing outside in nature), an incentive, a physical en mental state that make you want to play and practice every single day.
Learn to play and perform without sheet paper! You will feel free.
Memorize each song (chords, progressions, fingerstyle arrrangements, solos) until you know them by heart.
Learn to sing. Practice and memorize your song lyrics. Singing adds an extra dimension to your playing and performance.
Practice each song until you get it a 120% right. Know that when you play before an audience you can lose 20 to 50% of your performance abilities, because you'll be (un)consciously distracted, nervous or overexcited. Don't worry, it gets better with every performance.
Pick out the challenges parts of the song where you get stuck and work extra hard on these pieces.
Record yourself and listen back every song carefully. Write down what you need to fix, improve and work on harder.
Make a setlist. If you want play for an hour you need approximately 15 songs.
Practice new songs and keep practicing the songs that are already on your list.
Watch and study on Youtube how your favorite artists perform in low key settings (small clubs, on a radio station, etc).
Record yourself on camera and watch back your performance. Write down what you need to fix, improve and work on harder.
Write down in which order you want to play the songs on your setlist. Practice and play them in that order.
Schedule a mini concert/performance for your friends and/or family.
When the time is ready schedule a performance in a coffee house, a small bar or club.
Maintain your repertoire. Remove songs that don't work for you. Add new songs that get you excited and fit your style and personality.
Practicing, maintaining and improving your repertoire is part of your practice and guitar habits. It's not a one time thing, it's how you become a real musician.
The next (optional) step: Once you feel comfortable, practicing, playing and performing you can add your own song(s) to your repertoire.

Go after it and enjoy the experience of a lifetime!

"An amateur practices until he gets it right; a professional practices until he can't get it wrong" – Barry Green
Feel free to leave a comment below. I appreciate it.
~ Klaus Crow