Last Updated on March 29, 2021 by Klaus Crow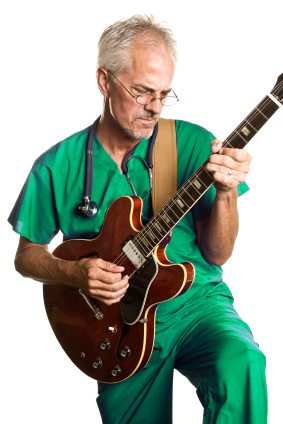 Many years ago I bought a guitar exercise book written by Al Di Meola. The first two things he pointed out in the book was the importance of creating good habits and taking care of your health. I never forgot those two golden rules, although taking care of my health was something I had to learn the hard way. It took me a while to learn the major benefits of living a healthy life.
Body work outs, healthy foods, stress release, finger warm up exercises, taking care of your hearing, stretching, relaxation, etcetera are all part of the journey in becoming and staying a good guitar player. I know we don't always have the time to work out and we all get into a slump once in a while. That's okay. It's part of life and it's good to have a break now and then, but that's no excuse to ignore that little voice in the back of your mind who knows what is best for you when you haven't taken care of yourself the last couple of months or worse. So let's pick it up where you left of. You know you'll be a lot happier once you start working out. We are talking about your health here. It's the most important thing!
Being fit will make you feel good about yourself. It gives you a more overall positive attitude. You will be more motivated to practice and more focused to achieve your musical goals. A good physical condition will also improve your performance on stage and in the studio when you're recording.
So here are some tips to get you in good shape and stay motivated at all times:

Work out
Working out gives you more energy and a clear mindset. Something most of us need every now and then. Whether you experience a writers block, you can't figure out why that solo isn't working or when your practice session leads to nowhere, working out is a great moment to refresh your mind and get new inspiration. So let's start today. Take a run outside, ride your bike, take a walk in the fresh air, do some push ups or stretching exercises. Working out outside is the best way to get you back in the saddle. If possible, run or ride to places where it's quiet, where your mind can blow off some steam. Run to areas in your town where you don't come everyday. It's good for inspiration. Run where nature is. You'll feel reborn.
Eat healthy, drink healthy
We all know why you should eat healthy. At least I hope so. Okay for those who have forgotten…
Healthy food is essential for gaining energy, preventing your body from getting sick and keeping you focused and inspired. Unhealthy food leads to laziness, unhappiness, obesity, etc. So this is a settled matter. We need to be in good shape to stay productive and positive.
As far as healthy drinks goes, drink water not soda. Drinking too much soda leads to blood pressure, concentration problems, anxiousness, sadness, tension, etc. Water on the other hand is essential for transporting the oxygen to your cells, flushing out toxins and protecting your joints ( a lot them in your fingers ) and organs. Like food water also gives you more energy and keeps you really focused.
Warming up exercises
To prevent your arms and hands from injuries you need to go through some warm up exercises before you really start playing. Releasing the tension in your finger muscles will make guitar playing run more smoothly and less stressful. You need a good blood flow and circulation to get your hands warmed up. It also wouldn't be wise to run a few miles without stretching first. The same goes for guitar playing.
Warm up exercises are also great for speed development. So for you race cats out there this is the way to go. If you don't have a lot of time, just take five minutes to go through some exercises. You'll definitely feel the benefits. Check out some really good warmup exercises below. Have fun!
Protect your hearing
Besides your fingers, your ears are the most important tools you need in order to play guitar. Your hearing can go a long way but don't underestimate the vulnerability of your ears. Long exposure to loud music can cause serious damage to your ears. Once you damaged your ears there is no way you can fix it, so don't mess 'm up. Whether you're performing on stage or go to gigs, wear earplugs when you're exposed to loud music. There are all kinds of earplugs that are designed for listening to music. If you perform on a regularly basis consider using an in-ear monitor system. In-ear monitoring is the replacement for traditional monitoring. All professional musicians use In-ear systems nowadays. It's a great way to protect your hearing and having a consistent monitor performance.
Meditation
More and more research is discovering the benefits of meditation. While it's not necessarily a must in becoming a great player, I do really recommend it. If you want to reduce stress, be more focused, motivated, productive and balanced, meditation will get you there. All these things will help you on the way towards your guitar goals. It also fuels inspiration, creativity and gives you a better insight on where you're heading. It's something you really need to experience over a period of time. It will change your life!
Health is not valued till sickness comes.– Dr. Thomas Fuller