Last Updated on April 2, 2021 by Klaus Crow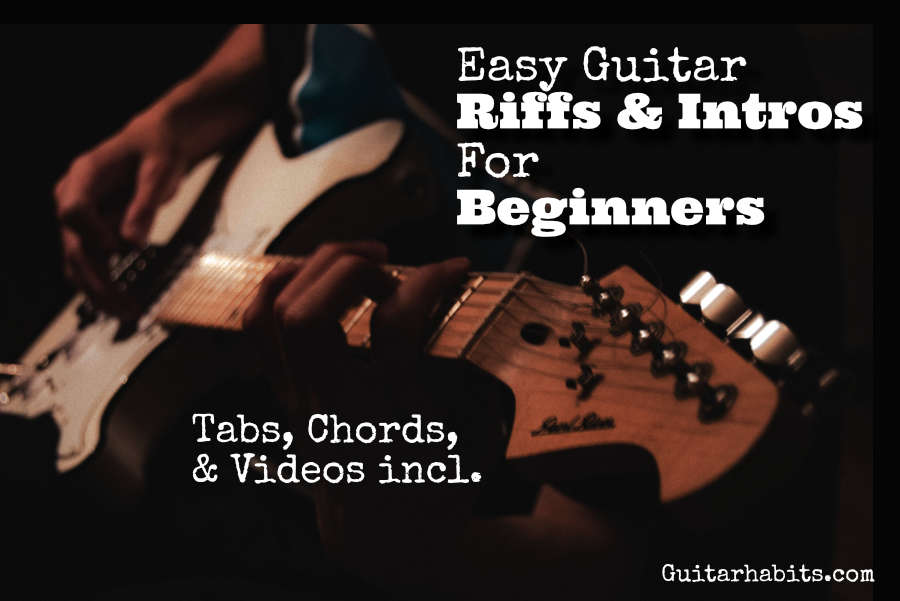 When you're learning to play guitar you need to practice chords, strumming patterns, fingerpicking patterns, songs and scales in order to become an an accomplished guitar player. That stuff can be hard sometimes so it's obvious you also need a break now and then.
Indulging in some easy awesome guitar riffs is good for your spirit. It's motivating and will keep the fun alive while working on your regular practice workout.
It's time to plug into your overdrive and distortion pedals, turn on the amp and just go for it.
Here are some of the most easy and timeless guitar riffs and intros that will make you sound like a badass!
Click on the song title to watch the video. Click on "Tabs" to see the tablature and click "More Tabs" to find more of the original tablature and artist.
Note: As an Amazon Associate I earn from qualifying purchases via amazon links.
Have fun!
1 – Smoke on the Water – Deep purple Tabs – More Tabs on Amazon
2 – Seven nation army – White Stripes Tabs
4 – Satisfaction – Rolling Stones Tabs
5 – Beat it – Michael Jackson Tabs
6 – Come as you are – Nirvana – Tabs
7 – Sunshine of your love – Cream Tabs
8 – Enter sandman – Metallica Tabs
10 – You really got me – The Kinks Tabs
11 – Daytripper – The Beatles Tabs
12 – Zombie – Cranberries Tabs
13 – Breaking the law – Judas Priest Tabs
14 – Redemption song – Bob Marley Tabs
15 – Heart of gold – Neil Young Tabs
16 – Other side – RHCP Tabs
17 – The one I love – REM Tabs
18 – One – Metallica Tabs
19 – Roadhouse blues – The Doors Tabs
20 – Plush – Stone Temple Pilots Tabs
21 – Heartbreaker – Led Zeppelin Tabs
22 – By the way – RHCP Tabs
23 – Chasing cars – Snow Patrol Tabs
24 – Ticket to ride – The Beatles Tabs – More Tabs on Amazon
25 – The man who sold the world – David Bowie / Nirvana Tabs
Do you know some really easy guitar riffs? Please share in the comments.