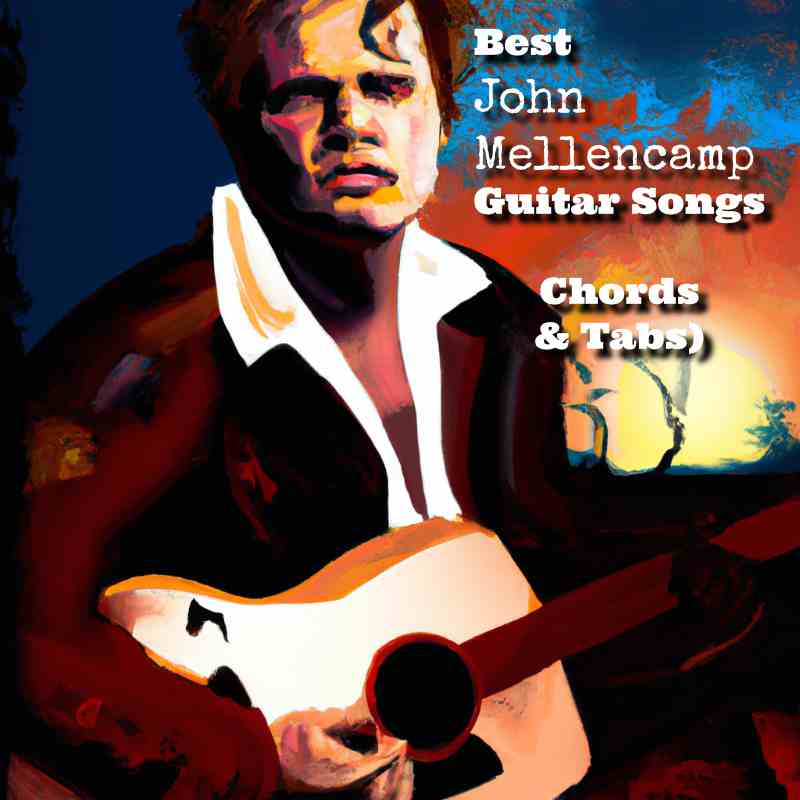 Hi folks, today in this exciting endeavor, you'll find a meticulously curated compilation of the top 20 best John Mellencamp guitar songs, including chords and tabs for each song.
If you are a guitar lover and a fan of classic rock, chances are you are well-acquainted with the indelible talent and revered artistry of John Mellencamp. I'm a huge fan myself. As a young kid my older brother inspired me to listen to all his records. I'm forever grateful.
Mellencamp is one of the most successful and influential American rock singers and songwriters of all time, with a career spanning over four decades and 24 studio albums.
His music is a blend of heartland rock, folk, blues, and country, and reflects his roots in Indiana and his social and political views. He has sold over 40 million albums worldwide, has been nominated for 13 Grammy Awards and is also a member of the Rock and Roll Hall of Fame and the Songwriters Hall of Fame.
In this list you will find songs with different levels of difficulty, from beginner to advanced. Whether you want to learn some easy strumming songs or some beautiful guitar intros, you will find something for you in this list.
To navigate this list, you can use the table of contents below to jump to any song you want. You can also click on the song title to open a new tab with the chords and tabs for that song.
For each song, we have provided some background information, such as the album, release date, lyrics info, and key and included some tips and tricks on how to play the song, such as the strumming pattern, the chord progression, the capo position, and guitar gear.
To practice these songs in the best way on your guitar, I recommend that you follow these steps:
Listen to the original song several times to get familiar with the melody, rhythm, and structure.
Take your time to read the chords and tabs thoroughly.
Start with the easiest songs or the ones you like the most, and work your way up to the harder ones.
Practice slowly and gradually increase your speed until you can play along with the song.
Use a metronome or a backing track to keep your timing consistent and accurate.
Sing along or hum the lyrics if you can to improve your ear and musicality.
Have fun and enjoy playing the songs!
Without further ado, here is our list of the top 20 best John Mellencamp guitar songs (incl. chords and tabs).
Let's rock!
Continue Reading