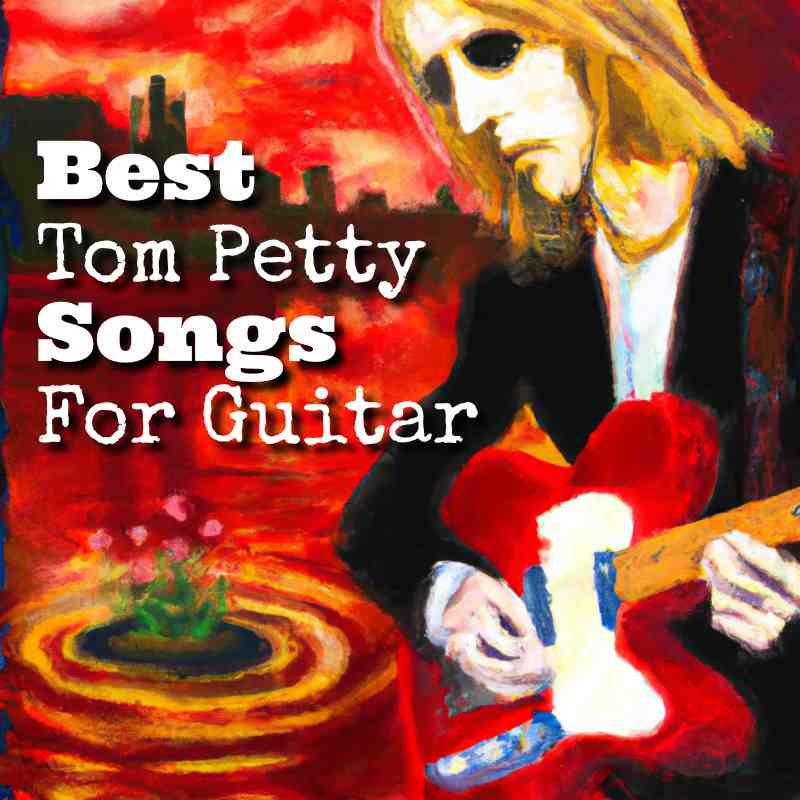 Hi Folks, as a guitar student and musician you need to learn your Tom Petty songs and for a good reason!
Tom was a great American singer-songwriter who left an indelible mark on the world of rock music.
With his distinctive raspy voice and catchy songwriting, he became known for his ability to blend elements of rock, folk, and Americana, creating a unique and timeless sound.
In 1976, he gained widespread recognition with his band, Tom Petty and the Heartbreakers and later as a solo artist creating the iconic album "Full moon fever" produced by Jeff Lynne, and went on to release a string of great albums and hits.
Tragically, Tom passed away on October 2, 2017, leaving behind a profound influence on generations of musicians.
Luckily his songs are left for us to play, to study, to practice and enjoy. Tom Petty's songs are a really good source to develop all the different skills you need as a guitar player from common chords and progressions, embellishments, catchy riffs, licks, and great song writing.
In this carefully curated list, you can find the cream of the crop from Petty's extensive catalog, from the infectious hooks of "Free Fallin'" to the anthemic power of "American girl," each song offers a unique opportunity to dive deep into Petty's signature guitar style.
So grab your favorite six-string, make yourself some good coffee and let's explore the magic of Tom Petty's guitar-driven classics. Each title contains a link to Youtube and a link to the chords / Tabs and lyrics for the song.
Enjoy your practice and have a great one!
Join Guitarhabits for Free and receive Quality Guitar Video Lessons, Content, Tips, Tricks and more.
1 – "Free Fallin'
"Free Fallin' was written by Tom Petty and Jeff Lynne for the album "Full moon fever" and was released in 1989. The song was recorded in just two days and used a multitude of acoustic guitar to create that incredible dreamy sound.
It's a nostalgic song about personal freedom and embracing life's journey. It encourages you to let go and enjoy the ride, capturing the essence of self-discovery and adventure.
The song is in the key of F major and can be played as a beginner-friendly version by playing it with the capo on the 3rd fret following the chords D – G – D – A (sus4) throughout the entire song.
2 – "I Won't Back Down"
This song is an empowering anthem, released in 1989, and embodies resilience and determination. It's a reminder to stay true to yourself and stand strong in the face of adversity.
With basic open chords like Em , D, G and C "I Won't Back Down" is approachable for beginner guitarists. The song follows a verse-chorus structure, making it easy to learn and perform.
3 – "American Girl"
"American Girl" is a classic rock song that captures the spirit of youthful rebellion and American dreams. The songs was released for their self-titled debut album in 1976 and tells the story of a young woman's experiences and embodies the essence of rock 'n' roll energy.
The progression incorporates basic open chords like D, E7, G, and A. The song follows a verse-chorus-bridge-chorus structure, giving you the chance to practice chord progressions and transitions. The melody and rhythm allows for energetic strumming.
Continue Reading