March 28, 2021 by Klaus Crow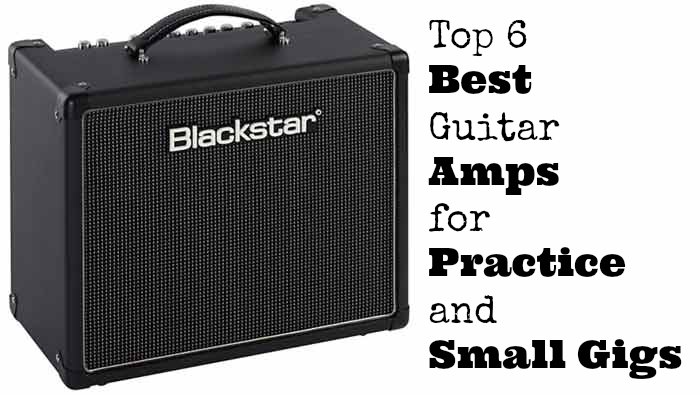 Yes, it all starts with the right guitar. But in case of the electric guitar the amp has a major influence on your overall sound and how much fun you're going to have playing, practicing and gigging. Next to the guitar the amp is going to be your best buddy.
For musicians who mostly play at home and have a small gig once in while, the combo amp is the perfect solution.
Guitar combo amps come in different shapes and sizes. The output power determines how many Watts the amp will deliver, how loud the amp is gonna be and for what purposes you can use the amp. The more Watts and bigger the amp, the higher the price tag. Also the type of amp, speaker type, size, amount of controls, fx and other features have an effect on the price.
There are valve, transistor and modeling amps. Each has it's pros and cons. A lot of musicians prefer valve amps because of it's warmth, wider dynamic range and more musical sounding distortions, but there is also more maintenance to a valve amp. On the other hand modeling amps are also getting better and better each year, often sound surprisingly good and are decent and reliable.
This post will show you the amps that are perfect for practicing at home, rehearsals, gigging in small pubs, performing as a duo or with a band without a loud drummer.
All these amps are beauties in their own way. They all have a unique character and sound that will suit particular styles of playing. Even though all these combos sound great, don't underestimate the guitar you plug into the amp. The sound is determined by the combination of the two components. The third element is based on your personal taste and preferences.
Note: The output (power) of a 5 Watts Valve amp is comparable to a 30/40 Watt solid state modeling amp.
Note: As an Amazon Associate I earn from qualifying purchases.
Enjoy and good luck with your choice!
1 – BLACKSTAR HT-5R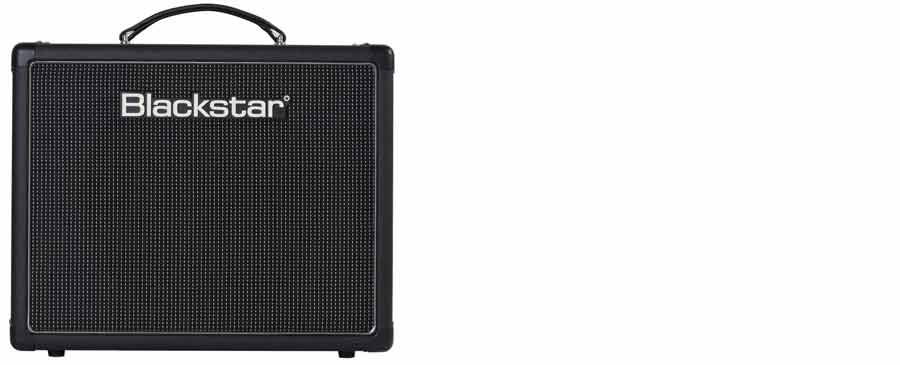 The Blackstar is a really versatile amp. It has two channels: Clean and Overdrive which can be selected by the (included) footswitch. The Tone knob for clean sounds gives you a warm, rich clean tone as well as that bright sparkle. There is warm creamy blues overdrive but you can also crank up to really dirty fat rock / metal sounds.
A very responsive EQ with treble, mid and bass gives you a wide variety of tone colors. Also on the EQ there's an ISF (Infinite Shape Feature) control that takes you from 'Classic British' to 'Modern American' and anywhere in between. Along with a really nice digital stereo reverb makes this a great portable amp for small gigs, rehearsals and practice.

Power: 5 Watts
Channels: Two footswitchable channels
Valves: 1 x ECC83 and 1 x 12BH7
Speaker: 1 x 12″ Blackbird 50 custom designed
Controls:Enhanced tone controls and Patented Infinite Shape Feature (ISF)
Fx: Digital Stereo Reverb
Output: Speaker emulated output with 1×12 or 4×12 voicing
Extra:Effects loop with effects level switch, unique push pull power amp design, footswitch included
More info, Prices and Reviews for the Blackstar HT-5R
2 – H&K TUBEMEISTER 5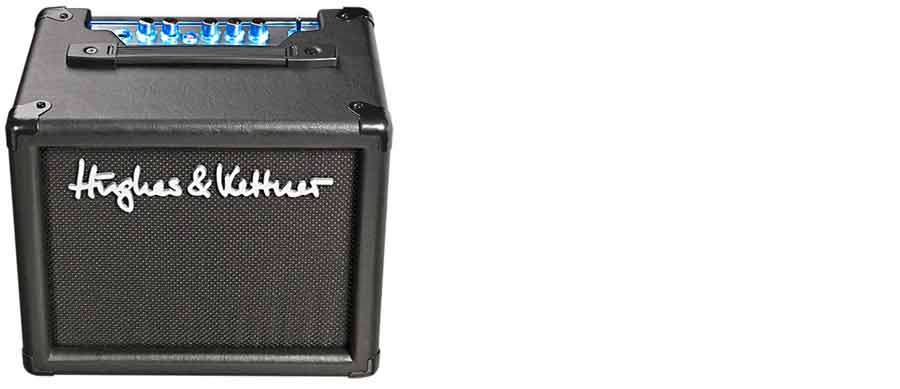 The Tubemeister 5 has simple control setup which includes gain, volume and bass, mid & treble for the EQ. The clean tone has a nice bright sparkle but easily overdrives when you open up the master and gain. There is also a drive switch to turn from clean to overdrive (No footswitch available). The amp has a good solid mid-range.
Don't expect real bottom-end from this amp but adding an extension cabinet can give you a much bigger sound. The overdrive mode has a nice saturated punchy tone and also stands out in the mid range. Further, it has a very responsive EQ which delivers a lot of tonal variety. Great for at home, recording (using the red box out) and small gigs without loud instruments (no drummer or just a snare with brushes).

Power: 5 Watts
Channels: One Channel
Valves: 1x12AX7 and 1 x 12BH7
Speaker: 1 x 8″ Celestion EIGHT 15, 8 Ω
Controls: Three tone-shaping EQ controls
Fx: None
Output: Built-in Red out (DI and speaker emulator) for recording
Output: Speaker output for extension cabinet.
Extra: Power soak switch
Weight 7,4 kg
More info, Prices and Reviews for the H&K Tubemeister 5
3 – VOX AC15


Vox amps is most famous for it's period in the late 50s and 60s. Among the Shadows and the Beatles there were a lot of musicians and bands using Vox amps. Over the years the Vox has become a favorite companion for musicians like Peter Buck (REM), Tom Petty, the Edge (U2) but also Foo Fighters' Dave Grohl doesn't shy away from this classic Vox sound.
The VOX AC15 has a twin channel: Normal and Top Boost. The normal channel has a darker sound. The amp has chimey shimmering clean tones and the overdrive is sweet and rich in harmonic overtones. There's a master volume and tone cut knob to adjust the brightness to your personal taste. Volume and EQ for the top boost channel and a separate volume for the normal channel. The amp is pretty loud for a 15 watt amp so you can play alongside a drummer and bass player if you like. If you're looking for vintage tones or that typical british rock sound, this is it!

Power: 15 Watts RMS into 16 Ohms
Amplifier type: All tube
Channels: Twin channel (Normal and Top Boost)
Inputs: Normal input jack, Top Boost input jack, Footswitch jack
Valves: EL84
Speaker: 1 x 12″" 16 ohm Celestion G12M Greenback (AC15C1)
Controls: Master: Volume and tone cut; Tremelo: depth and speed; Reverb, Top boost: Bass, treble, volume; Normal: volume
Fx: Spring reverb and classic VOX tremolo
Outputs: External loudspeaker jack, Extension loudspeaker jack
Dimensions: 602 x 265 x 456 mm / 23.70 x 10.43 x 17.95 inches
Weight 22 kg / 48.50 lbs.
Options: VFS2A Footswitch
Models:
AC15C1: 15 Watts, Single 12″ Celestion G12M Greenback Speaker
More info, Prices and Reviews for the Vox AC15C1
4 – FENDER MUSTANG II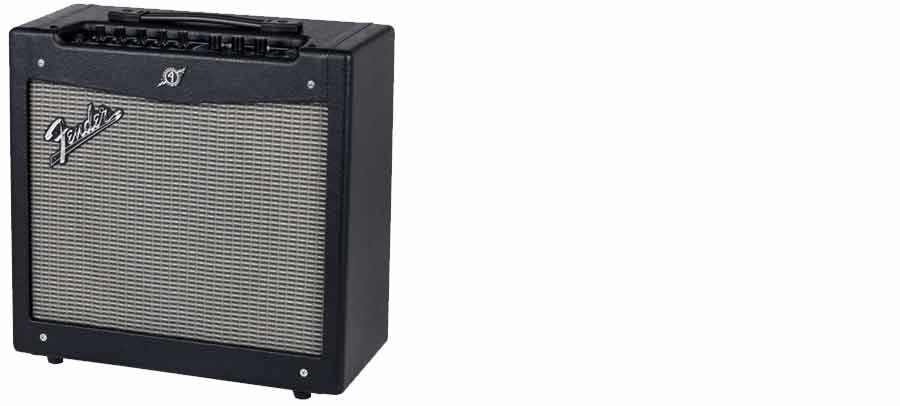 The Fender Mustang II modeling amplifier includes eight amp models with three presets (amber, red and green) for each amplifier type, modulation knob for chorus, flanger, phaser, touch wah, vibration, tremolo and pitch shifter and a delay/reverb knob. The gain, volume, treble and bass can be edit and saved to the red or green presets.
The '57 Deluxe, '59 Bassman and '65 Twin Reverb models sound really good. There's also British 60s, British 90s, American 90s, Super Sonic and Metal 2000 which offers amp models based on Vox, Marshall and high gain amps for heavy metal. The Mustang II features USB connectivity and Fender Fuse software for deep editing and letting your musical creativity run wild. No problem playing along with a drummer, but also an ideal practice amp.

Power: 40 Watts (equals to the power of a 10 watt tube amp)
Amplifier type: Solid state
Channels: One
Inputs: One
Valves: NA
Amp models: 24 presets built from 8 amp models with tones from vintage Fender to Metal
Speaker: 1×12″ Fender® Special Design Speaker, 8 ohms
Controls: Gain, Volume, Treble, Bass, Master; Data Wheel; Soft Keys for Amp Select, Modulation Edit, Utility, Save, Exit, Delay Edit, Reverb Edit and Tap/Tuner
Fx: 24 built-in effects.
Auxiliary Input: 1/8" Stereo Input Jack for iPod or mp3 player
Outputs: Speaker Emulated USB Output; 1/8" Headphone Jack also functions as Speaker Emulated Line Out
Extra: USB for low latency audio output and to engage the Fender® FUSETM software application for PC and Mac Recording and modeling software packages from Ableton® and IK Multimedia® included
Optional: 1-Button Footswitch
More info, Prices and Reviews for the Fender Mustang II
5 – ORANGE CRUSH 35 RT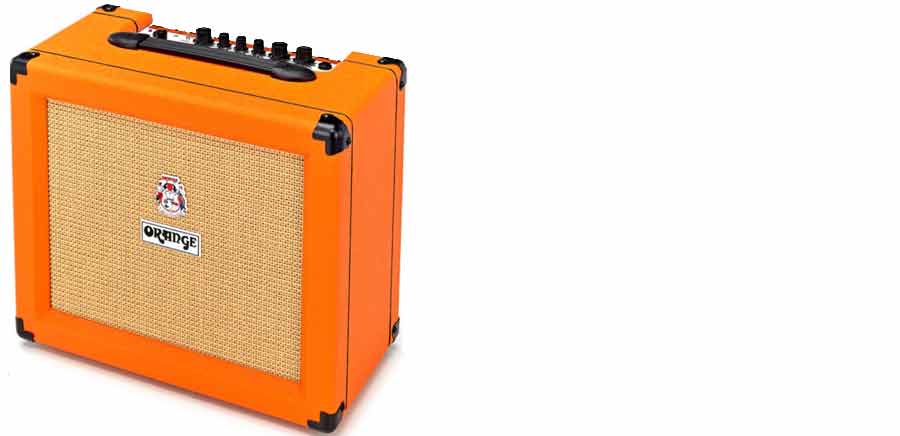 The Crush 35RT is a twin channel amp. The clean channel has it's own volume and the dirty channel has it's own gain and volume. There's treble, middle and bass for the EQ and a digital reverb based on a classic 'spring' type. The amp's got a built-in tuner, an aux input for connecting an MP3 player and a 1/4-inch headphone jack.
The amp delivers blissful cleans, classic bluesy Orange crunch and an ultra high gain metal distortion. Clean and Dirty channels can be switched on the amp's top panel or remotely using the optional footswitch. There's also an effect loop to get all your pedals on board without sacrificing tone. The Crush 35RT will hold up at rehearsals and small gigs, but is also perfect for home use.

Power: 35 WATTS
Amplifier type: Solid state
Channels: Twin channel
Valves: NA
Speaker: 1 x Custom 10″ Voice of the world
Controls: Clean volume, dirty gain, Bass, Middle, Treble, dirty volume, channel volume, channel selector switch, (below) integrated chromatic tuner, reverb
Fx: Reverb
Fx loop: Fully buffered, ultra transparent effects loop to truly get the most from your pedal setup.
Auxiliary Input: 1/8" Stereo Input Jack for iPod or mp3 player
Output: Cabsim-loaded Phones output
Weight: 11KG (25LB)
More info, Prices and Reviews for the Crush 35 RT
6 – MARSHALL DSL5C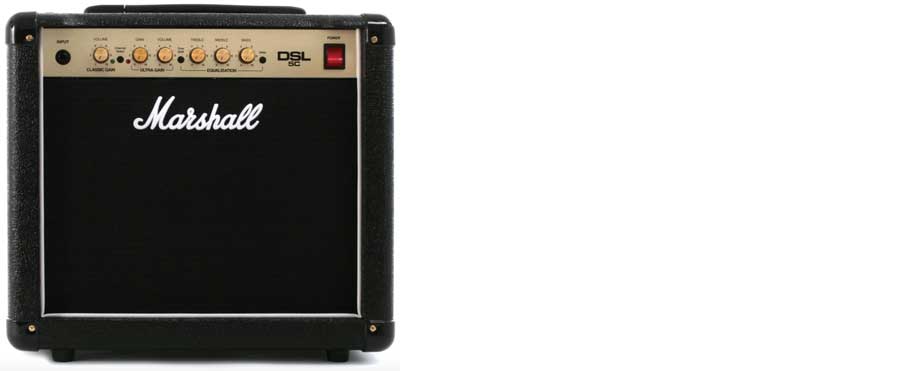 The DSL5C combo is a two channel amp with clean tones on the "Classic gain" channel that will give you sweet crunch and drive when you wind up the volume and typical Marshall saturated distortions on the "Ultra Gain" Channel.
On the front panel there is volume for the clean channel, volume and gain for the ultra gain channel and treble, a channel select button, mid and bass on the EQ, a tone switch button and a "deep" button to give you extra bass-end when practicing at lower volumes. On the rear panel a high/low power switch that drops the amp from 5 Watts to 1 Watt, ideal for home practice. Also on the rear panel are headphone/emulated line Out, audio-in to plug in your mp3 player and an FX Loop. You can use it for small gigs and rehearsals, but it's perfect for home practice.

Power: 5W/1W
Amplifier type: All valve
Channels: Two Channels
Inputs: 1 (+AUDIO)
Valves: Three ECC83 valves and one 12BH7/ECC99
Speaker: 1 x 10″ Celestion® Ten-30 speaker, 16 ohm
Controls: Volume x 2, gain, presence, bass, middle, treble, deep, tone shift, high/low power switching
Footswitch: single button channel footswitch
Fx:None
Output: Emulated line out
Extra: Fx loop
Weight: 12.7
Dimensions: 455 x 430 x 240 mm
More info, Prices and Reviews for the Marshall DSL5C
What is your favorite amp for home use, rehearsals and small gigs? Please share in the comments. I appreciate it.