May 15, 2019 by Klaus Crow
photo from Istockphoto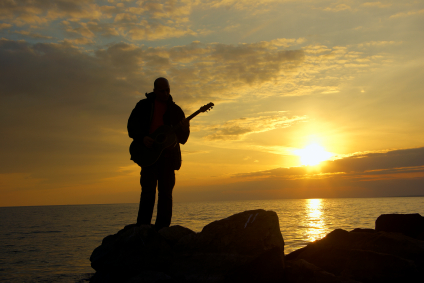 We are all emotional beings. The emotions we feel will either get us motivated or not. I can't always put my finger on it why it's there or why it's not. Often I wake up euphoric and everything just seems so easy (and it's not always because the sun is shining or because I had a good night's rest) and some days I feel tired, lazy and unfocused. (and not because I had too much wine). It's just the way we are and we have to deal with it. So we have to learn how to trigger motivation and inspiration. Ultimately it is up to us to change that emotion, to get back on our feet and start playing and creating beautiful music.
So here are 11 tips to get you motivated and inspired:
1. Experience life. Do things you normally wouldn't do, things that make your heartbeat go faster. Meet new people, go places, challenge yourself, go out with friends, talk to strangers and listen to their stories. Experiences are great for inspiration.

2. Solitude outside. Go somewhere to a quiet place, a beautiful beach and behold the sunrise or sunset. Go to the park and bring your guitar, paper & pen with you. Sit down on a bench and let the words and music come to you.
3. Play with fellow musicians. Their musical skills and creativity can push your boundaries and expand your musical horizon.
4. Go to a concert once in a while. Enjoy and learn how your favorite artists live their music. Observe how they play, sing and perform. This can give you an enormous productivity boost to work on your own music or to work harder on your chops.
5. Listen to new music. Keep exploring new bands and artists for inspiration. I know how attached we are to our oldies, but also give new music a chance. Don't get stuck. Old is great but keep growing. Music is never ending.
6. Play in a band or start your own. This is the best way to learn what music is all about. In a band you'll start listening with different ears. Your playing will benefit from this. This is the real thing!
7. Read about your favorite guitar heros or songwriters. Read guitar magazines or (auto)biographies. Learn how they got to where they are now. What drives them and where do they find their inspiration. How much do they practice? What do they practice? What are their songwriting secrets? How do they record and produce their music? Learn and take it all in.
8. Watch DVD's. There are a lot of great tutorial DVD's. DVD's with lessons from the masters themselves or search for documentaries, concerts, live studio recordings, behind the scenes, etc. Watch them several times. Study the material and put it into practice. Be influenced, be inspired.
9. Take lessons, workshops and master classes. Do whatever you need to expand your horizon. Guitar lessons and workshops are the fastest way to learn which tools you need to become a better musician. Workshops and master classes can give you fresh ideas and other perspectives to take it to another level.
10. Leave it alone. When you are stuck and your guitar playing or writing leads to nowhere let it go. Take a break. Leave the room. Go outside. Put on some music or do one of the things I mentioned earlier. Don't try to force it. If you try to write a song and feel its getting worse with every minute, go back to what you had in the first place. Usually the first thing you came up with is probably the best. Keep that basic idea you began with and leave it alone for a moment. Come back later with a fresh mind. It works!
11. Play guitar. Just sit down and play guitar. Play a song, play a lick and slowly extend the lick. Try to play the notes as beautiful or as bluesy as you can. Create a chord progression. Try something your normally wouldn't do, think outside the box, have fun. Music has rules and logic to make things easier, but once you know the rules they are there to be broken. That's where originality comes in!
Let me give you some good advice young man, you better learn to play guitar – John Mellencamp