Last Updated on May 3, 2021 by Klaus Crow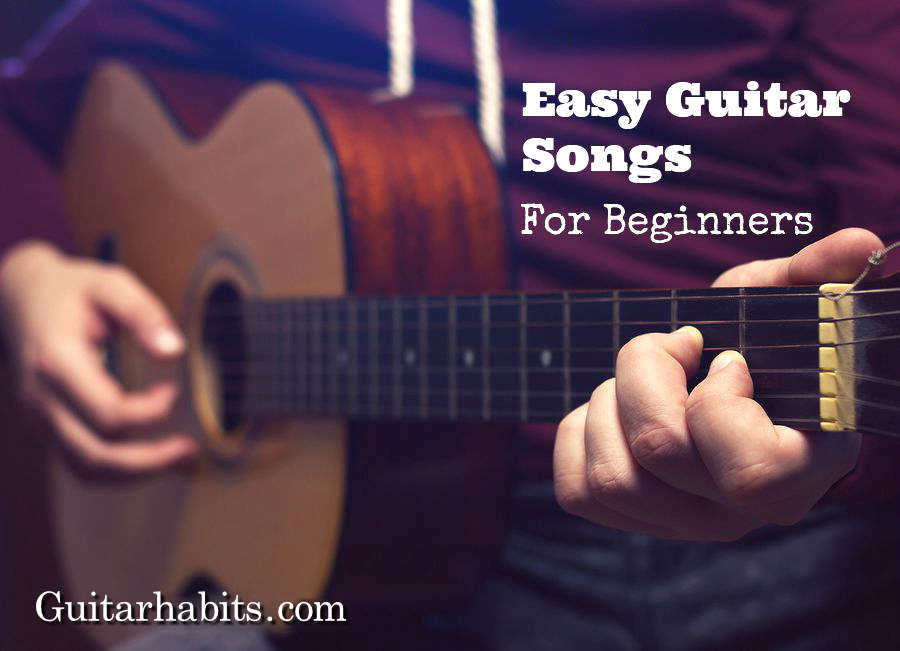 If you are a beginner guitar player and you want to learn some easy guitar songs you've come to the right place.
I've put together a list of simple songs to play on guitar that are great to strum along with and a lot of fun to play.
Make sure you practice the guitar chords and switching between chords for each song thoroughly. It will benefit your playing.
Each song titles contains a YouTube link so you can listen to the song and there's a "Chords" link next to it that will take you to the chords & lyrics of the song.
Some of the songs in the list below are played with a Capo.
The capo is commonly used to raise the pitch and change the key of a song while still using the same open chord fingerings, but a capo makes it also possible to play a different set of chords for a song which makes the song easier to play while still remaining in the original key of the song. This is a common thing in guitar playing and guitar players do it all the time, not just beginners.
Professional singer songwriters use the capo frequently so they can sing in a particular key but still use the beautiful sounds and possibilities of open chord fingerings.
Life is too short not to use a capo.
That being said you still want to improve your guitar playing once you can play these songs because the more you improve, the better it gets! The world of guitar playing is full of infinite discoveries that will make your life more awesome each time you get to the next level.
Enjoy the songs!
Easy Guitar Songs for Beginners
Horse with no name – America – Chords

Stay with me – Sam Smith – Chords

Love me do – The Beatles – Chords

Lazy song – Bruno Mars – Chords

Mull of kintyre – Paul McCartney/Wings – Chords

Easy Guitar Songs of the 60's
Sweet Caroline – Neil Diamond – Chords

Stand by me – Ben E King- Chords

As tears go by – Rolling Stones – Chords

San Francisco – Scott McKenzie – Chords

Brown eyed girl – Van Morrison – Chords



Easy Guitar Songs of the 70's
Knockin' on heavens door – Bob Dylan – Chords

Working Class Hero – John Lennon – Chords

Hotel California – The Eagles – Chords

Have you ever seen the rain – CCR – Chords

Teach your children – CSNY – Chords



Easy Guitar Songs of the 80's
The River – Bruce Springsteen – Chords

Wicked game – Chris Isaak – Chords

Sweet dreams – Eurythmics – Chords

The one I love – REM – Chords

Patience – Guns 'n Roses – Chords



Easy Guitar Songs of the 90's
What's up – For non blondes – Chords

Losing my religion – REM – Chords

Zombie – The Cranberries – Chords

Runaway train – Soul Asylum – Chords

1979 – Smashing Pumpkins – Chords



Easy Guitar Pop Songs of the Last Decade
Perfect – Ed Sheeraan – Chords

Love on the weekend – John Mayer – Chords

Watermelon sugar – Harry Styles – Chords

Memories – Maroon 5 – Chords

I took a pill in ibiza – Mike Posner – Chords



Easy Guitar Fingerpicking Songs
Everybody hurts – REM – Video lesson – Tabs

Ain't no sunshine – Bill Withers – Video lesson – Tabs

Hallelujah – Jeff Buckley / Leonard Cohen – Video lesson

We're going to be friends – White Stripes – Tabs

Are you with me – Eastin Corbin – Tabs



Easy Guitar Rock Songs
Seven Nation Army – White Stripes – Chords

Sunshine of your love – The Cream – Chords

Otherside – RHCP – Chords

Creep – Radiohead – Chords

Black – Pearl Jam – Chords



Easy Blues Guitar Songs
Kindhearted Woman Blues – Robert Johnson – Chords

Alberta – Eric Clapton – Chords – More Tabs

Little Red Rooster – Howlin' Wolf – Tabs

Before you accuse me – Bo Didley – Chords

The thrill is gone – BB King – Tabs