March 9, 2023 by Klaus Crow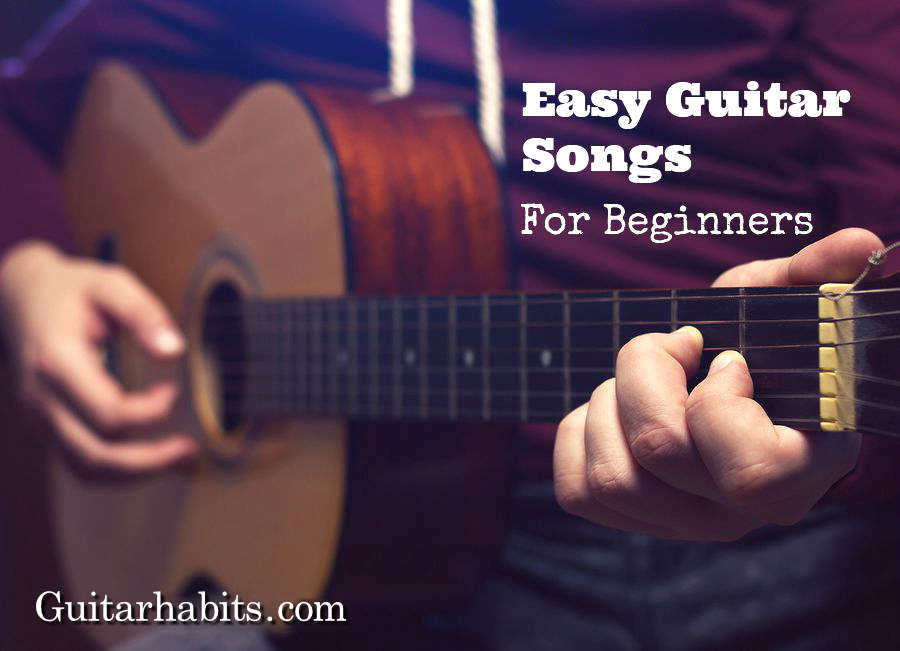 In this lesson we got some easy guitar songs for beginners that will get you started on the right track. I've put together a great list of simple songs to play on guitar that are great to strum and sing along with. We got easy acoustic and electric guitar songs, fingerstyle songs, riffs, and guitar intros for you. It's all here!
How to Play Easy Guitar Songs
What are easy guitar songs for beginners? Easy guitar songs for beginners contain 2, 3 or 4 basic open chords and an easy chord progression like G – C – D. The songs have a simple rhythm and strumming patterns in 4/4, 3/4 or 2/4 time and usually played with a capo to transpose the song to the appropriate key. Finally you need a list of very easy songs play on the guitar like the list below.
Top 10 Easy Guitar Songs For Beginners
Here's the Top 10 Easy Guitar Songs for Beginners. These songs will appear in every Top 10 Beginner Guitar Songs and are perfect to start your guitar journey. When you learn the songs I recommend you follow the order of the list. You can find the video lessons, chords and tabs further down this post.
1. A horse with no name – America
One could argue that "Horse with no name" is the easiest guitar song ever as far as guitar chords concerns with only two chords for the entire song. The chords are Em (022000) and D6-9/F# (2×0200). While the name of the second chord sounds overwhelming, it's actually a really easy chord to play. The song also contains 2 different strumming patterns that are quite simple and straight forward. Strumming pattern #1 = ↓↓↑ (2x) Strumming pattern #2 = ↓↑ (4x)
2. I still haven't found what I'm looking for – U2
We This classic U2 ballad uses only three basic chords C, F and G. "I still haven't found what I'm looking for" is also perfect for beginners due to it's slow tempo.
3. Have you ever seen the rain – CCR
The verses for "Have you ever seen the rain" is a perfect beginner workout with only two chords for the verse C and G and it starts with four measures on C, then two measures on G, two measures on C and repeat. For the chorus they play | F | G | C | Am | (2x) | F | G | C |
4. Sweet Caroline – Neil Diamond
Sweet Caroline is Neil Diamond's most famous song that is really fun to play. It can be simplified without having to compromise too much. The chord progression is as follows: Verse: / A / D / A / E / Prechorus: / A / A6 / E / D / E / Chorus: / E / D / D / E (2) D ↓— The strumming pattern for the song is just simply down-down-up throughout the entire song.
5. Zombie – Cranberries
"Zombie" by the Irish rockband The Cranberries is a great easy rock song to play. It contains four super easy chords: Em – Cmaj7 – G6 – D6-9/F#.
| Em = 022000 | Cmaj7 = x32000 | G6 = 320000 | D6-9/F# = 2×0200 |
While the strumming pattern for the song is a little bit more varying it can be played with simple eight note down strums on each chord | ↓↓↓↓↓↓↓↓ | throughout the song. The chords and the strumming pattern make the song instantly recognizable. Try it and you'll see.
6. Dreams – Fleetwoodmac
The legendary "Dreams" from Fleetwoodmac sang by Stevie Nicks is a beautiful song with only two chords Fmaj7 and Gmaj6 following with a simple chord progression playing one measure for each chord throughout the song: | Fmaj7 = xx3210 | Gmaj6 = 320000 | or play the Gmaj6 by moving the Fmaj7 chord up to the third fret | Gmaj6 = xx5430 | For the strumming pattern can play down-up-down-up-down-up-down-up ↓↑↓↑↓↑↓↑ Practice thoroughly on the chord-changes and you've got a great beginner song.
7. Three little birds – Bob Marley
"Three Little Birds" is a song by Bob Marley and The Wailers. This song is a real classic and contains 3 easy open chords A – D – E. In the chorus only the chords A and D are played and the E major chord is added to the verse. The strumming pattern is a reggae beat that means you play four down strums on the after beat for each measure / bar. Count 1 and play the down strum, count 2 and down strum and so on. 1 ↓ 2 ↓ 3 ↓ 4 ↓
8. Love me do – The Beatles
There is no easy guitar song list complete without a Beatles song. "Love me do" was their official debut single and was released in October 1962. This song can be played with three chords G – C – D and you can add a G7 chord if you want to get fancy. The strumming pattern is a basic 4/4 strumming pattern: down-down-up-up-down-up ↓↓↑↑↓↑.
9. Stand by me – Ben E King
"Stand by me" by me, one of the most famous songs ever covered by many artists from every generation that followed, is always on the top 10 list of easy guitar songs. The chords for the song are G – Em – C – D, also referred to as the I – VI – IV – V chord progression, which is a very common chord structure for many popular 4 chord songs. The strumming pattern for the song is down-slap-down-slap ↓-x-↓-x
10. Knocking on heavens door – Bob Dylan
Bob Dylan's classic "Knocking on heavens door" has become an easy rock song due to the cover version of Guns 'n Roses. The chord progression for the song is | G D | Am | G D | C | and can be simplified by just playing two down strokes on G and D and four down strokes on Am and C.
Check out the Songs List Categories below or scroll right to the Easy Beginner Guitar Songs via the green button:
Easy Guitar Songs List Categories.
Basic Open Guitar Chords
Right from the start you want to learn how to read and how to play the most important basic open guitar chords: C – A – G – E – D – Am – Em – Dm (see video and chord diagrams below).



Once you got those under your fingers you can add the F and Bm chord and some dom7 chords like A7 – E7 – D7 – G7 and C7. You can check them out right here: The Second Most Important Guitar Chords For Beginners Chords are you building blocks to create the harmony for the songs. You don't need to learn all the chords at once, just start with the ones that are in the song you want to learn.
Strumming patterns
Rhythm guitar is all about the strumming and strumming patterns. It defines the groove, the beat and tempo of the song. For easy songs we've got easy strumming patterns that are universal for the most popular songs of all times.
Most songs have a 4/4, 2/4 or 6/8 time signature which can be played in different varieties using simple straightforward strumming patterns.
Playing with a Capo
Some of the songs in this list below are played with a capo. A capo is a small device that you can clamp onto the neck of a guitar and allows you to easily change the key of the guitar. It makes it possible to play the song in the original key but use simple open chords to make the song easier to play.
This is a common thing in guitar playing and guitar players do it all the time, not just beginners. It's also a way to be more creative with your guitar playing. I always say: "Life is too short not to use a capo."
Easy guitar songs of all times
In the song lists we've got links to video guitar lessons and tutorials, song chord sheets with lyrics and easy-to-read guitar tabs to learn the songs even faster. We've got easy songs of all times from the 60's, 70's, 80's, 90's, 2010, 2020 up till now, but also every style of music from easy rock, blues, country to jazz songs.
Finally we added some easy song riffs and intros to spice up your playing. Remember, take small steps, practice daily and diligently, and you'll be playing these songs in no time.

Start with your first easy guitar song or pick a song in the beginner song lists below:
Easy Guitar Songs List Categories
Click on the links to go to your favorite easy guitar songs category:
Easy Guitar Songs for Beginners Chords
A super easy guitar song for beginners is Horse With No Name by America. The song contains only two of the easiest chords and a basic strumming pattern that repeats throughout the entire song. Another fairly easy song to play is I Still Haven't Found What I'm Looking For by U2, which includes three simple major chords (C, F and G) and a very common 4/4 time strumming pattern.
Also "Love me do" by The Beatles, "Lazy Song" by Bruno Mars and "To Love Somebody" by The Bee Gees are great easy beginner guitar songs. Check out the video lessons, chords and tablature below.
Scroll down for easy guitar songs of all times and styles of music ↓
Easy Guitar Songs of the 60's
The 1960s started a new music revolution where many timeless hit songs and simple guitar songs emerged from the ground. Sweet Caroline by Neil Diamond can be played with three major chords: A – D – E using a basic common 4/4 time strumming pattern (pattern #5). Stand By Me – Ben E King is one of the most famous easy guitar songs for beginners, because of it's popular four-chord-song structure.
Other great contenders are As Tears Go By – Rolling Stones, San Fransisco by Scott McKenzie and Brown Eyed Girl by Van Morrison which al contains simple open chords with easy rhythm playing.
Easy Guitar Songs of the 70's
During the 1970s great bands like The Eagles and Crosby, Still, Nash & Young were dominating and influencing the music of that time. Songs like Hotel California and Teach Your Children are great songs to learn as a guitar student. Knocking On Heavens Door, Working Class Hero, and Have You Ever Seen The Rain are also easy popular guitar songs from the 70s you can play with basic beginner chords.
Easy Guitar Songs of the 80's
The music of the 1980s came with a whole generation of new artists and new sounds. Lots of uncomplicated, legendary songs were composed like The River by Bruce Springsteen which uses the chords Em – G – D – C – Am, and Chris Isaak's beautiful song Wicked Game, that came out in the late 80s, only uses a simple straight forward chord progression | Bm | A | E | E | during the whole song.
Another brilliant two-chord song is The One I Love is from the band REM. This song can be played with the chords Em and D. The One I Love by REM is by far one of the most easiest songs to play on guitar.
Easy Guitar Songs of the 90's
The 90's was the era of grunge music but also a lot alternative pop songs were hitting the charts that are perfectly cut out for beginner guitar players. Most of those songs are using only 3 or 4 open chords.
Easy Guitar Pop Songs of the Last Decade
In the last decade with the arrival of new pop artists easy-to-play pop songs are present in great numbers. From Ed Sheeran to Taylor Swift to Maroon 5, they all are fans of the popular easy four-chord-song strategy.
Easy Guitar Fingerstyle Songs
Easy fingerstyle or fingerpicking songs for beginners are usually played in 4/4 or 6/8 time. Two of the easiest fingerstyle songs are "everybody hurts" by REM and "We're going to be friends" by the White Stripes. These songs are great to start out with. From there you can try other songs from the list like the more popular fingerstyle song "Hallelujah".
Hallelujah – Leonard Cohen
Easy Acoustic Guitar Songs
In the list below you can find 5 easy acoustic guitar songs that are timeless classics for anyone who wants to learn to play guitar. "Heart of gold" has a nice recognizable strumming riff and pattern that makes the song fun to play. Also Bob Marley's "Redemption Song" uses easy open chords with a beautiful guitar intro that makes the song stand out. Check out the tutorials, chords and Tabs below.
Easy Electric Guitar Rock Songs
Easy Blues Guitar Songs
Blues and blues song fit like a glove for beginners guitar players because of the simple I – IV – V chord progression. Once you know how to play a 12 bar blues progression of 12 bar blues shuffle you will come a long way playing easy blues songs like the ones below.
Easy Country Guitar Songs
Easy Jazz Guitar Songs
Easy Guitar Riffs and Intros Tabs
I hope you like the songs from the lists and if you want to share your favorite easy guitar songs, have any suggestions for the lists or questions about the songs, please share them in the comments below. I appreciate it.
Keep picking!
~Klaus Crow
📨 Hi there, Join Guitarhabits and receive Free Quality Guitar Video Lessons, Top Content, Tips, Tricks, Resources & (bi)Weekly Guitarhabits' Backpack Email full of good stuff. 🎸🎁
SIGN UP FOR FREE: https://www.guitarhabits.com/sign-up-guitarhabits/
Support my work here: https://www.guitarhabits.com/donate/
---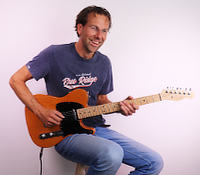 Klaus Crow is a professional guitar teacher running a guitar school based in The Netherlands. He started Guitarhabits in 2009 and is now teaching thousands of guitar students from all over the world becoming better guitar players.