Last Updated on February 18, 2021 by Klaus Crow
Bigstock photo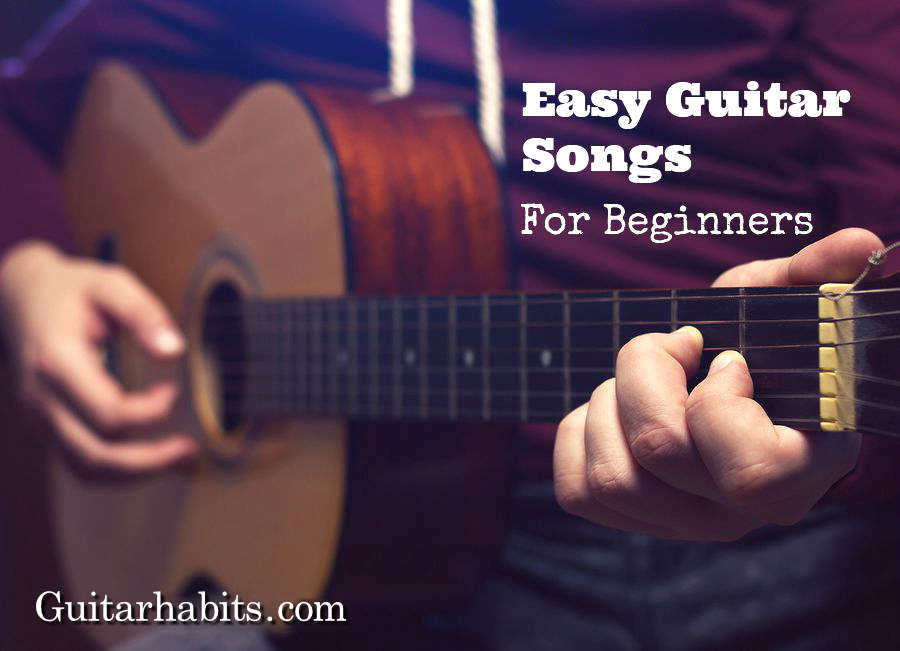 If you are a beginner guitar player or you just need some inspiration for easy guitar songs you've come to the right place.
I've put together a list of 30 easy guitar songs that are great to strum along with and a lot of fun to play.
Make sure you practice the chords and switching between chords for each song thoroughly. It will benefit your playing.
I've put a Youtube link on each song title and two chord links next to it. The "Chords" link will take you to the chords and lyrics for the song and the "More Chords" link will show you the official transcribed chords if you want to learn more songs of the artist concerned.
Some of the songs in the list below are played with a Capo.
The capo is commonly used to raise the pitch and change the key of a song while still using the same open chord fingerings, but a capo makes it also possible to play a different set of chords for a song which makes the song easier to play while still remaining in the original key of the song. This is a common thing in guitar playing and guitar players do it all the time, not just beginners.
Professional singer songwriters use the capo frequently so they can sing in a particular key but still use the beautiful sounds and possibilities of open chord fingerings.
Life is too short not to use a capo.
That being said you still want to improve your guitar playing once you can play these songs because the more you improve, the better it gets! The world of guitar playing is full of infinite discoveries that will make your life more awesome each time you get to the next level.
Note: As an Amazon Associate I earn from qualifying purchases.
Enjoy the songs!
1 – Knockin' on heavens door – Bob Dylan Chords – More Chords
2 – Love me do – The Beatles Chords – More Chords
3 – Horse with no name – America Chords
4 – Proud mary – CCR Chords – More Chords
5 – Sweet Caroline – Neil Diamond Chords – More Chords
6 – Wonderful world – Sam Cook Chords
7 – Stuck in the middle with you – Steelers Wheel Chords
8 – Fire – Bruce Springsteen Chords – More Chords
9 – Hand in my pocket – Alanis Morissette Chords – More Chords
10 – Teach your children – CSNY Chords – More Chords
11 – Runaway train – Soul Asylum Chords – More Chords
12 – Need you now – Lay Antebellum Chords – More Chords
13 – The one I love – REM Chords – More Chords
14 – Wonderful tonight – Eric Clapton Chords – More Chords
15 – Leaving on a jet plane – John Denver Chords – More Chords
16 – Stay with me – Sam Smith Chords
17 – Mull of kintyre – Wings Chords – More Chords
18 – What's up – For non Blondes Chords – More Chords
19 – With or without you – U2 Chords – More Chords
20 – Eleanor Rigby – The Beatles Chords – More Chords
21 – Redemption song – Bob Marley Chords – More Chords
22 – Brown eyed girl – Van Morrison Chords
23 – Have you ever seen the rain – CCR Chords – More Chords
24 – Three little birds – Bob Marley Chords – More Chords
25 – Lazy song – Bruno Mars Chords – More Chords
26 – Zombie – The Cranberries Chords – More Chords
27 – Chasing Cars – Snow Patrol Chords – More Chords
28 – Clocks – Coldplay Chords – More Chords
29 – Good year for the roses – Elvis Costello Chords – More Chords
30 – Otherside – Red hot chilli peppers Chords – More Chords