Last Updated on September 13, 2021 by Klaus Crow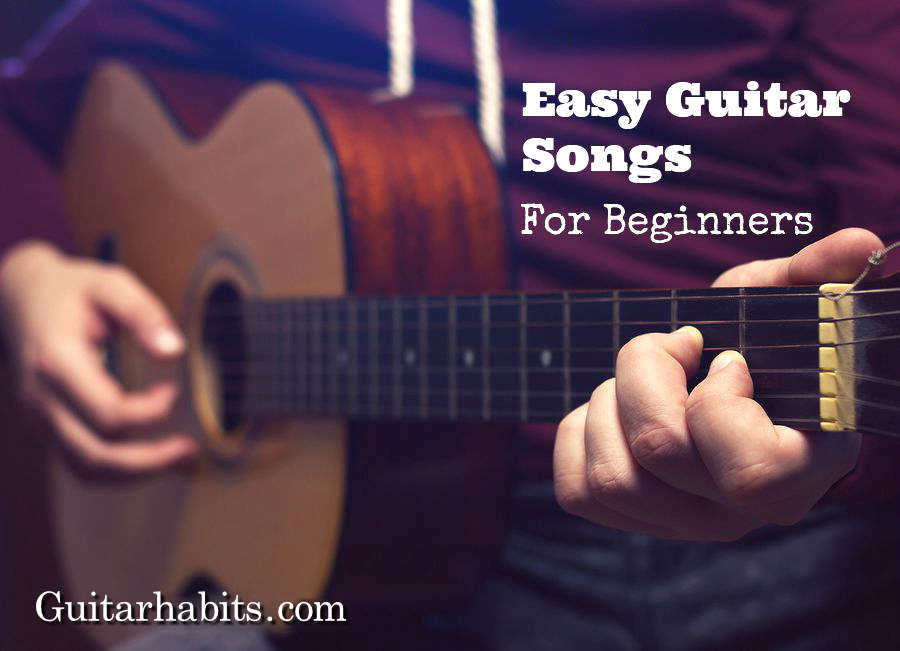 If you are a beginner guitar player and you want to learn some easy guitar songs you've come to the right place. I've put together a beautiful list of simple songs to play on guitar that are great to strum and sing along with. We got easy acoustic and electric guitar songs, fingerstyle songs, riffs, and guitar intros for you. It's all here!
How to Play Easy Guitar Songs
First thing first. When you pick up a guitar you want to make sure you hold your guitar in the right way, have proper posture and good hand positioning so you don't risk any injuries over the short and long term. Don't underestimate this. Now there are a few fundamental keys you need in order to play easy guitar songs: Basic open chords, switching between chords, strumming patterns and playing with a capo. If you work on these core elements you can learn any song you like.
Let's elaborate on those elements real briefly or if you want to head right over to the easy song list check out the Table of Contents.
Basic Open Guitar Chords
Right from the start you want to learn how to read and how to play the most important basic open guitar chords: C – A – G – E – D – Am – Em – Dm (see chord diagrams below).



Once you got those under your fingers you can add the F and Bm chord and some dom7 chords like A7 – E7 – D7 – G7 and C7. You can check them out right here: The Second Most Important Guitar Chords For Beginners Chords are you building blocks to create the harmony for the songs. You don't need to learn all the chords at once, just start with the ones that are in the song you want to learn.
Switching between chords
After you've learned two or three chords you want to practice the switching between chords which is playing a smooth transitions between one chord and the next. This is where it all comes down to. It's the art of playing your chords clean and clear and switch in time to the next chord while strumming your strings.
This might be challenging in the beginning but after some practice you will soon get the hang of it. The faster you learn to grab your chords the easier the chord transition will be. It will really benefit playing these songs.
Strumming patterns
Rhythm guitar is all about the strumming and strumming patterns. It defines the groove, the beat and tempo of the song. For easy songs we've got easy strumming patterns that are universal for many songs and played in the most popular songs of all times.
Most songs have a 4/4 time signature which has a variaty of strumming patterns you can use starting from real easy to more challenging rhythm patterns. Besides 4/4 time songs are also played in 2/4, 3/4 and 6/8 time, but for most popular songs that's about it. Don't worry these are all simple strumming patterns.
Playing with a Capo
Some of the songs in this list below are played with a capo. A capo is a small device that you can clamp onto the neck of a guitar and allows you to easily change the key of the guitar. It makes it possible to play the song in the original key but use simple open chords to make the song easier to play.
This is a common thing in guitar playing and guitar players do it all the time, not just beginners. It's also a way to be more creative with your guitar playing. I always say: "Life is too short not to use a capo."
Easy guitar songs of all times and styles
In the song lists we've got links to video guitar lessons and tutorials, song chord sheets with lyrics and easy-to-read guitar tabs to learn the songs even faster. We've got easy songs of all times from the 60's, 70's, 80's, 90's, 2010, 2020 up till now, but also every style of music from easy rock, blues, country to jazz songs.
Finally we added some easy song riffs and intros to spice up your playing. Remember, take small steps, practice daily and diligently, and you'll be playing these songs in no time.

Let's play guitar!
Table of contents
Click on the links to go to your favorite easy guitar songs category:
Easy Guitar Songs for Beginners
Easy Guitar Video Lesson:
Horse with no Name – America

Scroll down for easy guitar songs of all times and styles of music ↓
Easy Guitar Songs of the 60's
Easy Guitar Songs of the 70's
Easy Guitar Songs of the 80's
Easy Guitar Video Lesson:
The River – Bruce Springsteen
Easy Guitar Songs of the 90's
Easy Guitar Pop Songs of the Last Decade
Easy Guitar Fingerstyle Songs
Easy Guitar Video Lesson:
Hallelujah – Leonard Cohen
Easy Acoustic Guitar Songs
Easy Electric Guitar Rock Songs
Easy Blues Guitar Songs
Easy Guitar Video Lesson:
Sweet Home Chicago – Robert Johnson
Easy Country Guitar Songs
Easy Jazz Guitar Songs
Easy Guitar Riffs and Intros Tabs
I hope you like the songs from the lists and if you want to share your favorite easy guitar songs, have any suggestions for the lists or questions about the songs, please share them in the comments below. I appreciate it.
Keep picking!
~Klaus Crow
~ Don't forget to refresh your strings with the best strings for your guitar! ~