Last Updated on April 24, 2020 by Klaus Crow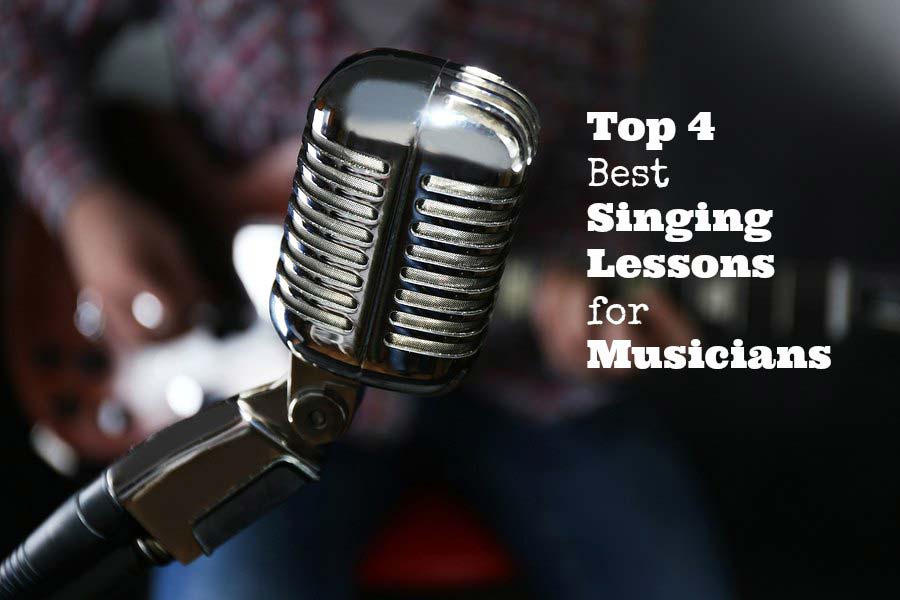 Most musicians love to sing along to the songs they play on their guitar or any other instrument. Some guitar players focus entirely and solely on their instrument and that's perfect, but there's also the breed who loves to sing and play their hearts out. Even if you're not, you definitely want to read on.
Most of us are not naturally born singers, and even if you are, you can always use some help to improve your singing voice and work to become a better singer / guitar player.
A lot of musicians just think they don't have what it takes and they can't do anything about it. They just throw in the towels and accept they aren't really the singer type.
But that's where they are wrong, you can definitely work to become a better singer, a good singer, and some even become great singers. But good is good enough.
How great is it to play your instrument and sing to your songs with confidence. Singing along with your instrument adds an extra dimension to the experience. You now have two instruments (your voice is also an instrument) that complement each other.
Learning to sing also helps you improve your playing, because playing guitar is all about listening and aural skills and that's what you develop with singing lessons.
The most common problems people face are "problems with pitch", "the crack in the voice" when going from chest voice to head voice, "singing higher notes" and "losing the voice" due to using of the voice in the wrong way. Most people also don't know there are simple and easy ways to start improving the voice in a real short amount of time.
So I thought, it would be great to show you the 4 best online singing methods that I think can really help you out.
Of course there are a lot of free vocal lessons on Youtube that you can learn from, but if you want a systematic approach with a step by step plan that will improve and build your voice gradually to a better place then these methods are worth to check out.
Also watch the free singing tips from each of the vocal coaches below. They will already help you a great deal.
Enjoy!
1 – SUPERIOR SINGING METHOD
The Superior Singing Method is one of the most popular online singing courses and has great value for money. The course is great for beginners and intermediate singers, but also provides advanced singing techniques. Founder and vocal coach Aaron Anastasi, located in Hollywood California, will help you develop better vocal control, more accurate pitch, improve your vocal tone, improve vocal power, more precise vocal agility, develop your mix voice and increase your vocal range.
You can also subscribe on the website for free. You'll receive some effective vocal exercises to get your started. The Superior Singing Method comes with a full 60 Day Money Back Guarantee.

2 – SINGING SUCCESS
Brett Manning's complete vocal training program Singing Success walks you through close to 30 hours of step-by-step training, teaching you the exact same exercises, scales, and techniques Brett teaches his students in private lessons. Brett Manning is one of the music industry's most sought after vocal coaches. Brett has had to privilege to work with top recording artists such as: Leona Lewis, Jimmy Gnecco, Taylor Swift and Keith Urban.
Here's a free effective vocal lesson from Brett Manning:

3 – AAPPROACH
Eric Arseneaux is the creator of the AApproach vocal training method. You have seen his clients on X-factor, in lead roles on Broadway and have been signed to major record labels. He delivers two different courses: phase I "Elite Singing Techniques" and phase II "Becoming A Natural Singer".
Check out his Professional Vocal Warm Ups:

4 – SINGORAMA
Vocal coach Melanie Alexander brings you Singorama with the help of vocal training software. Singorama will help you maximize your vocal range, vocal strength and agility, master your pitch and mixed voice, overcome performance anxiety and develop a beautiful tone. A 60 Day Money Back Guarantee is included.
On the website you can also get a free mini singing course.
Here are some tips on how to find your own singing style from Singorama:

Have a great one!
"I'm singing what I want to sing based on the emotion of what that day feels like.
That's what comes out of my mouth and guitar. That impacts people. ~ John Mayer