May 18, 2021 by Klaus Crow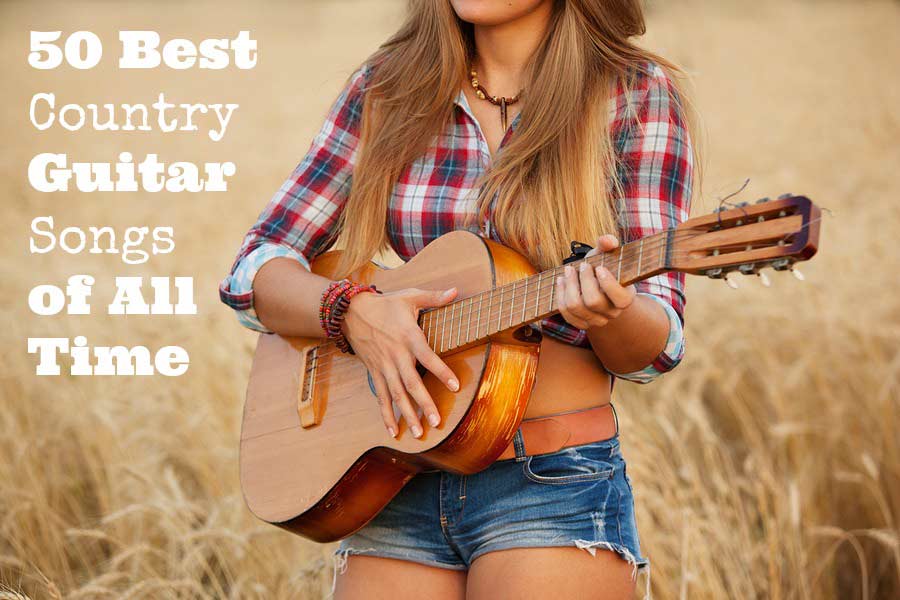 My guitar students can't understand me. Even my wife, who knows me better than anyone else. It's that one day I will turn on my favorite heavy metal records as loud as I can and indulge in these amazing killer riffs, and the next day I will be just playing and singing country music or some of the most easiest guitar songs as if my life depends on it. What can I say? I just love music.
There is so much love and heartache put in every song of every band and artist. If you take the time to really, really listen you can feel and understand it. No matter the style.
Besides that, there is so much to gain for your playing from learning all these different types of music. I can't stress it enough.
So today we're going to dive into 50 of the best country songs of all time. Wow, did I have fun creating this list and listening and playing all these songs. I hope you will too.
As always, note that the list is in no particular order and incomplete. If your favorite artist is not in this list, then it should be :) The list is here to inspire you, to take that guitar out of the stand and play.
Click the song title to listen to the song on Youtube, click the "chords" link to show you the chords of the song, and next to it, more great songs from your favorite country artist or band.
Note: As an Amazon Associate I earn from qualifying purchases.
Please share your favorite country guitar song in the comments. I appreciate it.
Enjoy the list!
1 – I walk the line – Johnny Cash – Chords – More Chords on Amazon
2 – I'm so lonesome I could cry – Hank Williams – Chords
3 – He stopped loving her today – George Jones – Chords
4 – Crazy – Patsy Cline – Chords
5 – Mama tried – Merle Haggard – Chords

6 – Stand by your man – Tammy Wynette – Chords
7 – Your cheating heart – Hank Williams – Chords
8 – The Gambler – Kenny Rogers – Chords
9 – Amarillo by Morning – George Strait – Chords
10 – Friends in low places – Garth Brooks – Chords 
11 – Mama's Don't Let Your Babies Grow Up to Be Cowboys – Waylon Jennings – Chords
12 – Jolene – Dolly Parton – Chords
13 – I've got a tiger by the tail – Buck Owens – Chords
14 – El Paso – Marty Robbins – Chords
15 – For The Good Times – Ray Price – Chords
16 – Coal Miner's Daughter – Loretta Lynn – Chords
17 – He'll Have To Go – Jim Reeves – Chords
18 – Hello Darlin' – Conway Twitty – Chords
19 – The Dance – Garth Brooks – Chords
20 – It Wasn't God Who Made Honky Tonk Angels – Kitty Wells – Chords
21 – Oh, Lonesome Me – Don Gibson – Chords
22 – Rhinestone Cowboy" – Glen Campbell – Chords
23 – Together again – Buck Owens – Chords
24 – Blue moon of Kentucky – Bill Monroe – Chords
25 – Can the circle be unbroken – The Carter family – Chords
26 – Blue eyes crying in the rain – Willie Nelson – Chords
27 – Sixteen Tons – Tennessee Ernie Ford / Merle Travis – Chords
28 – I'm moving on – Hank Snow – Chords
29 – I'm walking the floor over you – Ernest Tubb – Chords
30 – Wichita Lineman – Glen Campbell – Chords
31 – Ring of fire – Johnny Cash – Chords
32 – Always on my mind – Willie Nelson – Chords – More Willie Nelson
33 – Old Dogs, Children, And Watermelon Wine – Tom T Hall – Chords
34 – Mountain music – Alabama – Chords
35 – Behind closed doors – Charlie Rich – Chords
36 – Coat of many colors – Dolly Parton – Chords – More Dolly Parton
37 – That silver haired daddy of mine – Gene Autry – Chords
38 – A satisfied mind – Porter Wagoner – Chords
39 – Mr. Sandman – Chet Atkins – Chords
40 – Guitar man – Jerry Reed – Chords
41 – Sunday Morning' Coming Down – Kris Kristofferson – Chords
42 – Long Black Veil – Lefty Frizzell – Chords
43 –Two more bottles of wine – Emmy Lou Harris – Chords
44 – Oh my sweet carolina – Ryan Adams – Chords
45 – Guitars, Cadillacs – Dwight Yoakam – Chords
46 – No one needs to know – Shania Twain – Chords
47 – Go Rest High On That Mountain" – Vince Gill – Chords
48 – Here in the real world – Alan Jackson – Chords
49 – Brother Jukebox – Mark Chesnut – Chords
50 – Alcohol – Brad Paisley – Chords