Last Updated on September 17, 2022 by Klaus Crow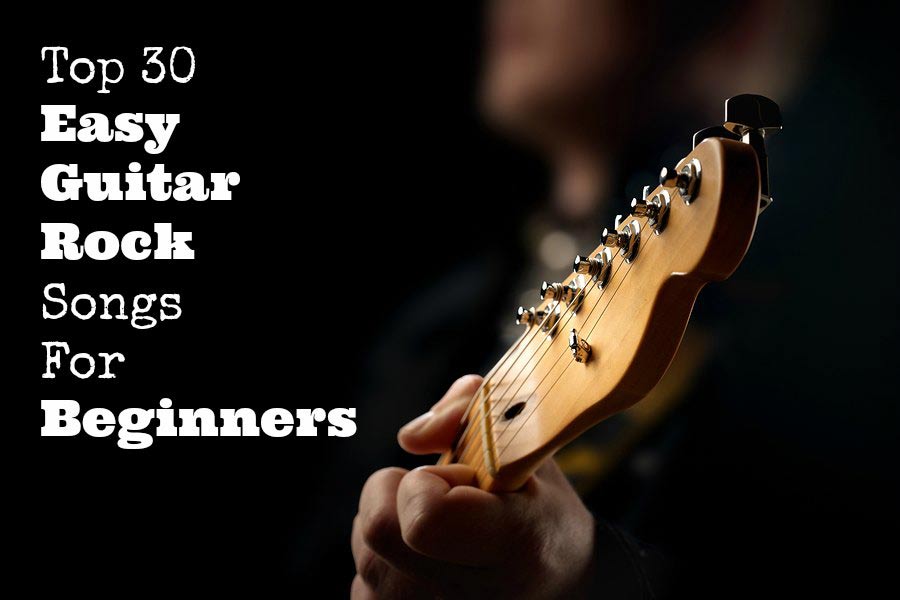 There's nothing like strumming a good rock song. It's that thrill when you play the songs you've always been listening to. You feel it when your fingers are blazin' across the strings through the gain of the amp. Total bliss!
But what songs do you pick when you're in the beginning stage? There are plenty rock songs out there, but most of them are pretty challenging to play to say the least.
To tackle this problem I selected 30 easy rock songs for beginners so you can start practicing. Don't forget to turn the amp up and play that electric guitar loud and dirty.
To be fair, it is recommendable that you own some beginner skills and try out some easy acoustic guitar songs first. You need to know a few basic chords and easy strumming patterns. Having said that, I know you are here for rock 'n roll so some easy guitar riffs might excite you as well. I don't want to overload you with material but I just want you to know it's here if you need it.
Now let's get rocking!
1. Zombie – Cranberries
"Zombie" is a great protest rocksong by the Irish alternative rockband the Cranberries released in the 90's. It's one of the most easiest rock songs you can learn on the guitar made up of 4 super easy chords Em – Cmaj7 – G6 – D6-9/F#.
| Em = 022000 | Cmaj7 = x32000 | G6 = 320000 | D6-9/F# = 2×0200 |
This is a really fun rock song to play and instantly recognizable when you're strumming the chords.
2. Knocking on heavens door – Bob Dylan
"Knocking on heavens door" is one of the most famous classic rock guitar songs on the planet written by singer songwriter Bob Dylan, later covered by rockband Guns 'n Roses which made the song popular all over again. The song consists of the chords of G – D – Am – C.
To make the strumming pattern really basic play two down strums on G and D and four down strums on chords Am and C. The chord progressions to the song is | G ↓↓D↓↓ | Am↓↓↓↓ | G↓↓ D↓↓ | C↓↓↓↓ |
3. Right Through You – Alanis Morissette
Alanis Morissette's "Right Through You" plays a really easy chord progression in the verse. In the video below the gentleman plays two beats on an E chord (022100)and then switches playing two beats to an Eadd4 (002100) by lifting the the second finger. In the chorus the chord progression is E – G – A – E.
4. Sunshine of your love – The Cream
The song "Sunshine of Your Love" by the British rockband The Cream contains an easy rock riff for the verse (see image below). Half way through the verse they play the same riff again only moving down one string starting on the 3rd(G)-string and then finally come back the original riff starting on the 4th(D)-string. The chords for the chorus are A – C and G.

5. Black – Pearl Jam
"Black" by Pearl Jam is an awesome rock ballad from the album "Ten". For the fans of Pearl Jam this is one of their favorites. The song consists of the chords E and A for the verses, C – Em for the prechorus and D – C – Em for the chorus.
6. Wild Thing – The Troggs
Wild Thing" is a song written by American songwriter Chip Taylor. The English rock band The Troggs released the song in 1966 and it became a classic rock song. The chord riffs make the song really stand out and fun to play with only 4 chords in the entire song E – A – D and Gus4. The intro starts right off with a catchy riff A ↓↓ D ↓↓ E ↓↓↓↓ E↓↓. A perfect rock song for beginners.
7. Boulevard of broken dreams – Greenday
With "Boulevard of broken dreams" the band Greenday came back one more time with an evergreen rock song. You can play this song with solely power chords or with open chords either way it sounds great. The chords in the verse are Em – G – D – A and for the chorus C – G – D – Em (3x) ending with C – G – B(7).
8. I love rock 'n roll – Joan Jett
"I love rock 'n roll" is another rock song with an incredible hook fueled by the main guitar riff that makes you instantly recognize the tune. The song contains three chords E – A and B. Check out the "I love rock 'n rol riff" below:

9. Alright now – Free
"All Right Now" is a simple plain rock song by English band Free, but that same simplicity is what makes this song so great. Like many easy rock songs in this list the riffs are dominated by down strumming on two or three chords. The intro and verse for the song A↓ D ↓ A ↓ – D ↓ D ↓ – A ↓. The chorus the chords are A – D – A – G – D – A.
10. Selling the drama – Live
"Selling the drama" by Live kicks off with bending down the note on the second fret A-string and then following up with a G major chord then D – G – D – Em – Bm and C. For the chorus the guitarist keeps strumming on a Dsus2 chord for quite a while and when Ed Kowalczyk starts singing, 'hey hey hey' the chords change to Em and A (4x) with the final chord on Cadd9.
11. Creep – Radiohead
"Creep" is one great rock song! Thom Yorke is starting out with a clean guitar sound strumming the chords G – B – C and Cm (to simplify things we can play G – B7- C – Cm). Then on Cm right on before the chorus he steps on the distortion pedal and blows up the sky riffing away on those same chords. Play this song along with a drum jam track or with a band and you'll feel like a pro. | G = 320003 | B7 = x21202 | C = x32010 | Cm = xx5543 |
12 – Heart shaped box – Nirvana Chords
13 – Cocaine – Eric Clapton / J.J. Cale Chords
14 – Rockin' in the free world – Neil Young Chords
15 – Otherside – RHCP Chords
16 – Seven Nation Army – White Stripes Chords
17 – Lose yourself – Eminem Chords
18 – When I come around – Greenday Chords
19 – Satisfaction – The Rolling Stones Chords –
20 – I will follow – U2 Chords
21 – American girl – Tom Petty Chords
22 – The One I love – REM Chords
23 – Lightning Crashes – Live Chords
24 – Song 2 – Blur Chords
25 – Steady, As She Goes – The Raconteurs Chords
26 – Should I stay or should I go – The Clash Chords
27 – Like a stone – Audioslave Chords
28 – Up around the bend – CCR Chords – More Chords on Amazon
29 – All along the watchtower – Bob Dylan / Jimi Hendrix Chords
30 – Don't let me down – The Beatles Chords
All the songs in this list are fairly easy to play, some songs are simplified to suit the level of the beginner. Simplifying or altering songs is a common thing in learning to play guitar. It gives you the chance to play your favorite songs that would normally be above your skill level.
Even famous guitar players and singer song writers who cover a song from another band or artist often simplify or create their own version of the song. It's rather the rule than the exception. So don't worry a bit.
While you're practicing you might want some help and use one of these tools to listen, study and analyze the song you want to learn. It will help you achieve your goal faster.
Enjoy and keep on rocking!
Feel free to leave a comment. I'd appreciate it.