Last Updated on April 2, 2020 by Klaus Crow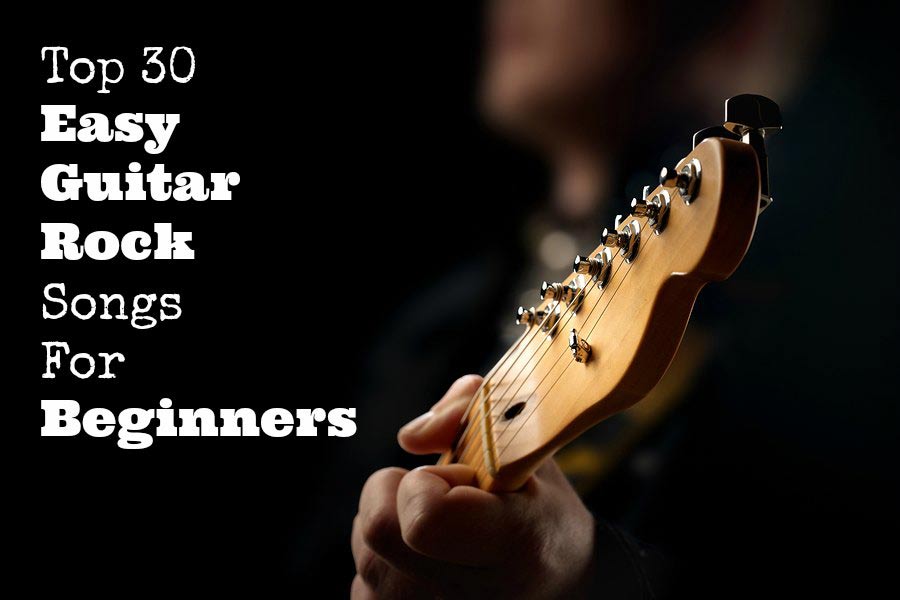 There's nothing like strumming a good rock song. It's that thrill when you play the songs you've always been listening to. You feel it when your fingers are blazin' across the strings through the gain of the amp. Total bliss!
But what songs do you pick when you're in the beginning stage? There are plenty rock songs out there, but most of them are pretty challenging to play to say the least.
To tackle this problem I picked 30 rock songs for you that are quite attainable and will deliver you that divine euphoric rock feeling. Don't forget to turn the amp up and play that electric guitar loud and dirty.
To be fair, it is recommendable that you own some beginner skills. You know a few basic chords, you are familiar with basic strumming patterns and have tried some easy guitar riffs. If that is the case, you are up for the challenge!
All the songs in this list are fairly easy to play, however some parts of the song can be simplified depending on your level of playing. Simplifying or altering songs is a common thing in learning to play guitar. It gives you the chance to play your favorite songs that would normally be above your skill level.
Even famous guitar players and singer song writers who cover a song from another band or artist often simplify or create their own version of the song. It's rather the rule than the exception. So don't worry a bit.
While you're practicing you might want some help and use one of these tools to listen, study and analyze the song you want to learn. It will help you achieve your goal faster.
There's a Youtube link attached to each song title. The "Chords" link will deliver the chords or tabs for the song and "More" will show you more official chords and tablature of the artist if you want to dive in completely.
Note: As an Amazon Associate I earn from qualifying purchases.
Enjoy and keep on rocking!

1 – Selling the drama – Live Chords – More
2 – Knockin' on Heavens door – Bob Dylan / Guns 'n Roses Chords – More
3 – Right through you – Alanis Morissette Chords – More
4 – Satisfaction – The Rolling Stones Chords – More
5 – Sunshine of your love – The Cream Chords – More
6 – Wild thing – The Troggs Chords
7 – Boulevard of broken dreams – Greenday Chords – More
8 – I love rock n roll – Joan Jett Chords
9 – Alright now – Free Chords – More
10 – Zombie – Cranberries Chords
11 – Creep – Radiohead Chords – More
12 – Heart shaped box – Nirvana Chords – More
13 – Cocaine – Eric Clapton / J.J. Cale Chords – More
14 – Rockin' in the free world – Neil Young Chords – More
15 – Otherside – RHCP Chords – More
16 – Seven Nation Army – White Stripes Chords – More
17 – Lose yourself – Eminem Chords
18 – When I come around – Greenday Chords – More
19 – Black – Pearl Jam Chords – More
20 – I will follow – U2 Chords – More
21 – American girl – Tom Petty Chords – More
22 – The One I love – REM Chords – More
23 – Lightning Crashes – Live Chords – More
24 – Song 2 – Blur Chords – More
25 – Steady, As She Goes – The Raconteurs Chords – More
26 – Should I stay or should I go – The Clash Chords – More
27 – Like a stone – Audioslave Chords – More
28 – Up around the bend – Creedence Clearwater Revival Chords – More
29 – All along the watchtower – Bob Dylan / Jimi Hendrix Chords – More