September 1, 2023 by Klaus Crow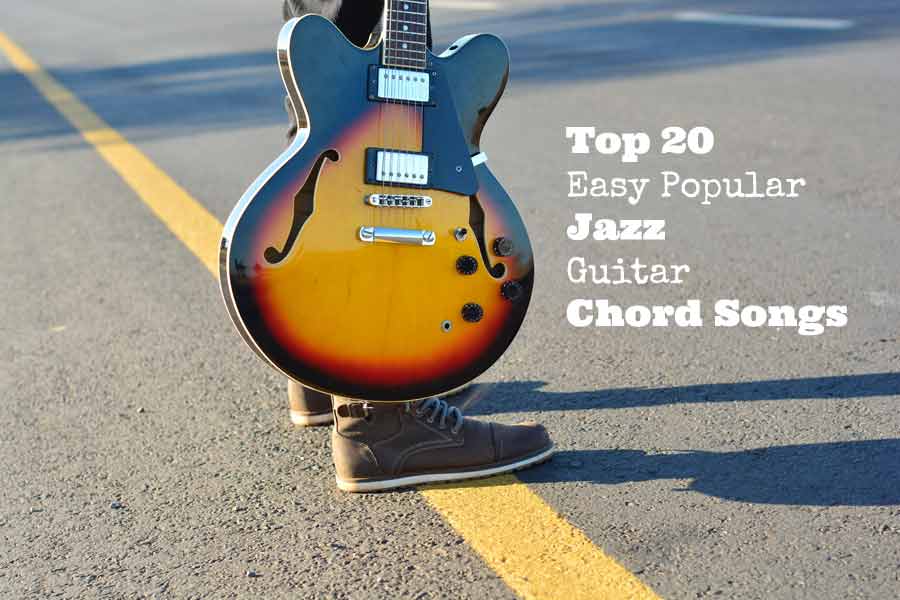 For most guitar players jazz guitar comes on their path through progress somewhere between intermediate and advanced level. Of course there are also guitar players who start out with jazz. It all depends on who your influences are, how badly you want to learn something, your skill level and determination.
Usually you start out learning easy guitar songs, and then you move onto blues, rock or country and when you're ready to be challenged and expand your horizon even more you might want to consider to focus on jazz.
Learning jazz really opens up a whole new world of possibilities and makes guitar playing even more interesting and exciting. Even if you're not into jazz and it's not really your style, learning from jazz will benefit any style of playing.
To begin with jazz it's nice to learn playing some jazz chord songs. Jazz progressions are really fun to play and will broaden your chord vocabulary and musical knowledge.
You can get your hands dirty with this list of popular jazz songs performed by many great jazz players and artists. You can click the song title and start listening to the song. The "Chords" link will give you the basic jazz chords to the song.
Next to the song title I mentioned the artist who performed the song, and not the songwriter. If you're interested in who composed the music you can google "song title" + wiki.
Note: As an Amazon Associate I earn from qualifying purchases.
Pick one song to begin with, listen to the song a couple of times, learn the chords, the progressions, listen to it again, take it easy one step at a time, have patience and practice it daily. Keep it at and you will get it under your belt. You'll be rewarded.
Enjoy!
1 – Autumn leaves – Nat King Cole – Chords – More Chords
2 – All of me – Frank Sinatra – Chords – More Chords
3 – The girl from Ipanema – Sinatra & Antônio Carlos Jobim – Chords – More Chords
4 – Summertime – Billy Holiday – Chords – More Chords
5 – Take the A train – Duke Ellington – Chords

6 – All the things you are – Ella Fitzgerald – Chords – More Chords
7 – There will never be another you – Nat King Cole Chords
8 – I get a kick out of you – Frank Sinatra – Chords – More Chords
9 – Have you met miss Jones – Ella Fitzgerald – Chords – More Chords
10 – Fly me to the moon – Frank Sinatra – Chords – More Chords
11 – Body and soul – Billy Holiday – Chords – More Chords
12 – On Green Dolphin Street – Ella Fitzgerald & Joe Pass – Chords
13 – Georgia on my mind – Dean Martin – Chords – More Chords
14 – Night and day – Frank Sinatra – Chords – More Chords
15 – Sweet Georgia Brown – Louis Armstrong – Chords
16 – They can't take that away from me – Frank Sinatra – Chords – More Chords
17 – Black Coffee – Peggy Lee – Chords
18 – Bye bye Blackbird – Dean Martin – Chords – More Chords
19 – Satin dol – Ella Fitzgerald – Chords – More Chords
20 – Stella by starlight – Ella Fitzgerald Chords – More Chords