July 30, 2021 by Klaus Crow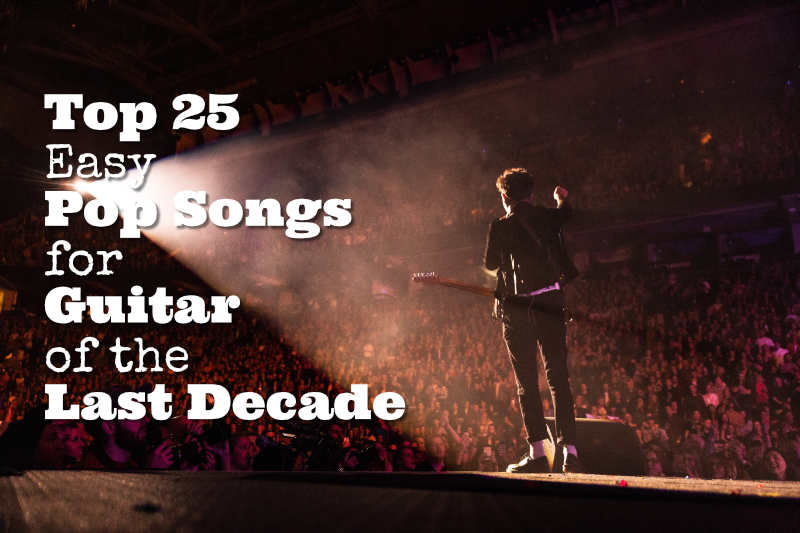 Today we have a list with 25 easy to play pop songs of the last decade for guitar. These songs are a good match for both beginner and intermediate guitar players. Learn the chords and the chord progressions and you'll be playing these songs in no time.
Most songs in this list have at most four or less open beginner chords. You can play a basic strumming pattern to go along with it.
I've put a guitar video tutorial on each song title, the "Chords" link will take you to the chords & lyrics of the song and the "Tabs" will show you how to play the melodies like intro's, guitar riffs and solo parts.
Guitar Songs from 2010 to 2021
It's a challenge to keep up with new songs all the time because it's constantly changing and adding up, so I decided to pick guitar pop songs that stood the test of time over the last decade and that are fun to play on the guitar.

If you prefer some "all time" songs check out Easy Guitar Songs for Beginners. Now it's time for the pop singer / songwriters and artists from 2010 to 2021, from Ed Sheeran and John Mayer to Taylor Swift and Billy Eilish. It's all here.

Pick a song you like, practice the chords, the changes between chords and the strumming. Practice the song in chunks (intro, verse, chorus, bridge), take it one step at a time, then practice the song as a whole, slowly and at ease, practice regularly and enjoy the process!

Have great fun!
~ Don't forget to refresh your strings with the best strings for your guitar! ~
---