March 26, 2022 by Klaus Crow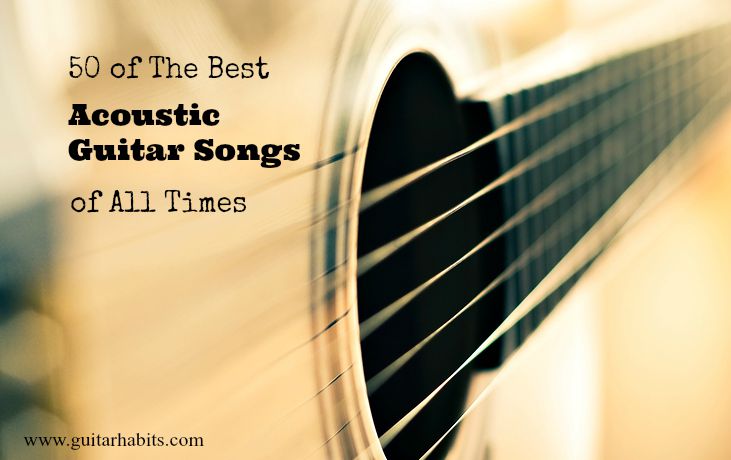 There's this one thing I find so great about the guitar. I love the fact that you can choose to be in two complete different worlds.
One moment you plug in your electric guitar and make it rock, scream and tear up the place. The other time you indulge yourself in beautiful acoustic guitar songs and get swept away by good melody and harmony. It's the best of both worlds. Obviously today were gonna look at some of the best songs of all time on acoustic.
Best Acoustic Guitar Songs of all time
Time and time again you will see these songs appear in the billboards and Top 50 of all time because these tunes have earned their stripes as best acoustic guitar songs ever.
I've picked the songs that are timeless, ideally suited for the steel string western guitar and favorite of many guitar players and musicians ranging from The Eagles to Foo Fighters and from Springsteen to John Mayer.
The accomplished guitar player knows how to play the songs on this list as they are part of the evergreen acoustic guitar songs classics. This is perfect study material for the beginner and intermediate guitar student.
How to approach and practice the songs
As with all lists on this blog the songs are here to give you inspiration. The lists are in no particular order and incomplete. And it doesn't matter, what matters is that you grab your guitar out of the stand and start learning these great guitar songs.
Maybe you'll find a song or artist you haven't heard before and be pleasantly surprised or you stumble upon a song you haven't heard in a while and it makes you feel good again. I suggest you pick a few songs and study them thoroughly using the chord and tab sheets provided or watch a video lesson if you need some extra help.
You can also check out the easier guitar classics if you're just starting out. If you practiced them well enough and feel comfortable to play them to your friends and family you can add them to your repertoire to expand your guitar song vocabulary. Let's make some progress.
Acoustic Guitar Video Lesson:
Wonderwall – Oasis
Acoustic Guitar Video Lesson:
Redemption song – Bob Marley
Acoustic Guitar Video Lesson:
Yellow – Coldplay
~ Don't forget to refresh your strings with the best strings for your guitar! ~
---
What's your favorite acoustic guitar song of all time?
Please share in the comments. I appreciate it.