Last Updated on: by Klaus Crow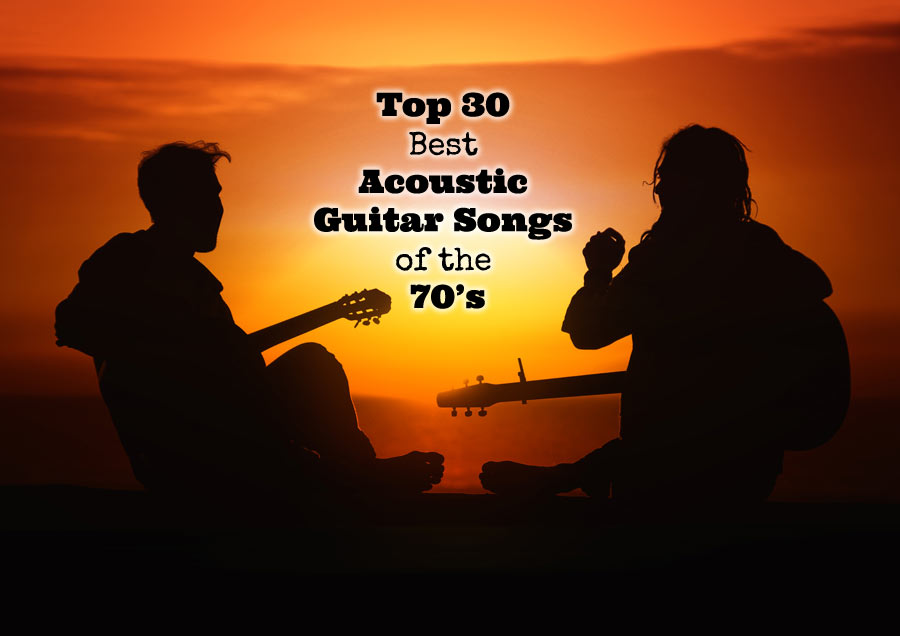 The seventies was a time when the acoustic guitar was really shining in popular music. Although electric guitar music really made its way into the charts, there was still more than enough room for acoustic songs by great artists.
Today we've got a list of 30 great acoustic 70s songs. Always note that these lists are in no particular order and they're obviously incomplete. I create these lists to inspire, explore and motivate.
My personal favorites from this list are "Working class hero" by John Lennon, "Fire and rain" by James Taylor and "Needle and the damage done" by Neil Young. I'd love to know your personal favorite and if you have a suggestion for a great 70's acoustic guitar song that is not on this list please share it in the comments.
If you're more into 60's music check out Top 20 Best Acoustic Guitar Songs of the 60's
Each song title contains a YouTube link to the original song. The "Chords" link will take you to the chords and the "Official Chords/TAB" link will show the official transcriptions.
Note: I want you to know I earn a small commission if you make a purchase through an amazon link to support the Guitarhabits website.
Listen, Play and Enjoy!
1 Knockin' on heavens door – Bob Dylan (1973) – Chords – Official Chords/TAB
2 Heart of gold – Neil Young (1972) – Chords – Official Chords/TAB
3 The Boxer – Simon and Garfunkel (1970) – Chords – Official Chords/TAB
4 Working Class Hero – John Lennon (1970) – Chords – Official Chords/TAB
5 Hotel California – The Eagles (1977) – Chords – Official Chords/TAB
6 My sweet lord – George Harrison (1970) – Chords – Official Chords/TAB
7 Father and son – Cat Stevens (1970) – Chords – Official Chords/TAB
8 American Pie – DonMcclean (1971) – Chords – Official Chords/TAB
9 Landslide – Fleetwoodmac (1975) – Chords – Official Chords/TAB
10 Wild horses – The Rolling Stones (1971) – Chords – Official Chords/TAB

11 Wish you were here – Pink Floyd (1975) – Chords – Official chords/TAB
12 Have you ever seen the rain – CCR (1970) – Chords – Official Chords/TAB
13 Old man – Neil Young (1972) – Chords – Official Chords/TAB
14 Angie – Rolling Stones (1973) – Chords – Official Chords/TAB
15 Fire and rain – James Taylor (1970) – Chords – Official Chords/TAB
16 Me and Bobby McGee – Janis Joplin – Chords – Official Chords/TAB
17 Teach your children – CSNY (1970) – Chords – Official Chords/TAB
18 Stairway to heaven – Led Zeppelin (1971) – Chords – Official Chords/TAB
19 Big yellow taxi – Joni Mitchell (1970) – Chords – Official Chords/TAB
20 Ain't no sunshine – Bill Withers (1971) – Chords – Official Chords/TAB
21 Needle and the damage done – Neil Young (1972) – Chords – Official Chords/TAB
22 Take it easy – The Eagles (1972) – Chords – Official Chords/TAB
23 Lola – The Kinks (1970) – Chords – Official Chords/TAB
24 Take me home country road – John Denver (1971) – Chords – Official Chords/TAB
25 Dust in the wind – Kansas (1977) – Chords – Official Chords/TAB
26 Horse with no name – America (1971) – Chords – Official Chords/TAB
27 Wild world – Cat Stevens (1970) – Chords – Official Chords/TAB
28 Me and Julio – Paul Simon (1972) – Chords – Official Chords/TAB
29 At seventeen – Janis Ian (1975) – Chords – Official Chords/TAB
30 Give a little bit – Supertramp (1977) – Chords – Official Chords/TAB