September 1, 2023 by Klaus Crow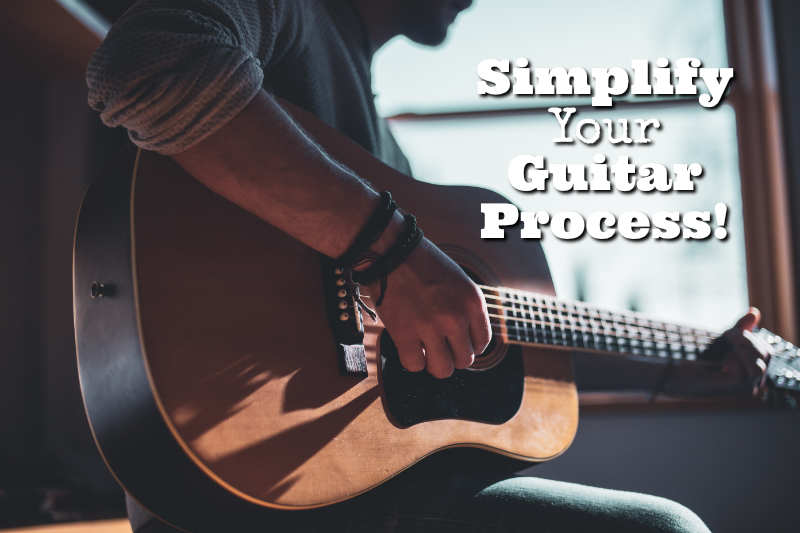 Sometimes the hardest part of practicing is starting. It's the "thought" of having to practice that gets in the way, not practicing itself. Feelings of resistance arise and you trying to justify the art of not practicing translates in words like "I am too busy", "I am too tired", or "it's too late" or "it's too much now" and the list goes on and on.
We say there are more important things that have to be done before we can play guitar, but isn't that always the case. There is always something more important, something more urgent, but in reality it's nothing more than an excuse of the mind. There is time, if you want it.
EASY TIME TO PRACTICE
If you really think about it, there is 5 minutes of time to steal in every corner of the day, and 5 minutes of practice add up over time. There are 5 minutes before breakfast, 5 minutes during lunch or 5 minutes after dinner. 5 minutes before you go to school or just 5 minutes after you come back home from work.
You can also cut out the trivial stuff in your life and practice instead. What about 5 minutes less Netflix and 5 minutes less checking your email, Whatsapp or Instagram. You could wake up 5 minutes earlier or shorten the time you need to get the important things done.
You can surely find 5 minutes if you really care about playing guitar. Even if you have only 5 minutes a day, those 5 minutes add up over a week, over a month and over 6 months, especially if you practice with a goal and focus on the task at hand.
The only thing you have to do is stop allowing the thought that gets in the way of picking up your guitar right now. Just grab your guitar and practice.
So now we got that out of the way it's important to make that practice process as simple and easy as possible, so you won't have to think about that either.
SHEET OR FILE
All you need is one practice sheet or one file on your phone that is ridiculously fast accessible. This sheet or file includes one simple song or one simple exercise that you want to practice, no complicated stuff that you have to sort out or dive deep into. We need to make things happen now. The complicated stuff comes later. First thing is to get the barrier out of the way, the barrier of starting. Just plug in and play.
MEMORIZE
To make things even more easier for the practice sessions ahead, you want to memorize what you practice. Memorize the chords, the scale, the pattern, the exercise, the chord progression, 2 bars of a song or 2 bars of a solo. Just a tiny fraction of anything is good enough.
JAM / BACKING AND PLAY ALONG TRACKS
Jam / Backing and Play along tracks are gold! Get them in order and ready to go! Create a jam track list on Spotify (name it "Jams" or "Jam Tracks") to improvise and solo over. Also create a song play along list on Spotify (name it "Play alongs" or "Play along Tracks") with your favorite songs that you want to play along with. Playing along songs is a really good practice.
I also use the amazing slow downer which is available for iPhone and Android. You can import songs from Spotify or Apple Music or mp3s directly from your phone into the app and slow down, speed up the song without changing the pitch. You can create a loop to practice a specific part of the song. It's a great practice tool.
Now when your coffee break arrives or any other moment of breathing space you only have to take a tiny small step to make the magic happen. You grab your guitar and phone (which of course are always within reach), put on your Jam / Play along track and you start playing, if only for a few minutes. How long doesn't matter, you don't even have to think about it, you just play for the fun of it!
As I just mentioned, it's important that your guitar is always within reach. Make sure your guitar is in eyesight and place it there where you spend most of your creative / leisure time. You know the saying "Out of sight, out of mind". The opposite is also true, "In sight, in mind".
If you have multiple guitars don't put them all in one room, but have some of them in other rooms and make sure they draw your attention. Don't leave them behind a chair or a curtain. Make the guitar inviting and the small steps you prepared will take care of the rest. It's play time!
SMALL INCREMENTAL STEPS
Another thing you can do is print a chord sheet and learn one or two new chords from that sheet (no more). The next day you practice and memorize those two chords again and add 2 new chords (no more, just stick to it). Those one or two chords a day add up big time.
Keep practicing and memorizing those chords and gradually integrate them into the songs you play. Easy and incremental steps.
You can do the same thing with licks, scales and exercises. Keep it as plain and simple as possible, but be consistent and you will be rewarded.
Do the steps now.
Do you have some tips for simplifying your guitar process? Please share them in the comments below. I really appreciate it. Thanks ~ Klaus Crow