May 14, 2019 by Klaus Crow
Bigstock photo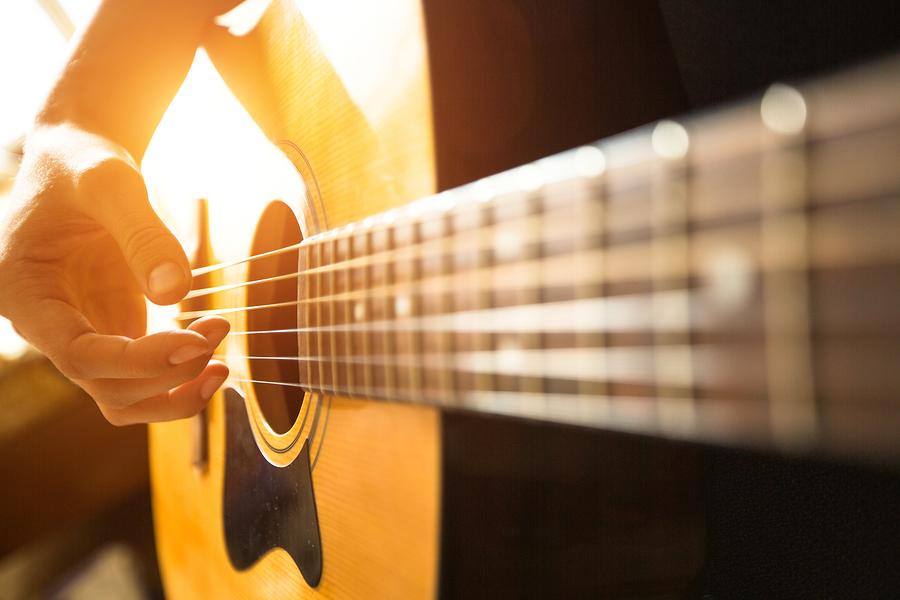 A lot of guitar players tend to practice less or quit practicing altogether once they get older and gain more responsibility in life.
They still play guitar (the stuff they already know) but have given up practicing to improve. There's a huge difference.
This is unfortunate because there are so many great things to learn that many guitar players aren't even aware of.
It would open up their way of thinking and renew their approach to guitar playing by adding valuable knowledge, developing different skills and expanding their vocabulary.
Although I teach guitar and write about guitar playing, I also sometimes have difficulty keeping up a regular practice schedule to improve my guitar skills. Guitar playing is a major part of enjoying the good life but not the only part.
Besides the busyness of commitments and obligations in daily life, I also like to keep up with my other hobbies such as spending quality time with my wife and three kids, drinking cappuccino in the backyard, running, yoga, meditation, reading and enjoying good wines to name a few.
And as much as these things are of great importance, practicing guitar may not be harmed by all of these wonderful life luxuries. To keep a safe and secure place for regular practice I make sure I follow the guidelines below.
If you also feel like your active lifestyle is keeping you from practicing then here are the keys to get you back on track.
Check it out!
1 – Practice offline
When practicing use real books and sheet music. Turn off your computer to avoid distraction from the world wide web that will swallow you whole. If you need to print stuff, then do it before practice.
2 – Set limits
Set limits of 5, 10, 15 or 30 minutes for each practice section. 5 minutes for warming up, 10 minutes practicing chords, 20 minutes for scales and patterns, 30 minutes of transcribing new material, 30 minutes of improvising, etc. We tend to procrastinate or likely get distracted if we don't set any limits. Setting limits will definitely increase your productivity and save you time.
3 – Plan the night before
Plan your practice session the night before. Set a time and place. Write down in your Moleskine or a piece of paper what you need to study, practice and for how long.
4 – Expect the unexpected
Practice in a private space and put a "do not disturb" sign on the door to avoid unexpected visitors. Turn off your cellphone or turn on a filter (if turning off is out of the question) to eliminate unexpected phone calls. Check with the people you live with if there's anything planned for the day that you should know of.
5 – Create a habit
If your cellphone must be turned on for necessary purposes then use it to your advantage. Install the free app LIFT to keep your focus on practicing by creating a daily habit. LIFT is an addictive tool (in a good way) that will really motivate your practice behavior and make you want to pick up your guitar every day. Creating a solid habit is the ultimate key to regular practice.
6 – Triggers
Print out these 16 Right Reasons Why You Should Practice and hang it on your refrigerator, bathroom wall or where you spend most of your time. Read it daily to remind yourself why it is so important to practice.
7 – Design your own musical environment
Make sure your living room or bed room breaths music and everything about guitar playing. Put your guitars on a stand or hang them on the wall. Have your practice material ready on a sheet music stand and place it in sight at all times. Get a guitar magazine subscription to fuel your inspiration and put the magazines on the right tables. Design your space in the way you can't escape from practicing.
8 – Take short breaks.
Give yourself a break to relax and renew your focus and motivation. A break is also good to release the tension in your muscles and to prevent strain or injuries. Taking breaks will improve your productivity. Practicing for too long will decrease your focus and ability to perform at your best. Breaks will keep you sharp.
9 – Read and lead.
Read self help books about motivation, creating good habits and self fulfillment to keep you feel good about yourself, expand your knowledge, wisdom and to stay on top of you practice game.
10 – Practice what needs to be practiced
Whenever you pick up your guitar, practice something you really need to work on instead of playing the same old things you already know how to play. Know what needs to be worked on. Those couple of minutes before dinner when you play guitar make them worthwhile. It will improve your playing and give you a satisfied feeling of accomplishment.
11 – The right people
Surround yourself with inspiring people, guitar players, fellow musicians, people who are good at what they do, motivators, people who encourage you to keep practicing and become better at what you do.
12 – Get back up
Don't beat yourself up when you've procrastinated, when you've been lazy, unproductive or when you're lacking energy. It's okay you're only human. It don't matter if you missed out on practice for a day or two, a week or even a month. Forgive yourself. Just get up your feet, take the first small step, pick up your guitar, use the guidelines in this post and start practicing.
The journey of a thousand miles begins with one step. ~ Lao Tzu
Join the Guitarhabits facebook page to keep up with the latest posts, guitar lesson videos, tips, tricks and other news about Guitarhabits.
Just click the green Facebook button here below.