October 22, 2021 by Klaus Crow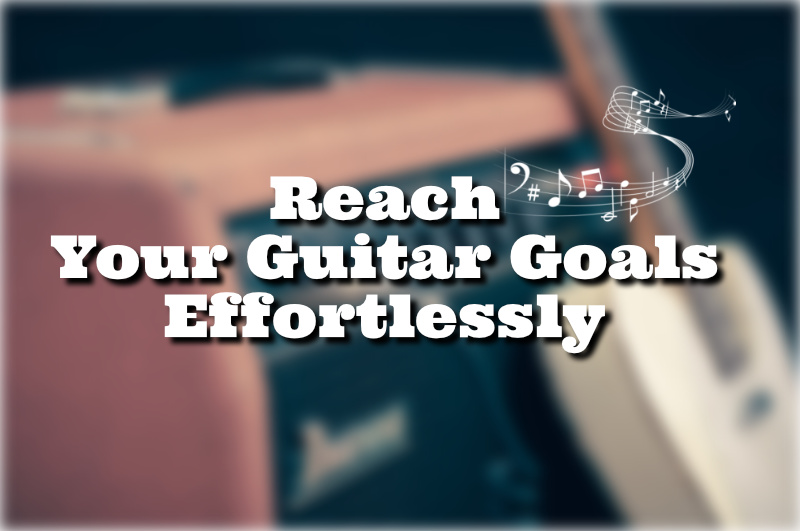 Where do You Start?
Guitar playing is all about reaching a goal. You can be simply playing for fun or want to be an accomplished guitar player, there is always a goal to achieve. You want to learn something new.
Now, maybe you are reading this as a novice guitar player, an intermediate or advanced guitar player. Perhaps you're looking for new answers as a long time player who is stuck and misses the fun, excitement and growth of the early days, it all good.
Follow the guidelines below and you will reach your guitar goals from any stage in your playing gracefully.
There are 21 keys to make this happen. Read and answer them thoroughly and you will walk the smooth and easy path, break out of the slump, regain the spark and magic of practice and accomplish all your guitar goals effortlessly.
Yes effortlessly, as long as you follow the rules :)
Have fun!
The Keys to Achieve Your Guitar Goals Easy
1 – Think about one thing (song, solo, riff, skill, music style) you would absolutely love to learn. Write it down. Listen to some music or go through your music sheets if you need inspiration.
2 – Ask yourself "Is this an easy thing or a hard thing to learn?" Write it down.
3 – If it's easy, start practicing. If it's a hard thing look for an easier-hard version. If there's no easier version anywhere, get some effective tools, videos and lesson resources to make things simpler and more manageable. Practice in small chunks (very important), make it digestible, take it easy, go slow and make it a fun experience.
4 – Now write down five more things (songs, solos, exercises, riffs) you would absolutely love to learn.
5 – How would it make you feel if you would achieve these goals? All five of them. Which one makes you feel best?
6 – Why would this particular one make you feel best? Write it down.
7 – Where would it take your playing, you as a guitar player or a musician if you would accomplish this? Write it down.
8 – Know the purpose of your goal inside out! Maybe your purpose is fun, pure enjoyment, being able to play 5 or 30 songs by heart to perform in front of a live audience, becoming an accomplished guitar player, endless improvement, becoming a kick-ass rock guitar player, becoming an artist, record your own stuff, developing a new guitar skill or learn a complete new style (country, jazz, blues, classical, rock or flamenco). Write it down.
9 – Make sure the purpose of your practice (the end goal and why) has really sunk in. Feel it, know it. Be absolutely convinced you want this. Feel it in your bones. Dwell on it.
10 – Set a fixed practice time and make sure you practice 30 minutes to an hour. Write it down. (if you haven't noticed, I'm a fan of writing it down. Writing by hand is associated with stronger neural encoding and memory retrieval).
"It takes a lot of effort to become effortlessly"

Tenzin Palmo
11 – Write down exactly what you are going to practice in your upcoming practice session.
12 – After your practice session write down what you're going to practice for the upcoming session.
13 – Set up your perfect practice space. Here's some things you want to absolutely need: Guitar, guitar stand, sheet music, sheet music stand, capo, picks, no distractions, download the necessary music from Spotify (or whatever) onto your phone and put it on airplane mode. Make sure no one can disturb you for the entire practice session. We need deep work to practice well.
14 – Prioritize your practice. Quit or minimize Social Media. Put your phone in a drawer to unlearn addictive and conditioned pick-up-and-check-your-email-whatsapp-instagram-facebook-weather habit. Choose practice over Netflix. Let go of FOMO (fear of missing out). Invest time is something great and something you love dearly (guitar playing). Sow the seeds for your end goal and be ruthless in removing everything else that sucks the life out of you.
15 – Practice together. Practice with real likeminded people. It enhances the practice experience and improves your playing faster. Playing with other people will create accountability and makes learning a lot more enjoyable. The likelihood of accomplishing your goals is way bigger and makes the practice and process feel effortless.
16 – Get a good, real (in person) guitar teacher. You learn faster and it will function as a stick.
17 – Keep asking yourself the questions from this post to see where you are at. Contemplate and reflect. Are you on the right track? Do you need to change direction, expand or refine your practice or goals? Write it down.
18 – Develop self-mastery. Learn to be in control of your mind and not let your mind control you. If you don't want to practice, your mind is in control. If you decide to practice anyway, you control your mind. You're the boss of your life. Delay instant gratification and reap the fruit of the long term goal. Learn self-mastery and become the person, the guitar player and the musician you really want to be.
19 – Start practicing the one thing (out of the five things you wrote down) that feels best.
20 – Practice this one thing 6 days a week for 30 days with all your heart. Don't hesitate, don't quit. Make it count. After 30 days, see where you stand and think about how it will make you feel.
21 – Read the previous questions and write down the answers on paper (material manufactured in thin sheets from the pulp of wood or other fibrous substances, used for writing). After reading this post, take real actions towards your goal as apposed to doing nothing. It defeats the purpose and would be a sublime waste of your time. Take the first small step. You can do it!