May 14, 2019 by Klaus Crow
Bigstock photo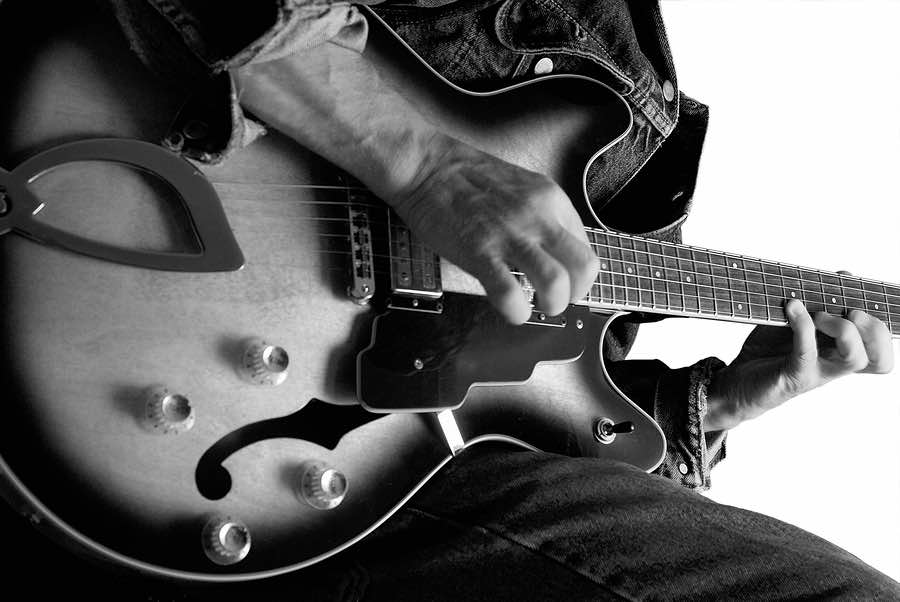 Learning to improvise is a covetable skill and it is the next step to becoming a more accomplished guitar player once you've mastered a decent amount of guitar solos.
Improvisation gives you the freedom to express and explore your creativity on the guitar.
When you're the lead guitar player in a band it's a necessity but also an incredible feeling to be able to compose a solo on the spot anytime it's required.
Delivering a fresh, original, sweet rocking solo will be the icing on the cake.
In truth, improvisation is really the spontaneous and creative reorganization of things you already know. So you need to build and accumulate a soloing vocabulary from which you can create.
Here are 20 ways to build that vocabulary and improve your improvisation skills.
Apply these tips to your daily practice routine to get the best out of yourself!
Here are the keys:
1 – Learn new licks
Keep amassing fresh original licks from different styles and genres.
2 – Listen good and listen a lot
Listen, really listen to guitar solos of your favorite guitarists and also listen to various guitar players to expand your horizon. Study their phrasing.
3 – Transcribe solos
Transcribe solos to analyze phrasing, technique and gain new ideas.
4 – Learn solos
Keep learning and memorizing guitar solos of any kind to expand your solo vocabulary.
5 – Improve your phrasing
Phrasing is the most important part of improvisation. Work on trying to tell your story in the most compelling way.
6 – Work on your guitar technique
Develop flexible and faster fingers. Make them leaner and meaner. Train them so you can play anything you want to work out on the fretboard.
7 – Practice scales
Practice your scales, pentatonic / blues, major, minor, dorian, etc, in every shape and position.
8 – Practice scale sequences
Practice as much different scale sequences as you can. They will improve your technique and ability to improvise.
9 – Expand your improvisation tool box
Add more color to your solos with arpeggios, intervals and triads.
10 – Use guitar backing tracks
This is where you have to put it all together, become creative and just let loose. Working with guitar backing tracks is the perfect way to put into practice what you've learned.
11 – Develop aural skills
Practice ear training to identify pitches, intervals, melody, chords and rhythms by ear. A major asset.
12 – Play with other musicians.
This is the real deal. The best way to learn improvisation is to actually do it. Find yourself a rhythm guitar player or a whole band and go for it.
13 – Work on your tone
Your sound is an important aspect of the quality of your soloing. Buy a decent guitar and amp, learn to shape your sound with your tone controls, change strings regularly, maintain your tubes, etc.
14 – Let your music breath
Pause between every few notes now and then. Just like talking your soloing needs some space to breath or it becomes boring quite quickly.
15 – Create melody
Try to do more than just playing those same licks over and over. Work on creating instant melody. Really listen to what you play and create something beautiful.
16 – Study music theory
Learn what scales work over what chords, chord construction, circle of fifth, etc.
17 – Incorporate
Incorporate every new lick or idea you have into your soloing or it won't last. Expand and apply!
18 – Play in different keys
Practice your solos and improv in as many different keys as possible. This will make you an accomplished lead guitar player.
19 – Practice effective and efficient.
If your goal is to improve your improv, spend more time on improv and less bullshit. Set time limits like 30 minutes for practicing improv, transcribing and learning a solo, working on scales, etc. Eliminate any distractions.
20 – Practice regular and consistently.
Keep focused on practicing and keep at it, just like brushing your teeth, eating healthy and doing physical exercise. Practicing (not just reading this list, but putting this list into practice) is the key to improve your improvisation skills!
I'd love to hear your tips on improvisation.
Please share in the comments.