May 15, 2019 by Klaus Crow
Photo by Benjamin Deutsch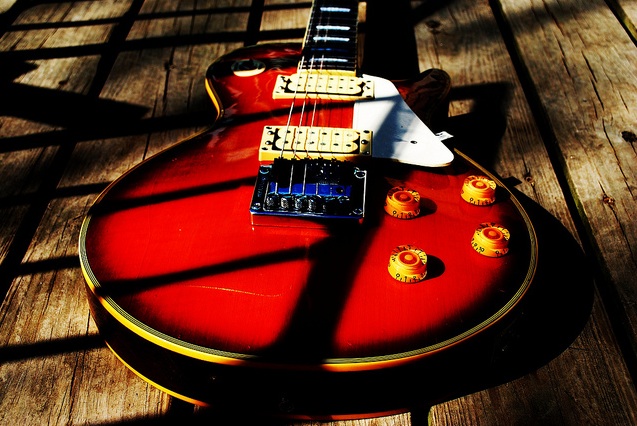 Arpeggios are often used for sweep picking also referred as economy picking (different from alternate picking).
It is a technique that creates a fast and fluid sound.
Frank Gambale, Yngwie Malmsteen among others are experts in this field. So if you like to show off or just create incredible sounds on your guitar try arpeggio sweep picking.
Besides using it for fast playing, I really like to use it as a handy tool for improvisation.
If you don't want to sound like you are playing scales all the time then you can use arpeggios as an extra ingredient to spice things up with a really nice flavor.
When using arpeggios in improvisation play them occasionally, try to play parts and pieces or play random notes of an arpeggio to create cool sounding licks. Use your creativity.
Tip1: Not only play arpeggios but use them in your improvisation.
If you don't do this it's like you are learning new words but don't apply them in your language.
Tip2: Learn every arpeggio in different positions on the neck so you become familiar with the shape of the arpeggio rather than concentrating on which frets you put your fingers in one particular postion.
Here are the 23 essentials that can really open up your playing and improvisation skills.
Have fun and work hard.
You'll benefit from it!



#1 D Major Arpeggio
e:--------------2h5p2----------------------------------------|
B:-----------3---------3-------------------------------------|
G:--------2---------------2----------------------------------|
D:-----4---------------------4-------------------------------|
A:--5--------------------------5-----------------------------|
E:-----------------------------------------------------------|


 



#2 Em Minor Arpeggio
e:--------------3h7p3----------------------------------------|
B:-----------5---------5-------------------------------------|
G:--------4---------------4----------------------------------|
D:-----5---------------------5-------------------------------|
A:--7----------------------------7---------------------------|
E:-----------------------------------------------------------|


 


#3 C Major Arpeggio
e:----------------------8h12p8-------------------------------|
B:-------------------8----------8----------------------------|
G:----------------9----------------9-------------------------|
D:------------10----------------------10---------------------|
A:--------10------------------------------10-----------------|
E:--8h12--------------------------------------12p8-----------|


 


#4 Am7 Arpeggio
e:-------------------------5h8p5-----------------------------|
B:-------------------5--8--------8--5------------------------|
G:----------------5--------------------5---------------------|
D:----------5--7--------------------------7--5---------------|
A:-------7--------------------------------------7------------|
E:-5--8--------------------------------------------8--5------|


 


#5 C7 Arpeggio
e:--------------------3h6p3----------------------------------|
B:-----------------5---------5-------------------------------|
G:-----------3--5---------------5--3-------------------------|
D:-----2--5---------------------------5--2-------------------|
A:--3---------------------------------------3----------------|
E:-----------------------------------------------------------|


 


#6 Gmaj7 Arpeggio
e:-------------------------2h3p2-----------------------------|
B:----------------------3---------3--------------------------|
G:-------------------4---------------4-----------------------|
D:-------------4--5---------------------5--4-----------------|
A:-------2--5---------------------------------5--2-----------|
E:-2--3---------------------------------------------3--2-----|


 


#7 A Major Arpeggio
e:-------------------5h9p5-----------------------------------|
B:----------------5---------5--------------------------------|
G:-------------6---------------6-----------------------------|
D:----------7---------------------7--------------------------|
A:----4--7---------------------------7--4--------------------|
E:--5---------------------------------------5----------------|


 


#8 C Minor Arpeggio
e:----------------------8h11p8-------------------------------|
B:-------------------8----------8----------------------------|
G:----------------8----------------8-------------------------|
D:------------10----------------------10---------------------|
A:--------10------------------------------10-----------------|
E:--8h11--------------------------------------11p8-----------|


 


#9 Em7b5 Arpeggio
e:---------------------6h10p6--------------------------------|
B:------------------8----------8-----------------------------|
G:------------7--9----------------9--7-----------------------|
D:---------8-----------------------------8-------------------|
A:--7--10-----------------------------------10--7------------|
E:-----------------------------------------------------------|


 


#10 G7 Arpeggio
e:--------------------------3h7p3----------------------------|
B:--------------------3--6---------6--3----------------------|
G:-----------------4---------------------4-------------------|
D:-----------3--5---------------------------5--3-------------|
A:-----2--5----------------------------------------5--2------|
E:--3-----------------------------------------------------3--|


 


#11 E Diminished Arpeggio
e:------------------------9h12p9-----------------------------|
B:------------------8-11----------11-8-----------------------|
G:---------------9----------------------9--------------------|
D:---------8-11----------------------------11-8--------------|
A:-----10----------------------------------------10----------|
E:--12----------------------------------------------12-------|


 


#12 A Major 4 string Arpeggio
e:--------------5h9p5----------------------------------------|
B:-----------5---------5-------------------------------------|
G:--------6---------------6----------------------------------|
D:-----7---------------------7-------------------------------|
A:-----------------------------------------------------------|
E:-----------------------------------------------------------|


 


#13 A Minor 4 string Arpeggio
e:--------------5h8p5----------------------------------------|
B:-----------5---------5-------------------------------------|
G:--------5---------------5----------------------------------|
D:-----7---------------------7-------------------------------|
A:-----------------------------------------------------------|
E:-----------------------------------------------------------|


 


#14 A Major 3 string Arpeggio
e:------------12h17p12---------------------------------------|
B:--------14------------14-----------------------------------|
G:----14--------------------14-------------------------------|
D:-----------------------------------------------------------|
A:-----------------------------------------------------------|
E:-----------------------------------------------------------|


 


#15 A Minor 3 string Arpeggio
e:------------12h17p12---------------------------------------|
B:--------13------------13-----------------------------------|
G:----14--------------------14-------------------------------|
D:-----------------------------------------------------------|
A:-----------------------------------------------------------|
E:-----------------------------------------------------------|


 


#16 G Ionian Arpeggio
e:-----------------------------------------------------------|
B:--------------------5h8p5----------------------------------|
G:-----------------5--------5--------------------------------|
D:-----------4--7----------------7--4------------------------|
A:--------5----------------------------5---------------------|
E:--3--7----------------------------------7--3---------------|


 


#17 A Dorian Arpeggio
e:-----------------------------------------------------------|
B:--------------------7h10p7---------------------------------|
G:-----------------7----------7------------------------------|
D:-----------5--9----------------9--5------------------------|
A:--------7----------------------------7---------------------|
E:--5--8----------------------------------8--5---------------|


 


#18 B Phrygian Arpeggio
e:-----------------------------------------------------------|
B:--------------------8h12p8---------------------------------|
G:-----------------9----------9------------------------------|
D:-----------7--10---------------10--7-----------------------|
A:--------9----------------------------9---------------------|
E:--7--10---------------------------------10--7--------------|


 


#19 C Lydian Arpeggio
e:-----------------------------------------------------------|
B:--------------------10h13p10-------------------------------|
G:-----------------11----------11----------------------------|
D:-----------9--12---------------12--9-----------------------|
A:--------10---------------------------10--------------------|
E:--8--12---------------------------------12--8--------------|


 


#20 D Mixolydian Arpeggio
e:-----------------------------------------------------------|
B:-----------------------12h15p12----------------------------|
G:-------------------12-----------12-------------------------|
D:------------10--14------------------14--10-----------------|
A:---------12---------------------------------12-------------|
E:--10--14----------------------------------------14--10-----|


 


#21 E Aeolian Arpeggio
e:-----------------------------------------------------------|
B:-----------------------13h17p13----------------------------|
G:-------------------14-----------14-------------------------|
D:------------12--16------------------16--12-----------------|
A:---------14---------------------------------14-------------|
E:--12--15----------------------------------------15--12-----|


 


#22 F# Locrian Arpeggio
e:-----------------------------------------------------------|
B:-----------------------15h19p15----------------------------|
G:-------------------16-----------16-------------------------|
D:------------14--17------------------17--14-----------------|
A:---------15---------------------------------15-------------|
E:--14--17----------------------------------------17--14-----|


 


#23 A7#5 Arpeggio
e:----------------------9h13p9-------------------------------|
B:---------------9--10---------10--9-------------------------|
G:----------10------------------------10---------------------|
D:------11--------------------------------11-----------------|
A:--12----------------------------------------12-------------|
E:-----------------------------------------------------------|



 


If you're really into arpeggios check here for more