May 16, 2019 by Klaus Crow
Photo by Bigstock photo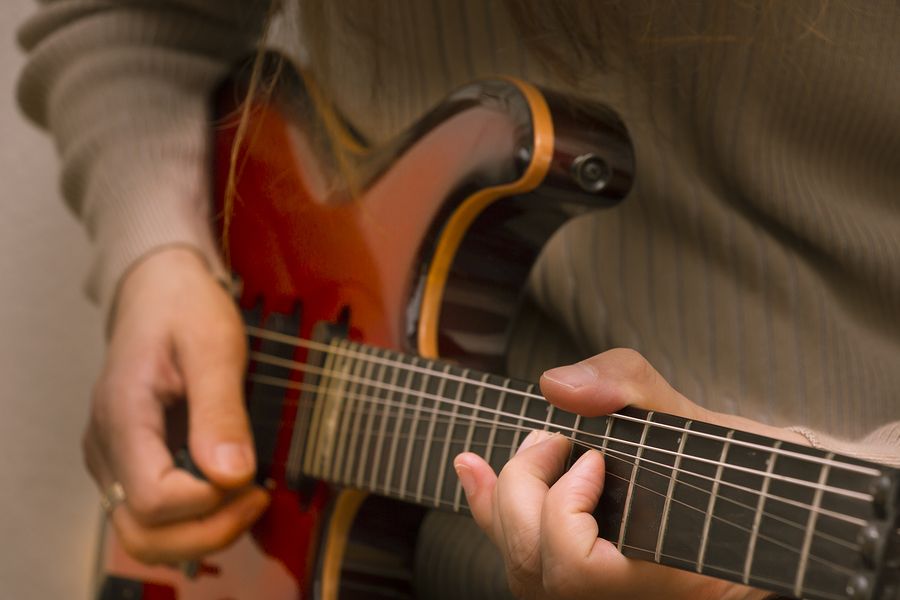 For guitar players who starting out learning to improvise, it can be quite a challenge.
Playing a bunch of notes within the pentatonic scale (or any scale in that matter) is one thing, but being able to really tell a story with those notes is a complete different thing.
Because that's what phrasing is all about: "How you tell a story".
If you're telling a story you want to draw the audience's attention. We've all come across those boring teachers in the classroom who can't keep your attention for more than 30 seconds. They talk in the same low monotone voice on and on and on and on. It's almost like they don't even breath. They probably don't. :)
The fact that they can't keep your attention has nothing to do with the subject, but it has to do with how they present the subject, how they bring you the story. And they forget the most important thing. They have to bring the story to life!
To bring a story to life you want to hear and feel the passion. You can hear that in the way people speak. When people get excited about stuff they tend to raise their voice. If they want to tell you a secret or gossip they start to whisper. If something is really important we will emphasize particular words. When someone tells you a creepy story they'll start to talk slower, fuel their voice by fire and when the story gets really exciting they'll suddenly pause to get you to the edge of your seat and then relentlessly take you to the climax.
There are dozen ways to draw the listener's ears and fortunately for a lot of people that goes without saying. Most people will talk passionately about their new bought car, their cool job or an attractive person of the opposite sex. The same applies to music. You want to hear the same excitement in your soloing. To do so you have to learn great phrasing.
Phrasing is not about what you play but how you play it!
Let's see what you can do to improve your phrasing and make your playing come alive:

Note duration
One way to make things sound interesting is to vary with note lengths. You might want to hold on to a note, keep it singing to create tension and then play a couple of short notes afterwards. Experiment with different note lengths. Long – short – long – short – short -short – long. But make sure you keep time, stay in rhythm.
The notes are the words. In real life we use long words, short ones and we hold on to a word to emphasize a statement. Sometimes we say Noooooooo instead of no. Oooooh yeaaaaaah instead of oh yes or we say "Do you want this oooooor that" You get the point.
In other words play guitar like you would talk. Change the length of the notes according to how you feel what you're playing.
Space
Let the music breath. Pause in your playing every now and then. If you pause after every couple of notes, you give meaning to those notes. The notes after the rest will be lifted because they draw more attention. Just like people breath, the music needs to breath.
Playing 16th note patterns the whole way through a song without spaces, without taking a breath is like that dude on a birthday party who likes to hear himself talk all the time but hasn't got anything interesting to say. It's exhausting for the listener and the attention will soon fade.
Whether you play fast or slow, many or few notes, the pauses make a statement.
A saying that is very popular in music is "It's the notes you don't play that make the difference."
Dynamics
Playing with dynamics is probably the most obvious part of good phrasing but often neglected by beginners and even intermediate and advanced players. Dynamics refers to the volume of the notes, how loud or soft you play.
Listen to the best blues players like BB King and Albert King. Their songs are loaded with dynamics that keep your ears glued to the song. Dynamics creates and enhances the excitement, tension, drama, rage, but also a feeling of warmth, sensitivity and emotion throughout the song.
Inflections and articulation
Inflections are another way of spicing up your lead soloing. Bends, pull-offs, hammer-ons, slides and vibrato are all inflections and they contribute for a huge part to the expressive character of your tone and soloing.
Playing staccato (short note durations) and legato (notes that are played smoothly and connected) are ways of articulation that can also create a certain mood or vibe.
Jeff Beck is a great example of a guitar player who uses inflections extensively in the most beautiful ways and created it's own individual style.
Rhythm
And then there's rhythm which is probably the most important aspect of phrasing. Creating musical ideas by using different note values: whole notes, quarter notes, eight notes, sixteenth notes. (A note value indicates the duration of a note)
You can also experiment with triplets: quarter note triplets, eight note triplets and sixteenth note triplets.
Use the rhythm that you feel inside your body and hear inside your head. Create rhythmic ideas with the notes you are playing and stay in time. Dare to experiment!
Listen to the best
Study the best guitar players and listen how they use phrasing all in their own unique way. As I mentioned earlier BB king, Albert King are great examples but also guitar players like David Gilmour (Pink Floyd), Robben Ford, Joe Satriani and tons of other great players can be a source of inspiration.
There is so much to learn from really listening and also watching how they phrase. Study them and use it to your advantage!
I don't need words, it's all in the phrasing. ~ Louis Armstrong
Join the Guitarhabits facebook page to keep up with the latest posts, guitar lesson videos, tips, tricks and other news about Guitarhabits.
Just click the green Facebook button here below.