May 15, 2019 by Klaus Crow
Photo by Janek Mann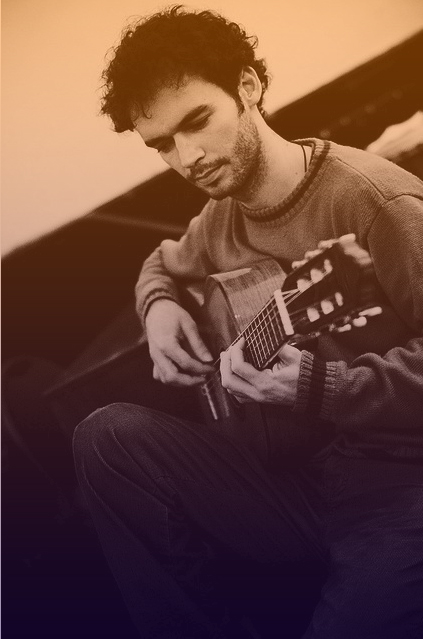 The one thing most beginners hate to practice is scales, because they don't see the point of it. It takes some practice to learn scales properly and then it takes another while before you can use them as a tool for your playing. Patience is a virtue.
But once you master the major scales you can really unlock their full potential.
Scales are used for improvisation, analyzing chords, progressions, warming up, speed picking practice and much more. In other words just about everything that is important to become a good guitar player.
When the time is right you will recognize the importance and effectiveness of scale practice.
Today I wrote down 7 basic major scales for you to practice. One scale for every whole note. In music there are 7 whole notes. Whole notes are: A B C D E F G.
Most of the scales below are open major scales, which means they contain open string notes.
Play the scales using alternate picking (alternating up and down strokes ascending and descending).
While there are many other scales, the pentatonic scale and the major scale are the two most important scales to know. With these two scales you can already rule the world.
Study the major scales thoroughly. It's good for you!


A MAJOR SCALE
e:------------------------------2-4-5---------------|
B:-----------------------2-3-5----------------------|
G:----------------1-2-4-----------------------------|
D:---------0-2-4------------------------------------|
A:--0-2-4-------------------------------------------|
E:--------------------------------------------------|



 


B MAJOR SCALE
e:------------------------------2-4-6-7-------------|
B:----------------------2-4-5-----------------------|
G:--------------1-3-4-------------------------------|
D:-------1-2-4--------------------------------------|
A:--2-4---------------------------------------------|
E:--------------------------------------------------|


 


C MAJOR SCALE
e:----------------------------0-1-3-5-7-8-----------|
B:---------------------1-3--------------------------|
G:-------------0-2-4--------------------------------|
D:-----0-2-3----------------------------------------|
A:--3-----------------------------------------------|
E:--------------------------------------------------|


 


D MAJOR SCALE
e:------------------------------2-3-5-7-9-10--------|
B:----------------------2-3-5-----------------------|
G:--------------0-2-4-------------------------------|
D:-------0-2-4--------------------------------------|
A:--------------------------------------------------|
E:--------------------------------------------------|


 


E MAJOR SCALE
e:--------------------------------------0-----------|
B:---------------------------------2-4--------------|
G:-------------------------1-2-4--------------------|
D:-----------------1-2-4----------------------------|
A:---------0-2-4------------------------------------|
E:--0-2-4-------------------------------------------|


 


F MAJOR SCALE
e:----------------------------------0-1-------------|
B:-----------------------------1-3------------------|
G:---------------------0-2-3------------------------|
D:--------------0-2-3-------------------------------|
A:-------0-1-3--------------------------------------|
E:--1-3---------------------------------------------|


 


G MAJOR SCALE
e:------------------------------0-2-3---------------|
B:-------------------------1-3----------------------|
G:------------------0-2-4---------------------------|
D:-----------0-2-4----------------------------------|
A:----0-2-3-----------------------------------------|
E:--3-----------------------------------------------|