March 29, 2021 by Klaus Crow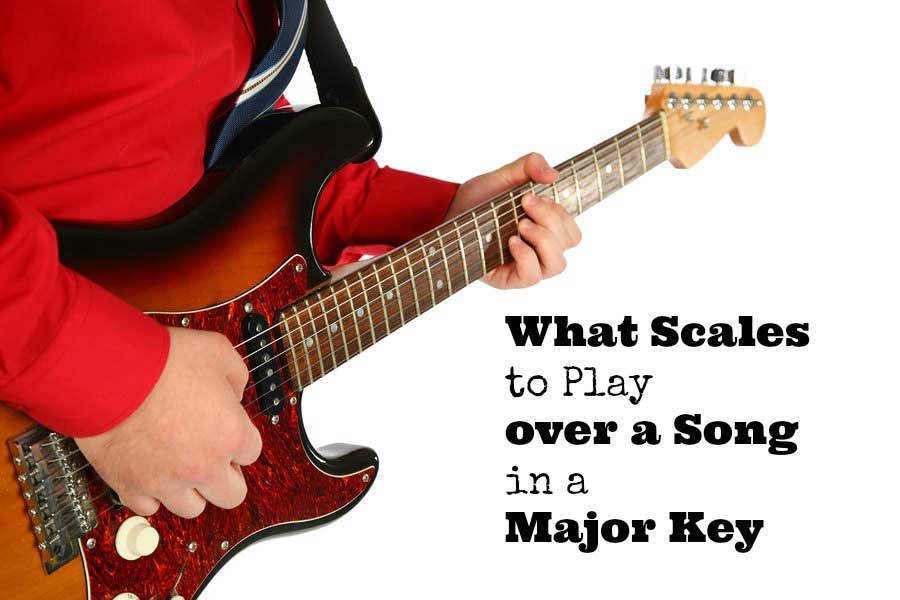 There are so many songs and so many scales. So what scales do you need to solo and improvise over a song in a major key? And what chords can you find in a major key?
First, when a song is in a major key, it means it's based on a major scale. The song usually conveys a bright, happy or cheerful mood. There are seven chords that you can derive from that major scale. We'll look into that in a few seconds.
To be able to improvise over a major key you also need a major type scale. The two most commonly used scales are the major scale and the major pentatonic scale.

CHORDS
We can use the chords built from the major scale to play these scales over. To find the chords for the major scale we use a chord formula.
The chord formula for the major scale =
major – minor – minor – major – major – minor – diminished
Often notated as Roman numerals: I – ii – iii – IV – V – vi – vii
For example we're going to play chords in the key of "C" major.
Apply the notes of the C major scale: C – D – E – F – G – A – B to the chord formula.
You get the following chords: C – Dm – Em – F – G – Am – Bdim
You can apply this formula to any major key to find the diatonic chords derived from that scale.
Now you can use these chords to build any progression. You can choose one of the two scales below to play over the entire chord progression. A popular and common chord progression is C Am F G (I – VI – IV – V)
Here can you learn more on Building Chords and Progressions of The Major Scale
Here are some song examples with chords built from the major scale:
Runaway train – Soul Asylum
Like a Rolling Stone – Bob Dylan
Oh my sweet carolina – Ryan Adams
Let it be – The Beatles
THE SCALES
We use scales as a vehicle to improvise over these chords. Both of the scales below are in the key of C, so they fit perfectly over the C major chord progressions.
C Major Pentatonic Scale


The Major Pentatonic scale is the easiest and most effective scale to play over a major key and delivers an uplifting blues country sound. The scale is widely used in pop, classic rock, blues, country and other styles of music. It consists of five notes: 1 2 3 5 6 (C D E G A) compared to the major scale: 1 2 3 4 5 6 7 (C D E F G A B). The red notes in the scale indicate the root notes. In this case all "C" notes.
If you want to dive deeper into the major pentatonic scales check out these posts:
– The 5 Major Pentatonic Scale Shapes Positions
– Combining minor and major penatonic scales
C Major Scale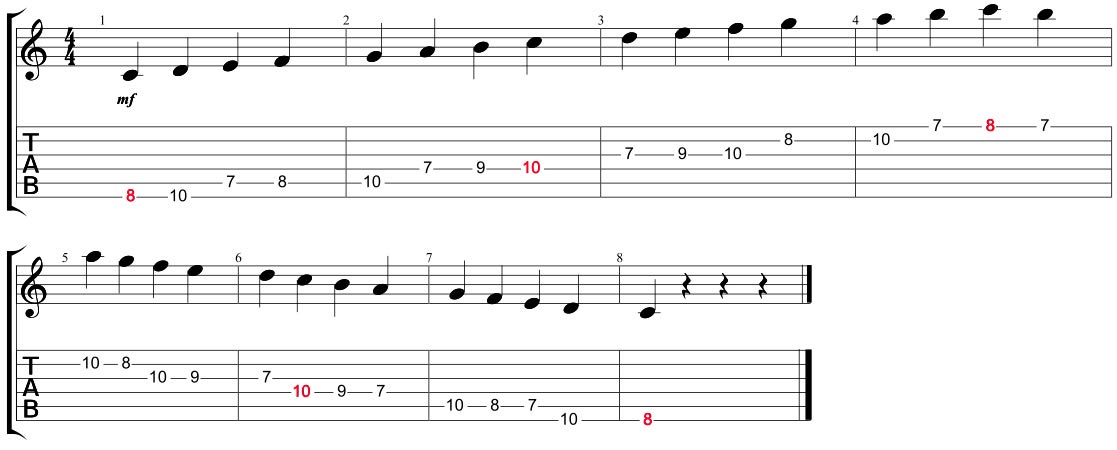 The major scale sounds more melodic apposed to the pentatonic major scale. It consist of seven notes: 1 2 3 4 5 6 7 (C D E F G A B).
If you want to learn more on the major scale check out these posts:
– How to Play The Major Scale Guitar Guide for Beginners and Intermediate
– The Two Most Important scales in Western Music
– The 5 Major Scale Caged Shapes Positions
Assignments:
– Memorise and learn each scale thoroughly.
– Put on a jam track in the key of C
– Try to create small melodies or melodic ideas with each of the scales.
– Listen and transcribe solos from songs in major keys to learn and study how to solo in a major key.
– Practice regularly to improve your soloing skills.
– Practice some major scale sequences to really get that major scale under your belt.
Have fun!
If you have any comments or questions related to this post, feel free to leave a comment. I appreciate it.
-Klaus Crow