April 6, 2021 by Klaus Crow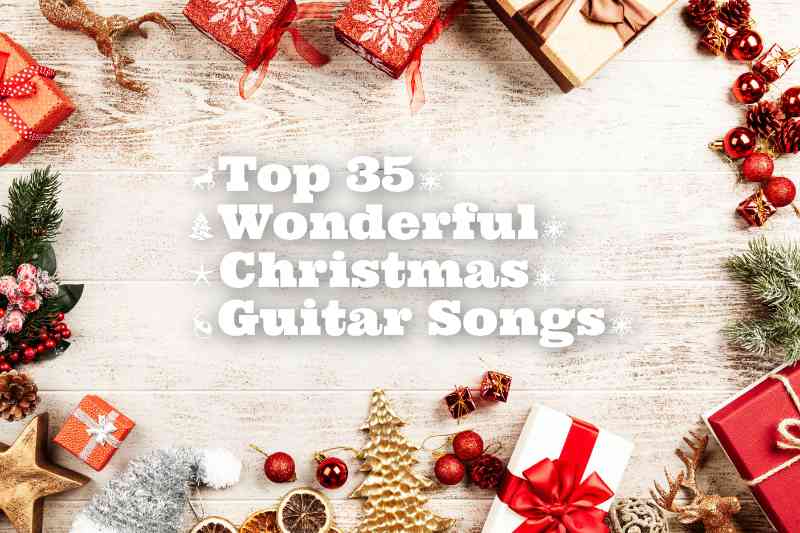 In this crazy time we need Christmas more than ever. A feeling of joy, warmth and nostalgia is what we all heavily long for. Playing Christmas songs is a good start and will get you in the right mood. It works wonders.
In this Top 35 Wonderful Christmas Guitar Songs list we got some great Christmas classics, but also a few oldies and new ones you might not have heard before, just to spice things up a bit.
If you just want the Christmas classics and learn the songs we're all familiar with check out Top 35 Easy Christmas Guitar Songs, but if you already got those under your belt and you want to expand your Christmas repertoire then be my guest and read on.
Now first pour yourself a nice warm mug of hot chocolate with marshmallows, turn on those Christmas lights, grab your favorite guitar (don't forget to put on a new set of good sounding strings for some extra feel good) and then pick your favorites from the list and indulge yourself into the Christmas spirit.
I've put a Youtube link on each song title and two chord links next to it. The "Chords" link will take you to the chords & lyrics for the song and the "More Chords" link will show you chord and tablature song books from Amazon if you want to learn more songs of the artist concerned.
Note: As an Amazon Associate I earn from qualifying purchases.
Enjoy the songs and happy holidays everyone! Look out for each other and give people a smile. They need it.
1 – The Christmas song – Nat King Cole – Chords – More Chords

2 – Please Come Home For Christmas – The Eagles – Chords – More Chords

3 – Merry Christmas baby – Bruce Springsteen – Chords – More Chords

4 – Do you hear what I hear – Bing Crosby – Chords – More Chords

5 – Run Rudolph Run – Chuck Berry – Chords – More Chords

6 – Christmas lights – Coldplay – Chords – More Chords

7 – Pretty paper – Roy Orbison – Chords – More Chords

8 – If it doesn't snow on Christmas – Gene Autry – Chords – More Chords

9 – A Marshmallow World – Dean Martin – Chords

10 – Santa baby – Eartha Kitt – Chords
11 – Sleigh Ride – Johnny Mathis – Chords

12 – We Wish You The Merriest – Bing Crosby & Frank Sinatra – Chords – More Chords

13 – Christmas Long ago (Jingle, jingle) – The Echelons – Chords

14 – Misteltoe and holly – Frank Sinatra – Chords – More Chords

15 – God rest ye merry gentlemen – Bing Crosby – Chords – More Chords

16 – Home for the holidays – Perry como – Chords

17 – Step into Christmas – Elton John – Chords – More Chords

18 – Christmas all over again – Tom Petty – Chords – More Chords

19 – O holy night – Josh Groban – Chords

20 – Santa will find you – Mindy Smith – Chords
21 – Shake up Christmas – Train – Chords – More Chords

22 – Oh Christmas tree – Christmas Chronicles 2 – Chords

23 – The Christmas Waltz – Peggy Lee – Chords

24 – Christmas time is here – Daniela Andrade – Chords

25 – Away in a manger – Nat King Cole – Chords – More Chords

26 – 2000 miles – The Pretenders – Chords – More Chords

27 – The twelve days of Christmas – Bing Crosby – Chords – More Chords

28 – O come All Ye Faithful – Art Garfunkel – Chords – More Chords

29 – Lonely this Christmas – Mud – Chords

30 – What Christmas means to me – Steve Wonder – Chords – More Chords
31 – What are you doin' New Years eve – The Carpenters – Chords – More Chords

32 – Cold December night – Michael Buble – Chords – More Chords
33 – Power of love – Frankie goes to Hollywood – Chords

34 – Deck the halls – Nat king Cole – Chords – More Chords

35 – Mary's boy child – Neil Diamond– Chords – More Chords