April 2, 2020 by Klaus Crow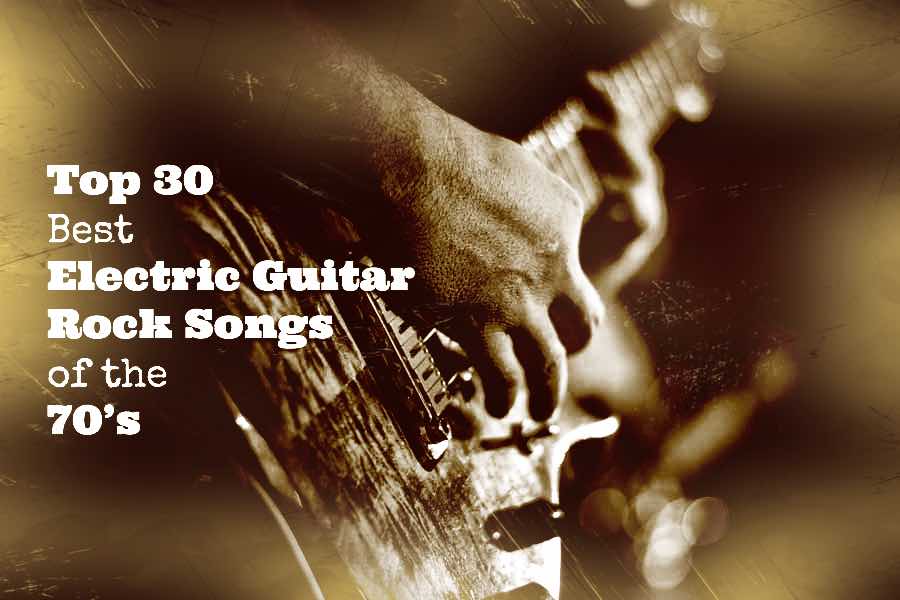 The 70's really was the area of great electric guitar rock bands. Strong riffs, beautiful solos and solid rock songs were emerging from the ground. It was a great decade for the guitar.
As students for life we are still reaping the fruits today when we are practicing and playing the songs from that time and learning from the minds of those creative guitar players.
To get started we've got a list of 30 legendary electric guitar rocks songs from the 70s. As always the list is to inspire, explore and motivate. It's in no particular order and definitely incomplete ;) If you're more into acoustic, no problem, check out the Top 30 Best Acoustic Guitar Songs of the 70s.
Please share your favorite electric guitar rock song from 70's in the comments. I really appreciate it.
Each song title contains a YouTube link to the original song. The "Chords" and "TAB" links provide the sheet music and the "Official Chords/TAB" link will show the official chords and tablature.
Note: As an Amazon Associate I earn from qualifying purchases.
Enjoy the songs and keep on rocking!
1 – Hotel California – The Eagles – Chords – TAB – Official Chords/TAB
2 – Layla – Derek and the Dominos – Chords – TAB – Official Chords/TAB
3 – Stairway to heaven – Led Zeppelin – TABS – Official Chords/TAB
4 – Comfortably Numb – Pink Floyd – Chords – Official Chords/TAB
5 – Bohemian Rhapsody – Queen – Chords – Official Chords/TAB
6 – Free Bird – Lynyrd Skynyrd – TAB – Official Chords/TAB
7 – Sultans of swing – Dire Straits – Chords – Official Chords/TAB
8 – The Boys Are Back in Town – Thin Lizzy – Chords
9 – Black magic woman – Santana – TAB – Official Chords/TAB
10 – Brown sugar – Rolling Stones – Chords – Official Chords/TAB
11 – Won't Get Fooled Again – The Who – Chords – Official Chords/TAB
12 – Dream on – Aerosmith – TAB – Official Chords/TAB
13 – Runnin' with the devil – Van Halen – TAB – Official Chords/TAB
14 – All right now – Free – Chords
15 – Paranoid – Black Sabbath – TAB – Official Chords/TAB
16 – More than a feeling – Boston – TAB – Official Chords/TAB
17 – Highway to hell – AC/DC – TAB – Official Chords/TAB
18 – Reelin' In the Years – Steely Dan – TAB
19 – Walk this way – Aerosmith – TAB – Official Chords/TAB
20 – Child in time – Deep purple – TAB – Official Chords/TAB
21 – American girl – Tom Petty & The Heartbreakers – TAB – Official Chords/TAB
22 – American Woman – Guess Who – TAB
23 – Jessica – The Allman Brothers Band – TAB – Official Chords/TAB
24 – Tie your mother down – Queen – TAB
25 – Eruption – Van Halen – TAB – Official Chords/TAB
26 – Sweet Home Alabama – Lynyrd Skynyrd – TAB – Official Chords/TAB
27 – Kashmir – Led Zeppelin – TAB – Official Chords/TAB
28 – Another brick in the wall – Pink Floyd – TAB – Official Chords/TAB
29 – Statesboro blues – The Allman Brothers Band – TAB – Official Chords/TAB
30 – Rebel rebel – David Bowie – TAB – Official Chords/TAB