September 13, 2022 by Klaus Crow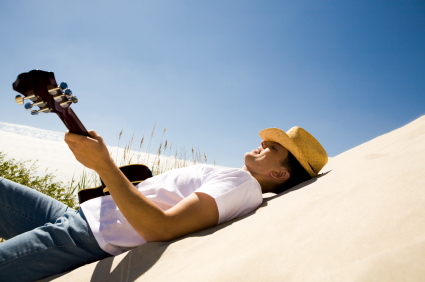 One of the things I have always had a hard time with is memorizing lyrics. I see this in people around me as well; finding it difficult to memorize chords and chord progressions. So based on my experience and some research I've done I give you some tips to overcome this obstacle.
But why do we need to memorize and remember lyrics and chord progressions? What's the use of that?
Well, let's say one of these days you'll have to perform in front of an audience somewhere, somehow.
Maybe with a band or on your own…
or a friend asks you to perform a few songs at his wedding or birthday party…
or you would like to accompany a singer…
or you want to play some nice songs to entertain a few people on a holiday in the south of France while drinking a cold beer…
or just to try out a guitar in the guitar shop in town.
Wouldn't it be nice by then, if you could just play something right on the spot instead of saying "I can't do anything without having my sheet music in front of me".
Another advantage is that you train your memory to remember music. The more often you try to remember lyrics and chords the easier it gets and the faster you'll learn.
You also create freedom in your playing. You're not stuck to a piece of paper and it will definitely make you a better guitar player.
Here are some suggestions:
Use your senses
Use as much of the five traditional senses as possible: sight, hearing, touch, smell, taste. Your senses are very close attached to your memory. For example: you probably remember exactly from years ago where you were and what you did when you listened to your favorite songs.
Visualize the song
Our brain thinks in pictures. So when we want to memorize lyrics we need to figure out what the song is about and visualize the story in our heads so we can relate to it. Visualize a story that really affects you so you get emotionally touched by it.
Feel the song
When you sing lyrics, sing them with heart and soul. Try to feel what you are singing about instead of summing up just a bunch of words. When you feel the song, you are much more likely to remember it because you are using your senses.
Connect the sentences
Search for the links and relationships between the sentences. What does one sentence say and what does the next one have to do with it.
Associate the lyrics
…with your own memories and past experiences. In other words: associate something new with something you already know. The brain likes to work that way.
Small chunks
Break up a long text into chunks and memorize these one by one. Repeat the first chunk a few times before moving on to the next.
Make it absurd
Make the visualization absurd. We tend to remember absurd things. Let's take a sentence from the song "Hotel California" from the Eagles. For example: "Her mind is tiffany-twisted, she got the Mercedes Benz".
If you visualize an enormous brain (like really really big) twisting pop singer Tiffany (from the pop song: "I Think We're Alone Now" in the late 80's) while driving a Mercedes Benz, you probably won't forget it. Maybe you think it's a bad example… I suggest you create your own absurdness. The point is: if you read a sentence you can't relate to at all, make it ridiculous.
Keywords
Memorize key words that trigger other words. I always try to memorize the first word or two words in a verse or chorus. If I remember these, the rest will follow by itself. Or try to remember the most important word in the sentence to trigger the other words.
Be conscious
Make sure you are alert. Memorize the lyrics when you had enough sleep instead of when you are tired. Maybe it's a good idea to do this in the morning opposed to learning it after a busy day at work.
Be interested
Be interested in the story of the writer. What is the story about? Can you relate to it? Are there words in the lyrics you don't understand? Look them up in a dictonary. Feel the story. Live it while you sing it.
Repeat
One of the best ways to memorize lyrics is repeating them. Repeat the lyrics frequently during the day for at least a week or so if you want it to access your long-term memory.
Get rid of distractions
Make sure you are not distracted. Lose all internal and external distractions:
External distractions: turn of your TV, radio, internet, etc, etc. Go to a room where it's quiet and people can't interrupt or distract you.
Internal distractions: are you worrying about things like your job, relations or just little things? Try to put them out of your mind or work them out.
Use your waiting time
Memorize while you are waiting: while you're in traffic, driving your car, waiting in a doctor's office, while you are cooking, etcetera. You can use this precious time to work on your repertoire.
Chord Visualization
When I started out playing guitar, I liked to see chords as shapes and objects. It's a fast way of memorizing. Think of a D-chord as a triangle. Think of an A-chord as a little staircase going down, think of a Bm-chord as a staircase going up etc, etc. Sometimes I still do this with difficult chords. Because I'm used to think that way, I also remember difficult shapes more easily.
Chord Progressions
The same with chord-progressions. If it's possible, try to see them as shapes and objects. For example when I play a chord progression like Am (577333), C major (x35553), G major (355433) and D major(x57775), I picture it like crossing the street diagonal from Am to C. Then I go up to G and then I cross the street again to D major. Try to see the logic behind the chord progression.
Step by step
Again with chord progressions: break them up into chunks. First learn the verse. Break it down into phrases. A lot of times you play the same chord progression over one or more of the phrases. Maybe even the whole verse. Practice the verse a few times so you feel comfortable with it. Now go to the pre-chorus or chorus and again break it into chunks. One chord progression at a time and try to see the logic behind the chords and chord progressions.
Now go memorize your favorite guitar songs and amaze people!
Don't forget to write a comment. :-) I'd appreciate it.
30 Day Singer
Do you want to learn to sing (better)? 30 Day Singer is one of the most popular online singing courses. The course is great for beginners, but also provides advanced techniques for experienced singers.
There are lessons for perfect pitch and intonation, getting better tone, learning to sing higher, steps to better phrasing, mastering vibrato, belting, and lessons that teach you different styles of singing from pop, country and R&B to classical.
The instructors are best-in-class educators coming from Julliard, The Voice and other top music institutions. This course has everything you need to learn to sing. Start Now!