May 15, 2019 by Klaus Crow
Photo by Taylor McBride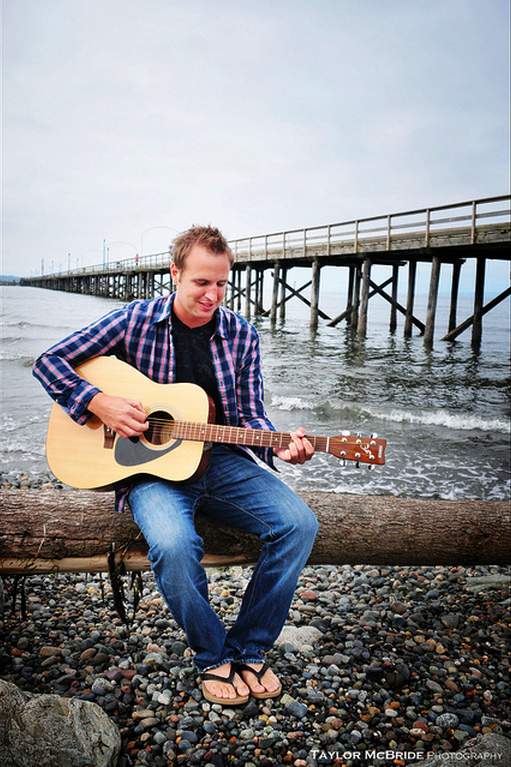 Every morning when I wake up I read a chapter from the Tao Te Ching or something that is related to Taoism or Zen.
(The Tao Te Ching is a book about how to live a virtuous life and it's amongst the most translated works in world literature)
When I finished reading I meditate on the wise words of Lao Tzu so I can put it to practice in my daily life.
I use the app Insight Timer for meditating, because it's got some nice bells to start and finish my meditation session and it shows all the people from around the globe meditating with me at the same time which is really inspiring.
Then I do some Yoga just before the kids wake up.
It's a really nice morning ritual and although I'm quite consistent, I don't force myself to do these things everyday.
It just feels naturally because I love doing it. Just like playing guitar.
I don't have a ritual or routine for guitar playing. I just play throughout the day any moment I feel like it.
And I'll practice what I'm obsessed about at that particular moment. One day it might be Blues or Jazz and the next day I'll play and sing songs of Ryan Adams on my acoustic.
Now that I mention this. I just came from the supermarket and heard a Ryan Adams song on the radio "Chains of Love" It's nice to hear good music on the radio. After I finished writing this post I'm gonna transcribe that song and play it. Oh I can't wait. Sorry let's get back to where I was…..
Other days I'll play scales, triads, intervals and licks for weeks in a row because I love to enhance my guitar vocabulary and develop the ability and freedom to play whatever I want across the entire fretboard.
But hold on a minute… No goals… Goals make me anxious and they create stress.
Just whatever feels good at the moment I'll surrender myself fully to that. And that could be the same thing for a long time or different things for a shorter period of time. It doesn't matter as long as I'm having fun. Productivity will find it's way.
Oh yeah, and then I have a couple of other hobbies, like spending time with my wife and kids, teaching guitar, running, blogging, cooking, walking, reading, writing, bicycling, gardening and growing my own vegetables. Did I mention playing guitar? Well I probably forgot a bunch of stuff.
The point is, there was a time that I believed it wasn't possible to do all these things, because there weren't enough hours in the day.
But I discovered that my limited thinking held me back from doing a lot of things that I loved. And why shouldn't I do everything that I like? Hey I might draw, paint or make a buddha if I feel like it or I'll try to fix my own guitar amp. I know I have two left hands, but I might enjoy it en learn something out of it. Why not? It's called spontaneous living.
So how do you create more time to play guitar, enjoy gigs, transcribe songs, workout, put together your dream repertoire, jam with your friends or a bunch of other great things that life has to offer.
Well here are a few of the keys:
– Wake Up. Yes try to wake up earlier. WAIT! don't skip this one yet. It's a tough one..I know, but hold on. If you read this post you might change your mind and change your life. Try to think outside of the box for a second.
– Watch Less TV. So obvious, but so tempting when you feel lazy or tired. The moment you give in on watching TV takes just a second. If in that same second you ignore that thought and replace it for something that you'd love to do instead.. and then go for that.. without hesitating.. you'll gain 30 minutes to an hour of free time easily.
– Turn it Off. You really don't need your smartphone. Turn it off more often or better yet turn if off entirely. Yes yes you can take it with you for emergencies but just turn it off. Believe me, you can do without. Try it for 10 days in a row and you'll be surprised. You'll be wondering why you wasted so much of your precious time for a useless addictive habit.
– No News. Stop reading or watching the news. If it is really important people will let you know about it and sometimes it's better if they don't (after all the world didn't end on december 21, 2012)
– Simplify Your Tasks. Chunk your tasks into smaller ones. Break them down into concrete steps and make it easy for yourself. Small step are easy to manage. And try to do everything in the most efficient way possible.
– Be Effective. Eliminate unnecessary tasks. Only do what is really really important and leave out the rest. Don't just assume or except that everything is important. It's not! Think really carefully about what is important and what is not. Dare to eliminate.
– Think Outside of The Box. Do things differently. If something doesn't work for you, change it.
One of my favorite quotes: "If you do what everyone else does, you are going to get what everybody else gets."
– Phonecalls. Stop answering every single phonecall. Let people leave you a message on your answering machine or send you an email. On the other hand if you need to know something don't spend all your time on google searching for it. You'll waste hours in no time. Preferably pick up the phone and call someone who knows how to do what you want to do. Get used to it.
– Declutter. Get rid of stuff. Less stuff and less clutter means less organizing, cleaning, maintaining, repairing and distraction. Stuff and clutter is unconsciously time consuming.
– Make Less Commitments. and reduce obligations to free up your time. Rather visit people spontaneously or make a commitment not to long in advance.
– Learn to Say No. Be polite, but clear. Respect yourself by saying no if time doesn't allow it or if you don't feel comfortable with it. Just tell people that it's not convenient at the moment or be politely honest if you dare.
– Outsource. Try to automate or outsource dull or repeating tasks in your life. Let other people do for you what they can do better and let people benefit from your talent or skills in return.
– Stop Procastanating. Start doing what you always wanted to do. Live your dream by doing it. It doesn't matter if it's a really small dream or a major big one. Just take the first step.
Everyday a small step and you'll come closer to living your dream and doing what you want to do. As long as the path your walking is fun and enjoyable. Don't wait for the perfect time or the perfect surcumestances. There aren't any. Just do it now!
An ant on the move does more than a dozing ox. – Lao Tzu
Do you like Guitarhabits? Please take a small moment to visit my Facebook page and "like" it. It would mean a lot to me. Just click the adorable green facebook button.