May 15, 2019 by Klaus Crow
photo from Istockphoto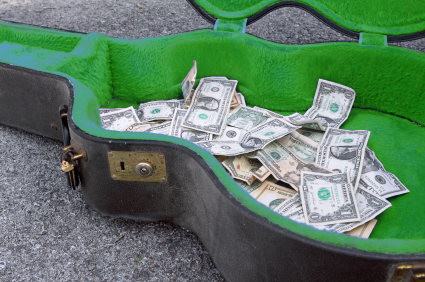 Everybody needs to make a living and so do musicians.
For a lot of musicians the ultimate goal is to write and perform their own music and get paid for it.
This is an awesome goal, but success takes a while. In the meantime you need to pay the bills. Luckily as a musician there are a lot of creative ways to make good money.
We can't live without music anymore. Music is needed everywhere and for everything. It's a global language that we all understand and people all over the world come together to listen to it. We need music to feel good, get excited, be inspired, relieve stress, go crazy, to connect and to feel we belong to something or someone.
We are surrounded with music everywhere. Just to name a few: CDs, DVDs, Radio, TV programs, ads, movies, Internet, games, jingles, concerts, festivals, bars, coffee houses, restaurants, malls, weddings, ceremonies, etc. So there is a huge market for you as a musician to benefit from. You don't need to be a professional. You become one while doing it. It's possible for everyone. All you need is dedication, motivation and persistence to make it happen.
Here are 5 ways to make money while loving what you do:

1. Playing in a Top 40 cover band.
Playing music in clubs, pubs, at weddings, restaurants, etc is a good way to make a descent living. If you're creative, flexible and produce quality, you can make a lot more than a decent living. The more flexible you are as a musician the more money you are going to make. By flexible I mean:
you have to be willing to play every kind of music that people like to hear.
you need to get along with your fellow musicians / colleagues because you will spend a lot of time hanging out with them on the road
you need to become a good socializer to get the best of your employers, booking agents and most important of all… your fans.
Be aware of other bands in your area. Check out what other bands are charging for a gig. If possible, compete. Make sure your band stands out from the rest. Be original, be special, be creative. Ask yourself: what do people want? What kind of band do you want to hear or see when you're going on a night out with your friends? You can also make extra money selling merchandise like T-shirts, caps, CDs, DVDs, whatever you can come up with. The more you connect with your audience the more stuff you're going to sell.
As far as equipment goes, don't rent but buy your own P.A. system. It'll be cheaper in the long run.
If you are really going for it, it can be a great ride. I played in cover bands myself and I learned a lot from it. Sometimes you might not like particular genres in the first place but you end up appreciating more music and learning more different styles. You'll become an all-round guitar player and it's an awesome experience in many ways.
2. Becoming a freelance guitar player…
will give you more freedom and independence. Playing in multiple bands with different musicians is a challenging job. You need to learn how to fit in fast and easily and it's a great learning school. You not only learn how to become a great musician but also how to become a great salesman and businessman.
To be a freelance guitar player you have to make yourself heard. So marketing yourself is the number one thing you have to be busy with. Put up a website or blog and start promoting yourself. Put yourself on Youtube, Myspace, etc. Network your way to success.
Playing in a band is ultimately the best marketing there is, but networking is just as important. Make sure you have a business card with you all the time. Become the guitar player that every band wants to have. Enjoy the lifestyle!
3. Providing a service online
The Internet is the place to be nowadays. There are many ways to provide a service online as a musician. You can present yourself as an online session player, music producer, songwriter, performer, etc. Find out what it is that you are good at. What is it that you are passionate about? How can you persuade and satisfy your customers? What can you deliver in good quality and fast if possible? What makes you stand out from the rest? What is it that people need from you?
Let people hear and see what you can do for them. Amaze people with your skills. Focus on your potential customers. Learn from people who do what you do. Make up your own plan. Be special. Create a niche. Don't get overwhelmed by the amount of people who already do what you do. There are also hundreds of thousands of bakeries, supermarkets, carpenters and painters all over the world and they all make a living.
4. Starting a music trio, duo or becoming a solo performer…
has a lot of advantages. Because you are with less people, you are a lot more flexible. You have less opinions, less hassle, more control, more money. You don't need a lot of equipment. Buying your own P.A. system is definitely a good investment.
You don't necessarily need a live engineer. This also means you end up with more money in your pocket. You are probably cheaper than most bands are. So bars, pubs, coffee houses and restaurant owners are also more likely to hire you because of their smaller budget. If you can create a class act you can perform almost everywhere and charge more. You are what you create.
5. Teaching guitar…
gives you a great deal of independence, freedom, fulfillment, fun and good way to make money. Hey, what more do you need? :-) You need to keep up with the latest hits, the hottest riffs, the coolest guitar dudes, but also keep digging for oldies. That way you teach but also learn a lot of new and good old stuff.
As a teacher you don't need to have a lot of expenses. You can probably teach at home or at the home of your students. All you really need is a guitar and probably some sheet music. What you do need is a lot of patience and the ability to teach. Most people who would like to teach already have a clue if they are suited for the job. It's something that comes naturally. Knowing how to play guitar helps. :-)
Again market yourself. Start putting up a website, always carry your business card, create flyers and hang them up at appropriate places like guitar shops, supermarkets, malls, social clubs and schools. Advertise in local papers, etc. If you do a good job teaching, the word spreads quite fast. Teaching small groups instead of private lessons will make more money and is definitely possible. It has also advantages for the students themselves. It's cheaper, fun, socially, slightly competitive and thus motivating. They also learn how to play together, how to interact, which is important if you want to become a musician.
What you need to do as a teacher is to be really focused. Give all your students the same amount of attention and have an extra pair of ears an eyes. Don't worry you can train this as you teach.
Good luck with your choices!
A summary of tips:
– Find out what you like and just go for it. You'll make mistakes but you'll survive.
You'll find obstacles and setbacks on your way, but you'll overcome them.
– Market yourself or your product via a website, Youtube, Last.fm, Twitter, Facebook, Myspace, etc.
Advertise in local papers, create flyers and folders, hang them up and spread them around.
– Market yourself in real life: socialize, be friendly, listen, ask questions, network.
– Read books and blogs about your niche. Learn everything there is to know about.
Ask people who know, call people, email.
– Keep your expenses as low as possible.
– Don't charge to little, but try to outsmart your competitors
– Whatever you do, do it with passion and enthusiasm.
– Keep it fresh, keep being creative, keep developing, keep improving, keep it fun.
– Challenge yourself. Take a risk now and then.
– There's no one particular way to do it, there is only your way to do it.
– Make sure you love what you do. That is the golden rule!
Do you know some awesome ways to make money playing guitar?
Please share them in the comments!