May 14, 2019 by Klaus Crow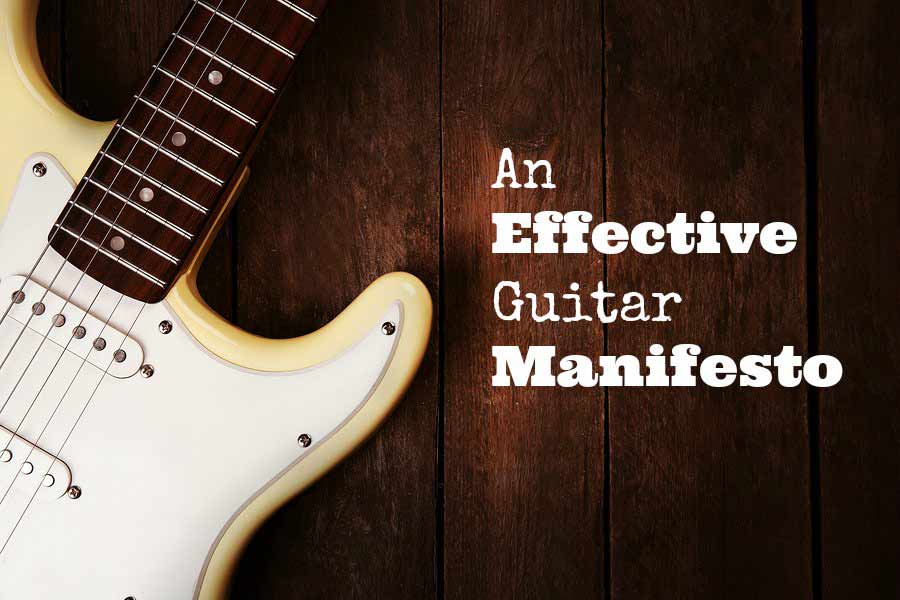 Guitar playing is fun and enjoyable, but also challenging and frustrating at times. You want to get to the point of mastery and accomplishment, but in order to get there you have to overcome the necessary obstacles and challenges to reach your goals.
You want to be that awesome rhythm guitar player, flourishing at soloing and improvisation, having the skills of a great singer songwriter or be able to play guitar and sing with confidence.
So how do you get there? How do you reach your dream goal and be able to do what you love most in a busy, chaotic and demanding life where everybody expects everything of you?
Today I present to you an effective guitar manifesto that will take you by the hand, get you back on track and lead you into the direction of your ultimate guitar goal!
Are you ready?
– Think about your goals
Let's start thinking what it is that you would like to accomplish with your guitar? What inspired you to play guitar in the first place? Now take a piece of paper and start writing. Where do you want to be five years from now?
Do you want to be on stage? Do you want to have a repertoire of songs under your fingers so you're ready to perform anywhere and anytime? Do you want to be playing in a band? Write your own songs? Become a professional musician or be able to entertain friends and family? Write it down!
– Set your goals
Now I want you think where do you want to be a year from now? A year seems far away, but time flies. Set one or two goals. Write down very specifically what you would like to accomplish. What songs can you play a year from now? What kind of soloing skills or guitar styles will you have mastered? Have you written and recorded a song? What about your first EP or a complete album? Write down your dream goals right now!
– Make it number one, despite…
Personally, I always have multiple goals and not just guitar goals. I admit, sometimes more than I can handle. I like too many things and have a great passion for all of them. But sometimes at the expense of practicing. Aside from passions and goals there's also life and other important stuff that gets in the way every time. :)
This year I placed practicing even on top of the most important goals and urgent stuff. Practicing became my number one goal again. Hell with the never-ending urgent and so called important stuff.
This time, no matter how busy your schedule YOU ARE GOING TO PRACTICE! If you don't have 30 minutes, you will take five, but practice you will. And you know what? It will feel awesome! Even in those 5 minutes you make progress. And 5 minutes often become…
– Prepare
Now before you sit down to practice, NEVER sit down without a notion of what you're going to practice. After you've written down your goals, break 'm down into smaller chunks. How are you going to reach that goal? What small practice steps can you take everyday to reach that goal? What is it that you are going to practice today? What music are you going to transcribe? What books do you need? What chords, scales, licks and songs are you going to practice that will lead you to where you want to be?
Are you going to write a song? What is it about? Are going to start with a melody, lyrics or a chord progression? How do you go about it? Are you going to work on your soloing / improvisation? Find the right blues, rock, country or jazz jam track to accompany your improv workout. Start a blues improvisation course to improve your skills and get to the next level.
– Schedule your practice workout
When and on what time of the day are you going to practice? Before or after coffee? Before or after dinner? Evaluate your time. How do you spend your day? Where can you spent a few more minutes to practice. Free up some time. Think outside of the box! Set reminders in your iPhone, Google Calendar, your notebook or write it down on a piece of paper and put it on your desk or kitchen table. Set a fixed time to practice!
– Immerse yourself in a guitar life
Immerse yourself in a life of playing and practice. Create an environment where everything will pull you towards your guitar. Print out your music sheets and put them on a music stand (digital music sheets in your computer won't get noticed). Also put your guitar on a stand in the living room so you can't miss. Surround yourself with musicians and like minded people. Watch and listen to guitar players and bands that inspire you to practice more. Go and see a concert.
– Make a commitment
Aside from setting a goal you need to make a commitment to yourself. Make a commitment for at least one year to give yourself the opportunity to grow and see where it will take you. Making a life time commitment is too overwhelming and can be a setup for failure. A year is within reach and attainable. After a year you can make up the balance.
Once you have chosen your one or two goals you are going to stick with it no matter what. You're not going to give in on temporary emotions, negative thoughts, hurdles and setbacks. If you want to win this game you have to be determined to find out what is on the other side. Now you have chosen to do this for one full year, there is no rethinking, you are going to fulfill it!
– Evaluate your commitment
Set aside 15 minutes every two weeks to check if you're still on track, making progress and following the right path towards your goal. Are you still focused or are you getting side tracked from time to time? Adjust or upgrade your workout if necessary. Write down your next step and where you are heading. Stay committed.
– Create accountability
The thing that works best is accountability. Start a band or project with other people that have similar interests and make you accountable for your actions. If you want to learn country music find people who are also into country and get together to play and make plans. If you want to learn to play blues guitar start a blues band. Just do it and correct course along the way.
Create a situation where you feel responsible to meet your goals. Make a bet with a close friend, find someone you can trust to interrogate you and inspect every four weeks how you are doing with your goal or post your goals and next steps on Facebook or Twitter for everyone to know to make sure you will follow through.
Summary:
– Write down your one or two goals.
– Write down specifically how you are going to reach those goals.
– Break your goals down into smaller chunks.
– What do you need? Go and get it.
– When are you going to practice? Set a fixed time.
– Prepare for practice.
– Make a commitment for one year.
– Immerse yourself in your guitar goal.
– Evaluate every two weeks.
– Create an accountability situation.
– Follow through no matter what.
Reap the benefits!
Any more tips or comments? Please share in the comments. I appreciate it.