March 29, 2021 by Klaus Crow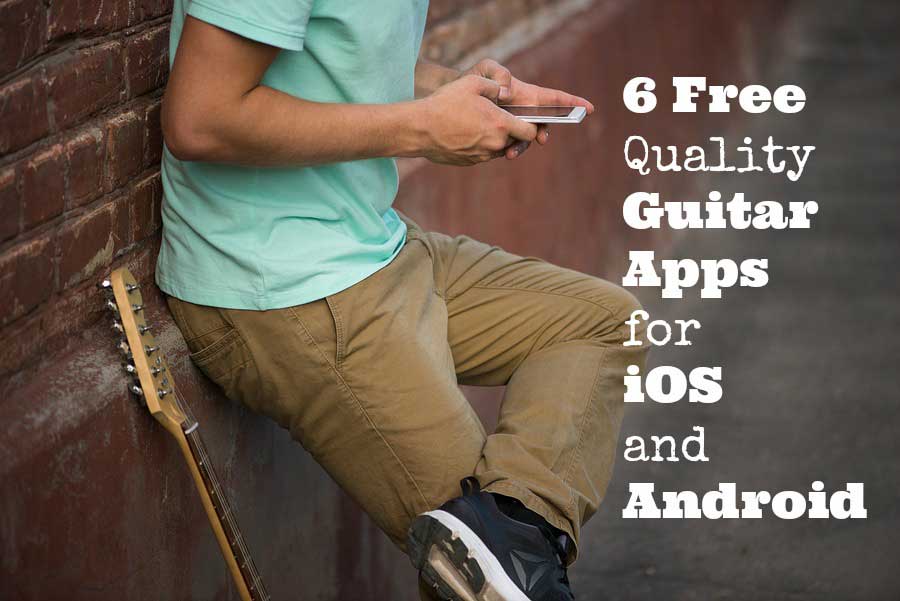 Today we're going to look into some quality guitar apps that will help you move faster towards your guitar goals, so if you're not already reading this on your mobile device you know what to do. Grab your phone, your guitar and check out these great free apps.
I always try to find effective and easy interface guitar apps that you can really use as a guitar player and musician. If you like these apps you might want to check out some of the earlier posts as well 6 Cool Guitar Player Apps for iPhone and iPad and 10 Awesome Guitar Players Apps for iPhone and iPad
Enjoy!
1 – Riff Meastro
Riff Maestro is a free riff learning app for iPhone, iPad, iPod touch and Android. You can load up your favorite songs, set loop points, slow down riffs and pick 'em out note for note until you're a maestro yourself. If you want to transpose songs to a different key it requires you to upgrade and buy the additional feature. Riff Maestro
2 – Songtree
Songtree is a collaboration app that let's you sing and play over original or cover songs, create your own musical idea or unfinished song and get other musicians to play along or finish it. It's for iOS and Android but you can also work with it on your Mac or for Windows. Check out the website here: Songtree
3 – Wiretap riff
Absolutely love this app! Wiretap Riff let's you capture your musical ideas quick and easy. It's got a built-in peak meter, and you can tag, trim, name, group, save and share your riffs from the app. A high-quality recorder app for Android and iOS.
4 – Chordbank
Chordbank let's you learn and look up thousands of guitar chords and scales and accompanying lessons to really get it all under your belt. Android and iOS
5 – Soundcloud
Soundcloud is a popular audio distribution platform where you can upload, record, promote, and share your originally-created sounds. It attracts more than 175 million unique monthly listeners. A free account gets you started where you can upload up to 3 hours of audio and then share them with your listeners. Follow others. Like and comment on music. The more active you are in the community, the more you'll grow your fanbase.
6 – Coach me
Coach.me is a goal Tracking, habit Building & motivational Coaching app. Although it's built for any kind of habit, I use it for my guitar goals and it keeps me reminded and triggered of what I need to practice daily / weekly and stay committed. It's a great tool for busy people. It definitely works for me! It's available iOS and Android but there's also a desktop version to make sure you're fully covered.
Do you know any great guitar apps for both iOS and Android? Please share them in the comments. I appreciate it.
Have a great weekend!