May 15, 2019 by Klaus Crow
Photo by Bigstock photo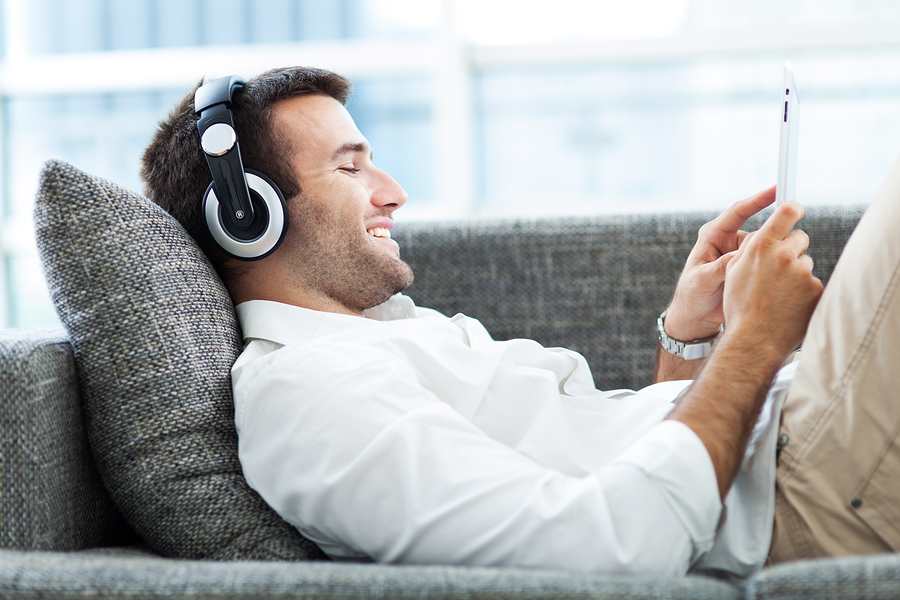 I must confess, the reason I bought an iPad in the first place is because I wanted to have access to jam tracks in the quickest way possible when sitting on my couch playing guitar, but without having to walk over to a computer, a CD player or anything like that. That's just too much of a hassle.
When the urge comes to play, I want to grab my guitar out of the stand and start playing. I rather not waste time looking for stuff like sheet music, a tuner, a metronome, jam tracks and so on, because I might get distracted in the process of trying to find these things, which would be such a shame.
The iPad is the answer to this rather ridiculous inconvenience. Guitar, iPad, Play.
But hey it works and my guitar playing has improved because of it. Everything I need is in there and it works fast. I love it when my jam tracks are just one click away from me and I can start improvising. I usually use jam tracks CD's that I imported into iTunes. I tune my guitar with Guitar Toolkit and use sheet music that I uploaded to Dropbox, Tab Toolkit or Pocket.
Here's a list of some pretty awesome apps that makes life easier and better for guitar players.
There are two apps (Bias and Hokusai) that I haven't tried yet, but having read the reviews of users and professional guitar players they are really worth checking out.
Here we go:
1 – Guitar Toolkit
GuitarToolkit is a collection of essential guitar tools for your iPhone and iPad including an excellent tuner, metronome, chords, scales and arpeggios.
2 – Drum Beats +
DRUM BEATS+ is a simple and fun collection of drum loops for stress-free jamming and songwriting accompaniment. No assembly required! Ranging from 1 to 4 bars in length, these loops are great for casual practice, exploring song ideas or even live performances. Plug into Hi-Fi speakers for the best sound (or just play right from your device!).
3 – Guitar Jam Tracks
Practice jamming, learning guitar scales and soloing to 5 great sounding jam tracks in different keys right from your iPhone/iPad! Add more styles and scales with our in-app store. Styles included: Acoustic blues, humbucker blues, jazz, modern rock and reggae.
4 – Anytune Pro+
Slow down music, choose the perfect pitch, and learn to play by ear. Import your music from Dropbox, Email, Download from the Web, and more. Mark and loop song sections for practicing and sharing. Import Audio from Videos.
5 – Tab Toolkit
All your sheet music, wherever you go. TabToolkit supports Guitar Pro, Power Tab, PDF and text tab formats. With "rich" file formats (Guitar Pro and Power Tab), you can view both standard music notation and tablature notation. If you've got tab files on your computer that you'd like to move into TabToolkit, no problem.
6 – Garageband
Play, mix, and record your own songs. Then share them — across the room or across the globe. Build your songs with up to 32 tracks using Touch Instruments, audio recordings, or loops. And edit single notes or entire song sections simply by dragging them where you want.
7 – BIAS Amps
BIAS is an Amp Designer, Modeler and Processor for iPad. It's warm, accurate and more versatile than any other modeler, processor in hardware or software ever created.
BIAS starts with stunning replications of 36 of the most sought-after vintage and modern amps in rock 'n' roll history and then lets you customize them to respond perfectly to your unique touch and feel.
8 – Hokusai
Multitrack audio editor for iPad, iPhone & iPod touch. Record with built-in mic, line in or USB. Transfer audio to and from your iPad via USB or Dropbox. Import tracks from your iPod music library. Import from Wave .wav, Core Audio .caf, .aiff, MPEG .mp3, .m4a and .aac files. Convert between mono & stereo. Split & merge stereo tracks to edit left/right channel only. Mix multiple tracks down to one.
9 – Earbeater
EarBeater is an ear training tool designed for people who wants to become better musicians. You can train your musical ear in more than 200 individual exercises covering intervals, chords and scales.
10 – Pocket
Save and keep all your favorite Blog posts, websites, articles, videos and TABS that you find online in your pocket app.
Do you know some cool guitar apps or apps that are convenient to guitar players please share them in the comments. Thanks!
Join the Guitarhabits facebook page to keep up with the latest posts, guitar lesson videos, tips, tricks and other news about Guitarhabits.
Just click the green Facebook button here below.