August 28, 2020 by Klaus Crow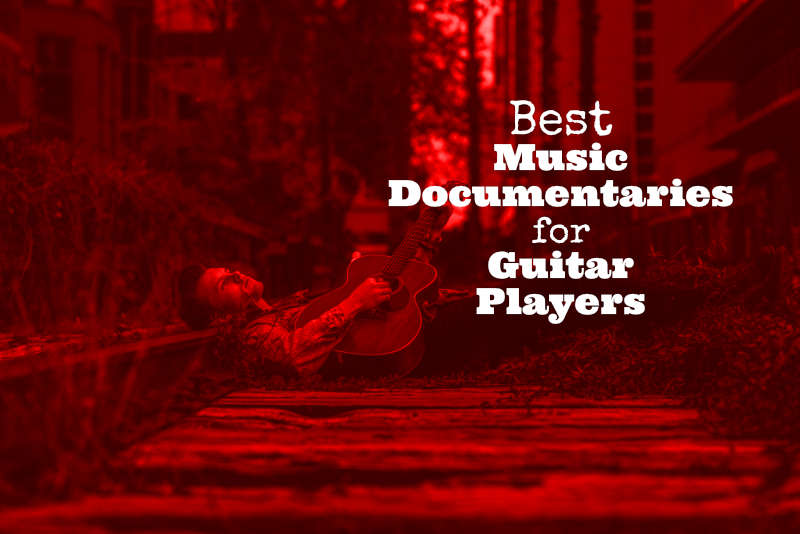 Every now and then I watch a good music documentary or movie to enjoy the incredible stories behind the master guitar players and legendary bands.
The struggles, hardship and passion for playing is really inspiring and insightful for anyone who is a student of the guitar. Today we got a list for you with some of the best music documentaries. Witness the turbulent and expressive lives of these musicians. Follow their love for music, their eagerness, perseverance and lessons learned throughout their journey.
All the guitar players and songwriters faced their own challenges that led to the extraordinary musicians that they have ultimately become. A true pleasure to watch each and everyone of them. Pick your favorites from the list and enjoy.
Have a great one!
Stevie Ray Vaughan – Rise Of A Texas Bluesman – 2014 (Youtube)
A docu on American musician, singer, songwriter, and record producer Stevie Ray Vaughan, best known as the guitarist and frontman of the blues rock band Double Trouble. He is considered to be one of the most iconic and influential musicians in the history of blues music, and one of the greatest guitarists of all time.
Acoustic Uprising (Youtube)
Acoustic Uprising tells the definitive story of Modern Acoustic Guitar, featuring interviews with world class FingerStyle guitarists from around the world, including Tommy Emmanuel, Kaki King, Newton Faulkner, Sungha Jung, Andy McKee and many more. These artists are renowned for their virtuosity on the ubiquitous acoustic guitar, taking the humble instrument to new heights of "astounding virtuosity".
Keith Richards – Under influence (Netflix)
Under the Influence gives fans unparalleled access to one of the world's greatest rock stars and the people and sounds that inspired rock 'n' roll legend Keith Richards.
Jimi Hendrix – By Those Who Knew Him Best (Youtube)
Jimi Hendrix is unquestionably the greatest guitarist to have emerged during the rock era. This documentary contains exclusive interviews with his closest friends, associates and fellow musicians, which finally reveals what was behind the greatest musical talent of our time.
Eric Clapton – Standing At The Crossroads Documentary (Youtube)
In this documentary feature Eric Clapton is interviewed in depth with contributions from Keith Richards, John Mayall, The Yardbirds, Jack Bruce and many more. It is THE definitive Clapton biography.
Paco de Lucia Documentary (Youtube)
A beautiful portrait of Paco de Lucia. A Spanish virtuoso flamenco guitarist, composer, and record producer. A leading proponent of the new flamenco style, he was one of the first flamenco guitarists to branch into classical and jazz.
Guitar – A documentary – 1991 (Youtube)
A U.K. video documentary about the guitar. Features David Gilmour and his 0001 Stratocaster. Also includes Chet Atkins, Paul Atkinson, Jennifer Batten, Lindsey Buckingham, Steve Cropper, Al DiMeola, Tony Iommi, Eric Johnson, B.B. King, Mark Knopfler, Steve Lukather, Hank Marvin, Brian May, Les Paul, Joe Satriani, Brian Setzer, Stephen Stills, Steve Vai, Joe Walsh, and more.
The Eagles – History of the Eagles (Amazon prime)
History of the Eagles is a 2013 two-part authorize documentary about the career of the American iconic rock group the Eagles.
Robert Johnson – Devil at the crossroads – (Netflix)
Cloaked in mystery, bluesman Robert Johnson left his mark on American music. Now family, critics and famous fans look for the real man behind the music.
Once – Glenn Hansard and Markéta Irglová – Movie (Youtube)
Once is a 2007 Irish musical romance film written and directed by John Carney. The film stars Glen Hansard and Markéta Irglová as two struggling musicians in Dublin, Ireland.
B.B. King – Legends documentary (Youtube)
The life of blues legend B.B. King. The untold true American story of an orphan boy from the heart of the Mississippi Delta who rose to music stardom around the world and inspired a generation of fans against all odds.
Joe Satriani in Reel Satriani (Youtube)
Documentary of guitarist Joe Satriani recording his seventh album (from 1995). Bassist Nathan East. Drummer Manu Katche. Produced by Glyn Johns.
Chet Atkins, a Life in Music (Youtube)
A really interesting documentary about this legendary guitar player and his influence in country music. Features a lot of guitar playing from Chet.
Red Hot Chili Peppers – Funky Monks (Youtube)
Funky Monks is the title of a 1992 documentary (also the title of a song from the 1991 album Blood Sugar Sex Magik) about the rock band Red Hot Chili Peppers and guitar player John Frusciante and the recording of their highly successful 1991 Warner Bros. debut Blood Sugar Sex Magik. The album was produced by Rick Rubin and recorded in The Mansion
John Mayer – Someday I'll Fly (Youtube)
Music Documentary on John Mayer: Someday I'll Fly chronicles the musical evolution of one of the most influential solo artists of his generation. Featuring rare demos, interviews and live performances; it is told in it's entirety from Mayer's perspective.
Coldplay – A head full of dreams – New documentary (Amazon prime)
Long term collaborator Mat Whitecross blends spectacular live performances with exclusive band interviews and a huge array of previsouly unseen archive footage to produce "a Head full of dreams" – The definitive story of the world's biggest band.
Django Reinhardt documentary (Youtube)
A documentary about Django Reinhardt with some brilliant guitarists who are keeping his jazz style alive.
John Williams – Classical Guitar Player (Youtube)
The celebrated documentary on John Williams, his life, his friendship and long association with Greg Smallman, his views on Segovia, his own teaching, the repertoire and how he defines musicality and much more.
Joe Bonamassa – Bloodline Documentary (Youtube)
This 1994 special feature on 16-year-old Joe Bonamassa was first aired on Channel 4 London public television and also includes commentary from B.B. King, Danny Gatton, and members from Joe's former band Bloodline.
George Harrison – Living In The Material World (Amazon prime)
A 2011 documentary film directed by Martin Scorsese, based on the life of The Beatles' George Harrison.
Wes Montgomery – The Life and Music Of Wes Montgomery (Youtube)
The audio commentary by The Great Jazz Singer Nancy Wilson is produced and brought to us by NPR Jazz Profiles. The graphics and short videos throughout the documentary are edited by your's truely. Stay tuned for this wonderful profile of the Genius that was Wes Montgomery!
Queen – Days of Our Lives Documentary (Youtube)
The life and times of the rock band Queen and Brian May – told in two parts covering in part one the 1970's and in part two the 1980's and beyond.
It might get loud – Jimi Page, The Edge and Jack White (Youtube)
A 2008 American documentary film by filmmaker Davis Guggenheim. It explores the careers and musical styles of prominent rock guitarists Jimmy Page, the Edge, and Jack White.
Do you know a great guitar music documentary? Please share it in the comments. I appreciate it.