May 14, 2019 by Klaus Crow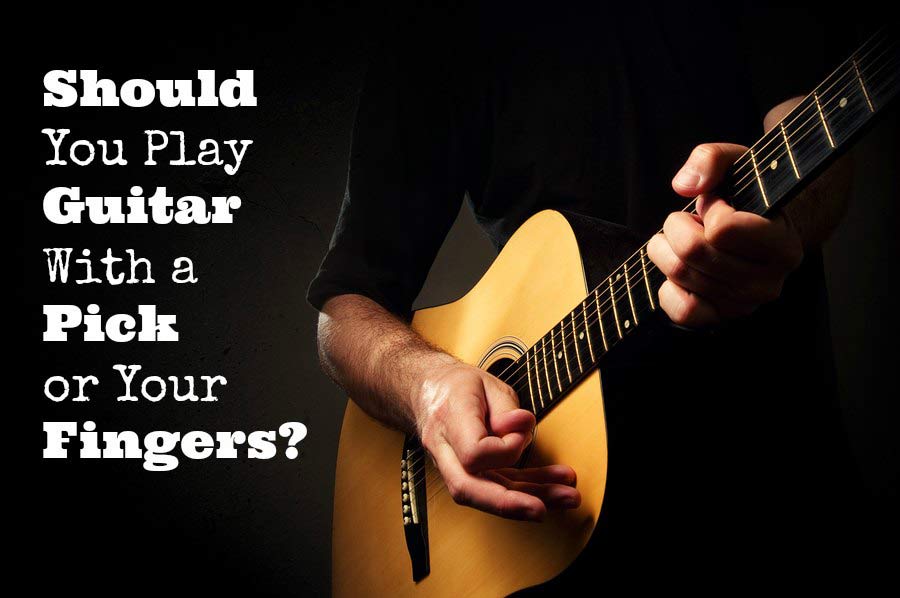 A question I get a lot from students is, "Do I have to learn to play with a pick? Can I not just use my fingers?" And some ask it the other way around.
Everybody has their preferences. Some guitar players find it difficult to maintain control over the pick. It slips away between their fingers, the pick doesn't hit the strings like they want to and they don't like the sound of it.
Others can't get their fingers to do what their supposed to be doing and they can't stand how stiff the finger muscles move. It's all part of a beginners frustration. It'll pass.
So which one do you choose, what is better and do you really have to learn both?
When I started playing guitar, I spent the first six years solely using my fingers playing rhythm guitar, fingerstyle and classical guitar.
At the age of 14 I found an awesome guitar teacher who showed me the world of electric guitars, blues and rock n roll. That's when I started using the guitar pick excessively and learned different kinds of picking techniques throughout the years.
Nowadays, I enjoy both ways of playing very much and wouldn't want to miss out on either of them. Both pick and fingerstyle have great benefits and give extra dimensions to your guitar playing.
Let's take a look at both techniques, the pros and cons and how they can serve your playing, so you can decide if you want to choose one over the other or benefit from both worlds.

FINGERSTYLE
Fingerpicking also referred to as fingerstyle is a technique where you pluck the strings directly with the fingertips or fingernails.
There are different ways to approach this technique. One of the most common ways is to use your thumb for the Low E, A and D-string (6th, 5th and 4th string), your index finger for the G-string (3rd string), the middle finger for the B-string (2nd string) and your ring finger for the high E-string (1st string).
The fingerstyle approach gives you a more softer and warmer tone as apposed to using a pick. This is because you're touching the strings with the skin of your fingers. The technique works great for folk, singer songwriter music, acoustic blues and other styles that requires that sweet pleasant tone.
An even more rich and dynamic tone can be created by using a combination of the skin and the nail of your fingers. Pluck the strings with the skin of your fingertips and part of the nail (make sure you grow your finger nails a bit).
The combination of the soft, warm tone from your fingertips and the attack of the nail provides a great rich tone. It needs a bit of experimenting and practice to get the hang of it.
Every fingerstyle pattern needs time and practice to develop flexibility, suppleness and speed. But don't worry, there are tons of songs out there with slow tempo or mid tempo fingerpicking patterns. This way you can slowly work your way up to more advanced fingerstyle songs.
PICK
A plectrum, usually referred to as a pick, can be used for any style of music and any type of guitar, but in particular electric guitar players and lead guitar players love the guitar pick. Although there are always exceptions. Guitar players like Mark Knopfler, Lindsey Buckingham (Fleetwoodmac) and Jeff Beck (after years of using the pick) are popular guitar players and excellent exponents of fingerstyle rock guitar. That being said, most electric guitar players use the guitar pick.
There are various techniques you can apply to using the guitar pick and each has it's own effect on the sound, the speed and fluency of your playing.
You'll learn to use all these techniques as you go, how to use them separately, in combination or partly.
– Strumming with a pick
– Downpicking
– Alternate picking
– Sweep picking
– Economy picking
– Hybrid picking
Strumming with a pick
There's a great benefit to using a pick for playing rhythm guitar. You can strum a lot harder against the strings and get more volume from your guitar. This is a good thing when you have to perform in front of an audience. Especially when the audience is a bit crowdy or when they are stand a few feet away from you, so you can still make yourself heard.
When you rather strum with your fingers and your fingers starting to hurt after a while from all that heavy strumming, you still got your pick as a backup.
Downpicking
Downpicking, also referred to as downstroke picking, is a technique where you solely play down strokes with a pick. It's usually applied to heavy rock riffs and metal songs, which gives it that steady aggressive rhythm tone. Great examples are guitar players like Johnny Ramone (The Ramones), James Hetfield (Metallica) and Dave Mustaine (Megadeth)
Alternate picking
Alternate picking makes us of strictly alternating downward and upward picking strokes continuously. You're constantly picking down-up-down-up-down-up-down-up.
For example: When you're playing a scale or three-note-per-string lick, the first note you pick down, the second note you're going up, the third note down, the fourth note up again and so on.
A lot of guitar players have become really fast speed picking players due to spending large amounts of time practicing the alternate picking technique. Think of guys like Steve Vai, John Petrucci and Paul Gilbert (Mr.Big).
Sweep picking
With sweep picking you pick in the direction of travel. Play a downstroke if you're moving down and play an upstroke when you're moving up. Sweep picking is a technique used in music styles like jazz and fusion, but also shredders are font of this technique. Once mastered, the technique conveys a smooth and fluid sound. Fusion guitarist Frank Gambale has made it his trademark and has become a virtuoso sweep picker which you can definitely hear in his style of playing.
Economy Picking
Economy picking is a combination of alternate picking and sweep picking. When you're picking several notes on a string, use alternate picking and when you change to a new string, use sweep picking. This is a very common technique for soloing purposes.
Hybrid picking
And then there is hybrid picking with combines the two. This technique is not that common and most guitar players don't master this special skill. Hybrid picking involves picking with a pick and using one or more fingers while your playing. The pick is hold with the thumb and index finger while you play alternately or simultaneously with your middle, ring finger and sometimes your pinky. This combination is a great way to vary your tone and gives your playing a unique sound. The technique is often used in country, rockabilly and bluegrass.
All these different kind of picking techniques give you a great amount of flexibility and control over your playing.
A beginner complaint is often that they find the pick to sound too harsh, but the dynamics of the sound depends on how you hold, strum and strike the pick. Also the choice (material, thickness, shape and texture) of your pick contributes to your tone.
Make sure you hold the pick between your thumb and index finger. Place the pick on the top side of your index finger and clamp your thumb down on top of it. Hold the pick firmly.
Using a pick comfortably takes time and practice, but it really pays off.
CONCLUSION
In the end it all depends on your musical preferences and which styles of music you want to master now and in the future.
If you ask me, learn to master both techniques as most accomplished guitar players do. It will expand the vocabulary of songs, styles and techniques you can make us of and it will enrich your playing abilities. Moreover, both skills are fun and truly addictive once you get the hang of it.
Keep on picking!