January 7, 2022 by Klaus Crow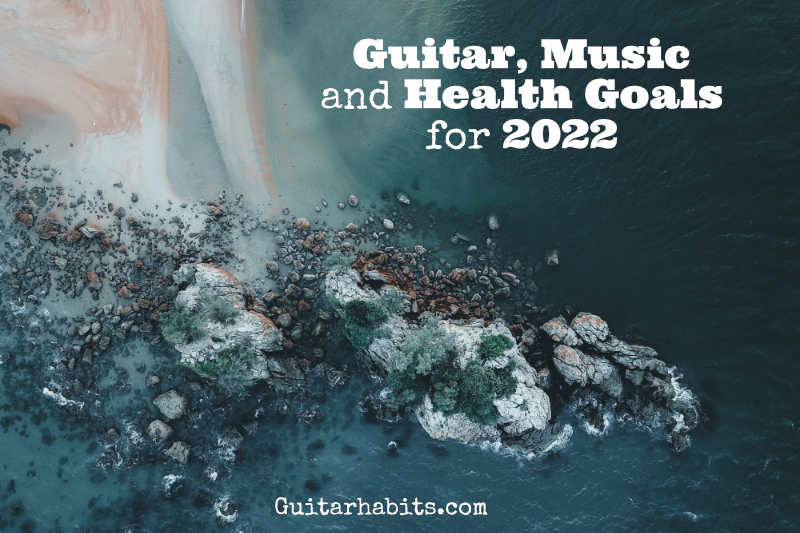 Happy new year to all of you! May 2022 bring you good health and utmost joy. While some things are beyond our control there is a lot we can do ourselves to improve our health and overall happiness.
As a practicing musician (and a human being) it's important to maintain a good physical and mental state, so I like to do whatever I can to work on my health and strengthen my immune system and of course this comes in phases. Life works like that. It's high tide and low tide, its Ying and Yang. It's all part of the game, as long as you get back up again and go for it.
For music and guitar goals it's the same thing. I set out goals where some survive and others don't and that's okay. It's the intention that matters.
For me goal setting makes me happy, that's why I do it. It's not the result I'm after to be fulfilled, it's the writing down of things that I want to do, the process, the workflow, the effort and everything that occurs from that.
I write down my goals. Writing down goals makes the probability of executing them much higher. Writing them down in detail on a weekly or even daily basis will make that probability huge.
My Previous Guitar Goals
One of my guitar and music goals for 2021 was "improving my guitar skills". Now I must admit that's a little vague, because if learned one new guitar lick I would've reached that goal. So I'm going to make my goals more specific this time.
Another one of my goals was "writing songs". Now that one I have accomplished. I've written 12 songs in the last year. I've written the music and lyrics, but I haven't recorded them yet, so you can guess what's coming.
I've performed before a live audience only once in 2021 which was a great joy, but any effort or attempt to start a band or musical group has not come off the ground because of all the covid restrictions.
For all my other goals in the categories "health", "mind", "work", "family and friends" I did well. In the category "health" it was on and off, but I always bounced back. I regularly drink water (much more than I used to do), I stretch a lot, I have times were I don't eat after 7 or 8 p.m. and I work hard to get my 7 to 8 hours of sleep.
I also spent a lot more time with my kids in 2021. I played a lot of soccer with the boys, we did a lot of family trips and now I'm teaching all three kids to play drums (They prefer drums over guitar. Haha!)
Now let's take a look at some awesome happy guitar and music goals to have a vision and aim to realize some good stuff for 2022.
New Guitar and Music Goals 2022
Guitar and Music
Learn to improvise over a new jazz song every two months.
Record, produce, mix and master 12 songs
Learn one new drum technique each week (on the Roland Td-17 which I absolutely love, I so do my kids! )
Work
Do more things that move the big needle
Apply the 80/20 principle as much as possible
Love every aspect of what I do
Health
Adding small incremental healthy habits everyday
Learn to cook new healthy recipes
No food, snacks or treats after 8 p.m
Name 5 things I'm grateful for everyday
Think love, talk love, do love, be love in everything and with everyone you encounter.
I hope you have some good intentions for 2022 and go after your goals to live a more passionate life! I'd love to know your guitar, music, health, work and overall happiness goals are for 2022. Please share them in the comments. I'd love to read them!
Have an amazing new year!!
Warm regards,
~Klaus Crow