May 15, 2019 by Klaus Crow
Photo by Brian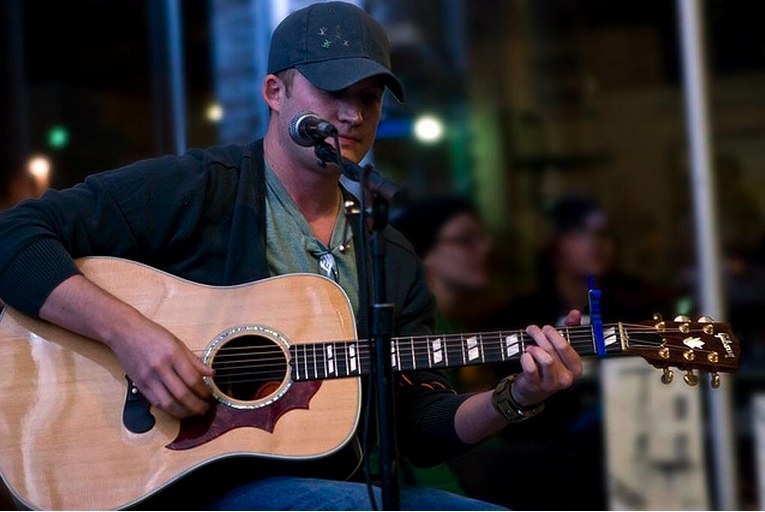 Being able to perform anytime, anywhere in any situation is one the greatest tools for a musician to acquire, maintain and to carry around in the backpocket.
A lot of guitar players have a hard time when it comes to playing or performing an entire song (let alone a couple of songs) on the spot if someone will ask them spontaneously.
They could show you some cool riffs or a nice intro, but to perform an entire song out of the blue is for many guitar players something they are not prepared for.
Some might actually be able to play an entire song but only with the backup of a band because they are used to perform like that. But dude, you got to be ready as a solo musician as well.
I've been there. Having played guitar for years and then people would ask me out to play and sing on the spot and I'd go like 'Uhh what do you want me to play?, 'I don't know that song' or 'I can't come up with anything right now.' or some other lousy excuse. It's just because I wasn't prepared.
But you know what, you should be prepared. It rocks! Being prepared makes you feel confident and in control. It allows you to show who you are and what you sound like as a musician. It's the way of being a professional.
One of my obstacles was to memorize song lyrics and it still isn't my strongest asset. But I overcame this hurdle by playing, singing and memorizing songs on a daily basis.
And not just songs that I had to rehearse for a band practice or some other project, but songs that I really really loved playing myself. Songs that I wanted to play and sing over and over again, because I loved them so freakin' much. That did the trick!
I don't say you need to sing, though it's great if you can or if you're willing to try. But at least learn to play entire songs by heart, make them interesting, alive and kicking for people to listen to!
Now let's get prepared and make you sound like a pro:
– Make a list of 5 of your favorite songs. Write it down in your Moleskine (offline) or in Evernote (online).
– Choose songs you really love playing even if nobody's knows them. (popular songs can always come later)
– Start by learning and memorizing the first song on your list.
– Play the song at least every other day.
– Feel the song, feel the melody and really listen to the lyrics while you sing 'm everytime again.
– Improve the way you play the song and be the best you possibly can.
– Focus on technique: dynamics, timing and accuracy.
– Once you feel you memorized a song go on to the next.
– Expand your repertoire song by song. (It feels great everytime you add a new song to your list.)
– Keep playing your songs every or every other day, not because you have to but because you love to.
– Find passion and fun in memorizing and improving your repertoire!
– Keep up for 30 days to make it a habit. Put reminders on your desktop and calender.
– Start performing your songs in front of friends and family to gain confidence.
– Over time expand your repertoire up to 45 minutes, an hour or more.
– Be able to perform anytime anywhere!
"Guitarists should be able to pick up the guitar and play music on it for an hour, without a rhythm section or anything." – Joe Pass