May 15, 2019 by Klaus Crow
Photo by YouWall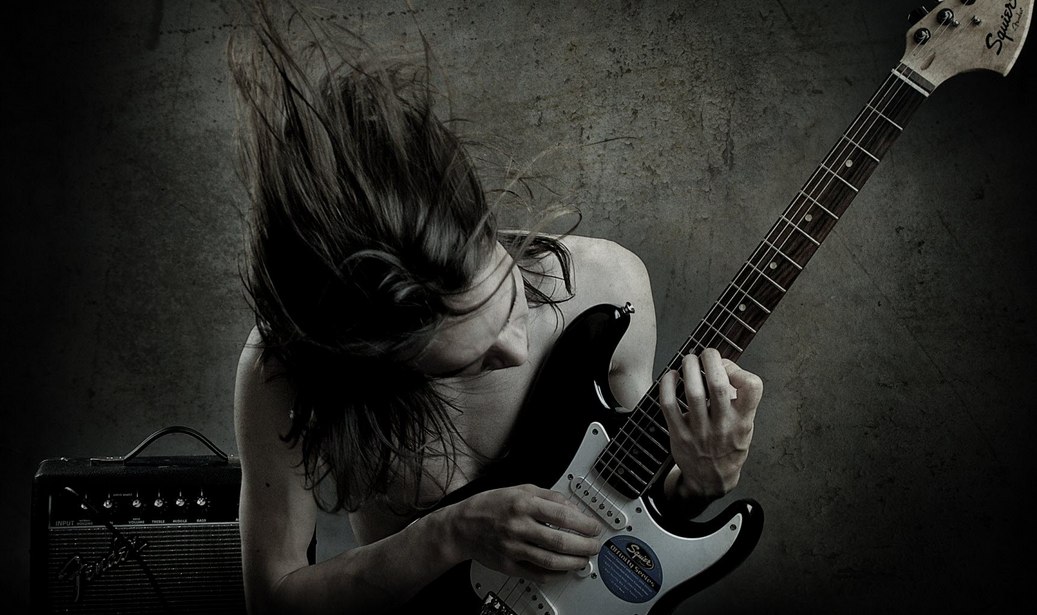 Yes, a beautiful guitar and a great sounding amp will get you fired up. You need songs, melodies, chords, solos, scales, licks, triads, arpeggios, music theory, exercises, skills etc.
But there is more to it than that.
What determines whether you will succeed and become successful as a guitar player is the philosophy and the lifestyle that gives you the insight and motivation to lead you and keep you going into the right direction.
In fact, the latter is even more important than being talented, knowing music theory or playing with descent equipment. Don't get me wrong having the best of both worlds is a privilege, but these 8 steps are crucial for making it happen.
Let's get you started:
1 – Name it
Before you can become a successful guitar player you got to know what you want. Do you want to be able to play a particular song really well or do you wanna nail a whole repertoire of 30 songs?
Do you want to become a blues guitar player, a jazz player, a classical guitarist, a singer songwriter, a performer? Do you want to teach, be taught or self taught? Do you want a band, a gig or a record deal? Do you want to be a hell raising fast or melodic lead guitar player or do you prefer to be an awesome rhythm guitar player?
Write it down on a piece of paper. If you're not sure, then write down what you don't want and you'll be close to knowing what you do want. Make a top 3 list of things you want first and then finally choose one thing you want most. Number two and three come later. First focus and what you want the most and start with that.
You have to name it before you can claim it!

2 – Visualize
Visualize the picture of the end result of where you wanna be or what you want to accomplish. If you want to be able to play a particular song, then visualize yourself playing that song perfectly. See a detailed picture in your mind of yourself playing and performing that song smoothly and confidently. See how your fingers easily slide across the fretboard, doing exactly what you want. Think of the image, feel it and believe it when you're practicing. You have to believe it before you can achieve it.
If you want to play in a band, record your own album and perform on stage, see yourself doing that and imagine how it would feel. Keep that picture alive every day. What would you do, what steps would you take and what would your life look like if you were doing all of those things? Live your life as if you already have achieved those things. It will become a self fulfilling prophecy.
3 – Practice
With all of our busy lives it's hard to find any time to practice. You need to pick a fixed time to practice. Go to a private space where nobody can disturb you, sit alone and work on your guitar goal. Whether it's learning a solo, memorizing a song, developing dexterity, improving your improvisation, creating a melody, studying music theory, make sure you focus on just that and nothing else. Eliminate all distractions and work hard at it. It'll pay off!
4 – Action Plan
Write down in 10 steps how you can get from A to B. What is necessary for you to be able to play that piece of music or to get a record deal. Once you've written down the 10 steps. Make the steps easier. Break each step down into another 3 to 5 steps, so you have a real action plan. The smaller the steps the easier it is for you to take necessary action for each step. So make the steps as small as possible. Now take the first step today, yes today! and the next tomorrow and so on. Stop thinking and start doing. "A path is made by walking on it" ~ Chuang Tzu
5 – Limits
The only thing that people will stop from achieving their dreams is thinking in limits. Believe that there are no limits to what you can achieve. The limit exists only your mind. Whatever you hold in your mind will tend to occur in your life, so let go of all limiting beliefs.
6 – Receptivity
Be open and aware of opportunities and people who come on your path. If you believe in your dream and you are open to whoever and whatever comes on your path, you will attract the right people who want to help and the right circumstances will appear. You will attract all that is necessary to fulfill that dream. Be mindful and receptive at all times.
7 – Kindness
Practice kindness towards yourself and everyone around you. Practicing kindness will make you feel good, it makes the other person feel good and the people who are witnessing the act of kindness. Therefor it creates a great positive energy whenever a room is filled with your presence and it reflects on whatever you do. Practicing kindness is very contagious and inspiring, people react kind towards kindness and that builds and lifts the energy to a higher level for whatever is happening at that moment.
Being kind to yourself is as important as being kind to others. Whatever you are trying to accomplish or whatever you're working on, be kind to yourself. Don't beat yourself up if things don't go as planned or didn't work out the way you hoped. Be easy on yourself. Say to yourself "I can choose what I think and I choose to be free of worry, I choose to think positive thoughts, be calm and easy on myself".
Our emotions are shaped by our thoughts and what we do and how we do it is heavily influenced by our emotions so be kind towards yourself and others, whether you're performing, practicing, studying, making a record, rehearsing with a band, talking with people, listening to people, working with people, learning from people or teaching people. Practice kindness!
8 – Intuition
Listen to your heart or intuition and let go of your ego mind whenever you need to make an important decision. Sometimes its difficult to know whether your heart of your minds speaks. When you sincerely let go of your ego, you will know what to do and what steps to take.
If you're stuck, meditation, walking or running outside can do amazing things. And when you do don't try to think of a solution, just let it go and empty your mind. Only then inspiration and answers will come.
NEWS
GUITARHABITS PRESENTS

"The Road to Playing Cool Blues Licks,
Mastering the Blues Scale, Improvisation and Getting Motivated."
"It's The Licks… And What's Behind The Licks"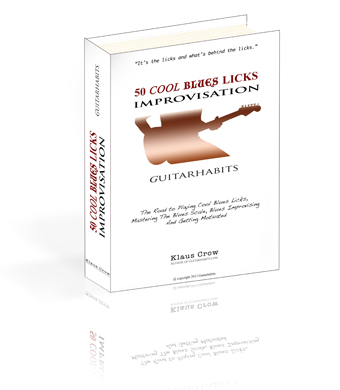 A Full Video Guitar Lesson Course Including Ebook And Play Along Tracks.