May 14, 2019 by Klaus Crow
Bigstock photo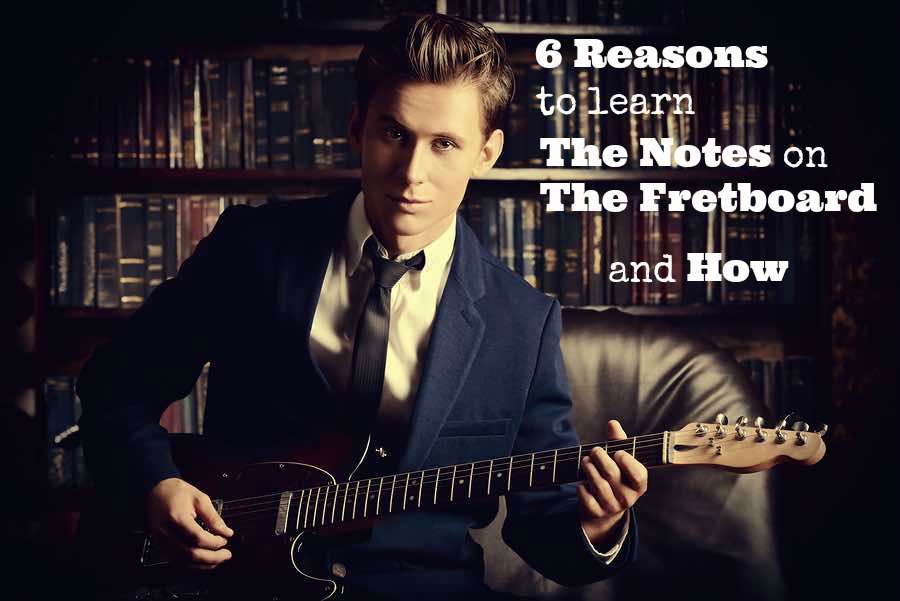 It may seem obvious that when you learn to play guitar you also need to learn the notes on the fretboard. How can you play music without knowing the note names? Well believe it or not, there are a lot of guitar players out there who don't have the slightest clue what they are playing and they do just fine.
I didn't know all the notes on the fretboard for a long time either. And yes I could still play all my favorite tunes and improvise over chord progressions. But there were limitations that I wasn't aware of at the time. Huge limitations!
Once I started learning the notes on the strings and figuring out what the notes of chords, scales and licks were, things started to change. One discovery let to another and a lot of things suddenly made sense and became clearer. My knowledge expanded and my playing improved. I learned all this in small steps.
You don't have to start learning every chord and scale note right away. Do it in small baby steps. First start learning the notes on the fretboard and take your time with it. This will already change everything as you will learn to recognize the notes you play. Once you've mastered this, you can learn chord and scale notes and analyze some of the things you play.
Play the notes of a particular chord one by one, speak the note names out loud and try to memorize them. The next time you do that with the notes of a scale. You will probably forget the notes after a while, then relearn it until it's stored in your long term memory. It will come in time and it will work for you in many different ways.
Let's be fair here. Knowing the notes and understanding the fretboard is not an overnight thing. It takes time and effort, but it will going to serve your playing every step of the way. Over the months and years it will benefit you in every aspect, no matter what style you are playing. It will all come to you!
Here are the reasons you want to know the notes on the fretboard:
Below you will see how.
1 – Chord Construction
Knowing the notes on the strings makes it possible for you understand chord construction, identify chords, how they are build and how you can easily add chord embellishments like sus2, sus4, maj7, add9, etc.
2 – Moving Chords
Once you know the most common barre chords and you have also learned the notes on the 6th Low E-string and the 5th (A) string then you can move any chord up and down the neck and play them in every key.
When you know the notes on other strings as well you are free to move up and down any closed chord shape, recognize their root note, play them in different keys and know their chord names instantly.
3 – Changing Keys
Knowing the notes makes it real easy to transpose a song to a different key that suits your voice or to simplify the chords for the song.
4 – Scales
Being able to recognize the notes of a scale will eventually make you understand why a scale works like it does and how it relates to chords and soloing. You will comprehend the bigger picture of every musical aspect of the guitar.
5 – Soloing
Identifying notes instantly on the fretboard anywhere makes you able to play around with your solo ideas, understanding your melodies, the scales you apply, how to duplicate soloing ideas to other areas on the neck. You will understand more and more what you are doing, why it sounds they way it does and how to expand your possibilities.
6 – Communication
Communicating with other musicians in a band is a really important thing. Poor communication leads to frustration and time consuming matters. When you know your instrument you can talk to each other in musical language and keep things short, clear and then move on doing what you ought to be doing and that is making music.
How to learn notes on the fretboard
I've already created a post on how to learn the fingerboard thoroughly in 16 days.
If you want to be serious about your guitar playing, check it out!
Do you know more reasons to learn the notes on the fretboard?
Please share in the comments. Thanks!