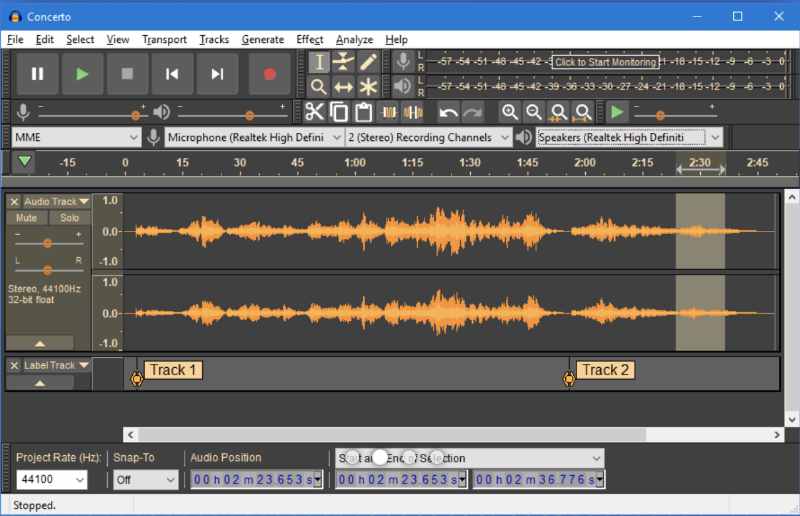 Today I present to you a list with 21 online musician tools so you don't have to download or install anything. Just click the links and you're up and running.
19 out of 21 tools are free to use. Most of them are virtual tools, a few of them are blogs but they can be a great tool as well.
The tools come quite in handy whenever you are practicing, playing, transcribing, improvising, songwriting or promoting.
I'm a big fan of online music tools and resources. It's great to have access to these tools from any computer where I happen to be. It makes life a lot easier.
One of my personal favorites is tool #8 for improvising over blues backingtracks. They sound really cool.
In case you are going to copy/paste this list on a blog, a spreadsheet or mail it to someone, (which you are free to do) I wouldn't want anyone to miss out on my own blog so that's why I put Guitarhabits on #21.
Enjoy the ride and good luck with it.
For your convenience:
1 – Audacity
www.audicityteam.org
Audacity is an easy-to-use, multi-track audio editor and recorder for Windows, macOS, GNU/Linux and other operating systems.
Developed by a group of volunteers as open source.

2 – YourGuitarChords
Yourguitarchords.com
Simple looking and effective.
3 – Virtual band
Jamstudio.com
Jamstudio is the virtual band that is always ready to accompany you.
4 – Drummachine
www.rinki.net/…
Monkey Machine is a free online drum machine for creating drum loops and providing rhythmic accompaniment for musicians.
5 – Guitar Tuner
www.gieson.com/…
Gieson interactive is a nice looking tuner to help you tune a guitar by ear.
6 – Metronome
Metronomeonline.com
Online metronome is ideal for quick and easy use while practicing music, this music tool helps with your rhythm as well as tempo selections.
7 – Famous Backingtracks
Guitarbackingtrack.com
Guitarbackingtracks contains free guitar backing tracks for popular songs as well as jam tracks. The backing tracks can be played in flash format onsite or downloaded in MP3 format.
8 – Blues Backingtracks
www.youtube.com/…
Excellent blues jam tracks on Youtube.
9 – Circle of Fifths
www.randscullard.com/…
Interactive Circle of Fifths tool showing all modes and keys.
10 – Guitar Tab Writer
www.guitartabcreator.com
Great for writing tabs and then copy/paste it in word or google docs.
11 – Online Music Notation software
www.noteflight.com
Noteflight is an online music writing application that lets you create, view, print and hear music notation with professional quality, right in your web browser. Work on a score from any computer on the Internet, share with other users, or embed into your own pages.
12 – Music database
Spofity.com
Free online music database with millions of songs.
13 – Scale Finder
www.all-guitar-chords.com
An extensive application of scales, chords and much more.
14 – Chord Player
Oolimo
Chord Generator that works brilliantly.
15 – Play along backing tracks
www.youtube.com/…
Major and minor chord jam tracks, blues and jazz backing tracks including chord progressions.
16 – Music Marketing
www.reverbnation.com
ReverbNation.com is a web site that focuses on the independent music industry. It provides a central site for musicians, producers, and venues to collaborate and communicate.
17 – Tablature and chord sheets
www.e-chords.com
E-chords is renewed. It now has a proffesional design and layout and contains a premium section with guitar lesson videos, tab editor, tutorials and more.
18 – Online music production
www.themissingtrack.com
The Missing Track works with you to make a polished recording, whether you need help arranging your song, or just lack the instruments to make it happen.
19 – Loop drummachine
www.drumbot.com
An online drum machine for those who can't find a real drummer to jam with.
20 – #1 Songwriter Blog
www.bloggingmuses.com
The main focus of the site is the creative disciplines of creating songs, with a secondary focus on Web 2.0 music marketing and evolutions in the industry as it pertains to songwriters.
21 – Motivational Lifestyle Design Guitar Blog
www.guitarhabits.com
Guitarhabits is a guitar blog full of articles related to guitar playing, songwriting, recording, performing, practicing, motivation, inspiration and lifestyle design.
If you know a great online musician tool or anything else let me know in the comments.
I appreciate it.
Regards,
Klaus Crow