May 14, 2019 by Klaus Crow
Bigstock photo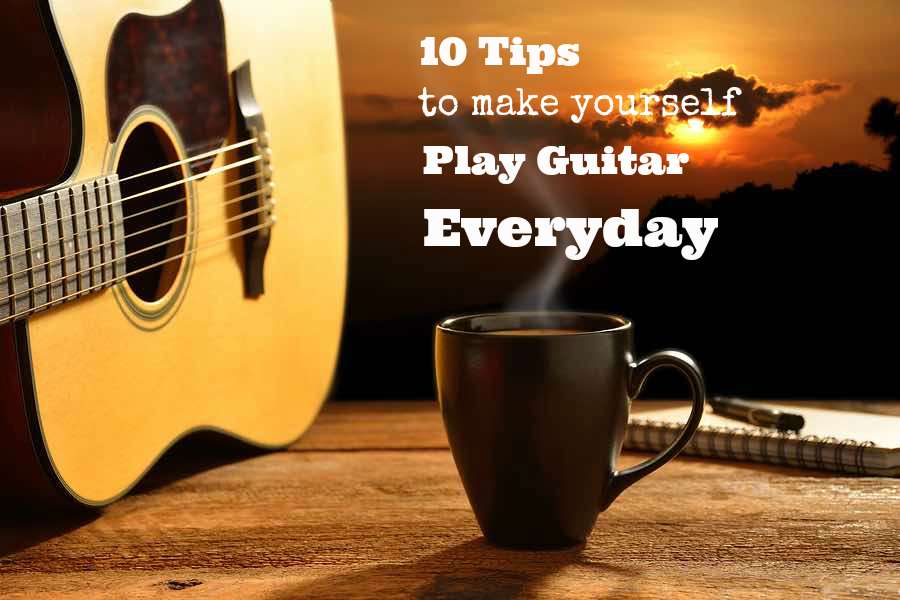 Most of us would like to play guitar everyday, but the reality is there are so many other things on our todo list we sometimes forget to practice at all.
So I tried a little experiment a few weeks ago. I took a piece of a paper and wrote down the most important scales, songs and exercises I needed to work on.
I placed the notes on the fridge, the toilet and living room walls. It now keeps reminding me of what I need to be practicing even when I'm too busy and get lost in other things.
The fact that I'm constantly reminded, triggers me to pick up my guitar several times a day and just play. That's what I need.
Along with this effective trick I use some other strategies to make sure there's nothing in my way. Read and apply them.
Here are 10 tips to get you playing everyday:
And remember The more you practice, the better you get, the more fun it will be!
1 – Unescapable reminders
Place reminders everywhere. Put reminders in your cell phone and your computer calender. Place reminders on the kitchen fridge and the toilet wall. Wherever you spend most of your time you want to put up a reminder that makes you start practicing.
2 – Keep things simple
Eliminate every obstacle that delays the immediate action of guitar practice. Make sure your guitar and equipment is already set up, so you can plug in and go. You can also practice on an acoustic. The simpler, the better.
3 – Short sessions
Tell yourself you're going to practice for just five minutes. It gets you started. Don't worry about anything else, just do it. Check out the 5 Minute Guitar Workout
4 – Clear out distractions
Turn off any electronic devices like internet, cell phones, computers, TV and radio. If there is a lot going on outside of your window that will distract you then close your curtains.
You want to focus on becoming a better guitar player. Get rid of any distractions!
5 – Find favorites
Play things you really want to play. If you're motivated it is much easier to start playing. Find two of your favorite songs, scales and exercises to practice on. Write them down so you'll will think about the good stuff before you're going to play.
Also print out your favorite songs, scales and exercise and place them on the toilet wall or somewhere in your living room. Out of sight is out of mind, In sight is in your mind.
6 – Make it fun
If you need to practice some exercises that are somewhat difficult and less motivating, think about the goal. What's in it for you on the long term? Where will it take you? Find something that makes the exercises fun and exciting. Make yourself a nice hot cappuccino.
Just practice and focus on your playing without expecting too much from yourself. With every practice session you will improve even if it doesn't seem like it. Sometimes your practice is the pre-work for the next practice session. Know that every guitar workout takes you to the next step. Light up and enjoy it no matter what.
7 – Create time
Wake up 15 minutes or 30 minutes earlier. You can play soft so you won't wake up any neighbors. You're playing guitar for practicing purposes you don't need to play for big audience. Soft is okay. Everything is allowed if it makes your start practicing.
Watch less TV and play guitar instead or play guitar while watching TV.
8 – Create space
Create a private, cosy and inspiring space in the house with plenty of natural light. A space where you can practice without distraction. Where you can just plug in and go. A space where it's quiet and where you won't be interrupted. A space where you want to be everyday to play guitar.
9 – Let go of urges
Observe your thoughts and emotions. Let go of urges to check email, Facebook or Twitter. Let go of urges to organize stuff. These are just your thoughts running around in your head trying to keep you busy every second of the day. Your mind wants you to do easier things first. Don't listen to it.
Whenever you want to play guitar it says: "Okay but first let's check if you got any messages and then play guitar" And you know what? Once you're checking things online you are lost in the space of internet and forgot about playing guitar.
Let go of these urges and start playing guitar first. Check email, social media later and other things later. The world won't end if you play guitar first, it will only get better.
10 – Accountability
Find yourself a guitar teacher or start playing in a band. This forces you to practice because the band or the teacher will make you accountable. These are great ways to keep playing everyday.
Do you know any good tips to start playing everyday?
Please share in the comments. I appreciate it.