May 15, 2019 by Klaus Crow
photo by Tiny Froglet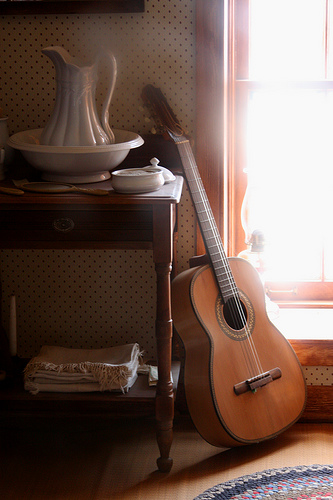 My daughter is now 20 months old and our second child is on the way. I love spending time with my daughter and I very often do, but as parents know children have a tendency to occupy all your time.
When I play guitar, my daughter wants to play guitar also. I bought her a little guitar of her own, but she wants to play on my guitar when I play it. That is just great. :) I don't mind, but my practice workouts become a little difficult this way. Therefore and for a lot of other reasons I designed the Zen Guitar Practice Workout.
Zen is more and more finding its way into the western world along with minimalism and new lifestyle designs.
A major benefit for all who are seeking a different and more effective way to self improvement and development.
Zen is also very good to apply when it comes to guitar practice.
Guitar practice is in itself a form of meditation. You need to stay focused on what you practice and not let your mind wander.
It is about concentrating on your fingers, your technique, letting go off tension, recapturing yourself, letting it happen, continually shaping and getting back to the essence of your practice.
Zen Guitar Practice is a way to combine the rules of Zen Buddhism and the rules of guitar practice into your workout.
Here are the steps to benefit:

Solitude
The best way to practice is in solitude. Tell your family when and for how long you are going to practice. Ask them to give you some privacy for the time being. Find yourself a room in the house where you can have some peace and quiet. Create your own sacred hide out where you can play your instrument, where you can practice without distractions (turn off all electronic devices) and work on becoming a better guitar player or songwriter.
Meditate
Take a few minutes to mediate and let go off all your worries and troubles.
All the things that happened during the day and all things that are still to come you can now put aside. Everything that slips into your mind just let it go. Don't worry if it comes back. Just let it go again and again. Concentrate on your breathing and feel the peace. This is the time for you to learn and enjoy, to improve and grow. When you take the time to meditate you create a bigger focus.
Prepare
Make sure you have everything in the room (picks, capo, tuner, etc) so you are ready to roll and don't have to leave for the time being. Find yourself a good solid but comfortable chair, make yourself some tea or a nice hot cappuccino (what the heck!), lay down your music sheets in front of you, place your guitar on your lap and sit down with your back straight.
Warm up
Begin with some warmup exercises to loosen up your fingers. This way you avoid any muscle injuries and it improves your playing. Take five minutes and go through some of these exercises.
Slow down
Slow is the way to go. When you practice licks, solos, chord progressions, anything at all, you first need to practice things slow. We are all eager to play fast and faster, but we also need to play fluently. Your fingers and your brain need to get used to new moves and shapes. Be patient and take your time. Concentrate on clear notes, steady rhythm, and guitar fluency. Make sure you can play things perfectly slow and then build up speed gradually.
Pause
Take a moment to breath and release the tension from the muscles in your fingers, hands, arms, shoulders and back. Let them rest for a few minutes. Go through a small relax exercise for great results: Focus on single parts of your body and relax them one by one.
Close your eyes (yes close them), focus and relax your:
– thumbs
– index fingers
– middle fingers
– ring fingers
– baby fingers
– knuckles
– left hand
– right hand
– arms
– elbows
– shoulders
– neck
– back
I know, I know… with all this meditating, warming up and pausing in between is there any time left to play? Don't worry, just take 5 minutes for each exercise and then work on your skills with everything you've got. You will be in a better condition and you will achieve more!
Self fulfilling prophecy
You design and live the life you create. Buddha said: "All that we are is the result of what we have thought." Therefore banish all negative thoughts like: "I can't do this", "This is impossible", "No way this is going to work." If those lines enter your mind you will just say to yourself: "I let you go now." Replace that crap for positive, motivational and inspiring thoughts like: "I will get there", "I'm becoming a better player with each workout", "I'm working on something cool here" and "Practice makes perfect".
Believe in the power of Zen Guitar Practice.
P.S.
If you want to find out more on Zen guitar practice I would recommend "Zen Guitar" by Philip Toshio Sudo
Feel free to leave a comment. I'd appreciate it.