May 15, 2019 by Klaus Crow
Photo by Akram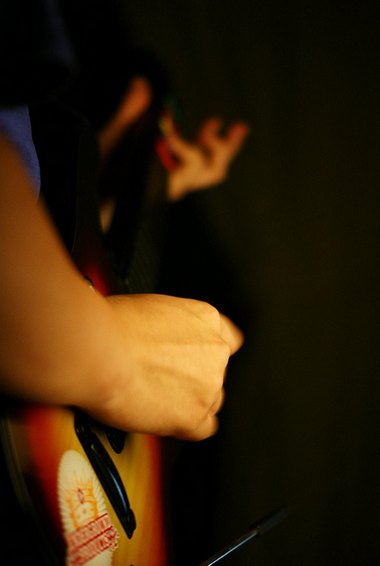 There are days when I can't get myself fired up to start practicing.
Sometimes it's because I think I'm entitled to a break for whatever ridiculous reason or because I'm feeling kind of tired and I'm also burdened with the thought that there is so much else to be done.
They're all pathetic excuses so I don't have to get off my lazy ass.
But I found a really easy way to take care of those excuses and to be honest with you it works brilliantly.
I call it "The 5 minute guitar workout"
Let's take a closer look:
When you're sitting in that comfy chair of yours or you're looking at your busy schedule your mind is already going into defense mode and you're like… "No no I have no energy left or time to play guitar for 20 or 30 minutes, let alone more than that."
The thought of such a long guitar workout can sometimes be too much of a stumbling block.
Now replace that inner dialog and tell yourself you're only going to practice for 5 minutes. No more. Just 5 minutes. That sounds easy doesn't it.
That sounds even quite reasonable.
And you know what… It's just that little push you need to get started. It's the number one most important aspect of practicing: "Getting started."
Once you've started the rest takes care of itself. And it's okay to practice for only 5 minutes but you'll probably end up playing longer than that, because once you're playing you'll get in a flow, a meditative state and you'll be enjoying the ride.
I found that it works every time, because it's only 5 minutes whatever the real outcome may be.
It's so effective that I made 5 minute workouts for everything and I spread those workouts randomly throughout the day and week.
I've become in love with my 5 minute workouts.
Here's my list:
– 5 minute scales workout
– 5 minute speed picking workout (working with a metronome)
– 5 minute soloing improvisation workout
– 5 minute playing, memorizing and enjoying songs workout
– 5 minute music theory workout
– 5 minute transcribing songs for my students workout
I also have other 5 minute workouts that have nothing to do with guitar playing whatsoever, but anyway here you are:
– 5 minute meditation workout
– 5 minute running workout
– 5 minute reading workout
Thanks for your 5 minutes. I appreciate it.
Klaus Crow