April 5, 2021 by Klaus Crow
Bigstock photo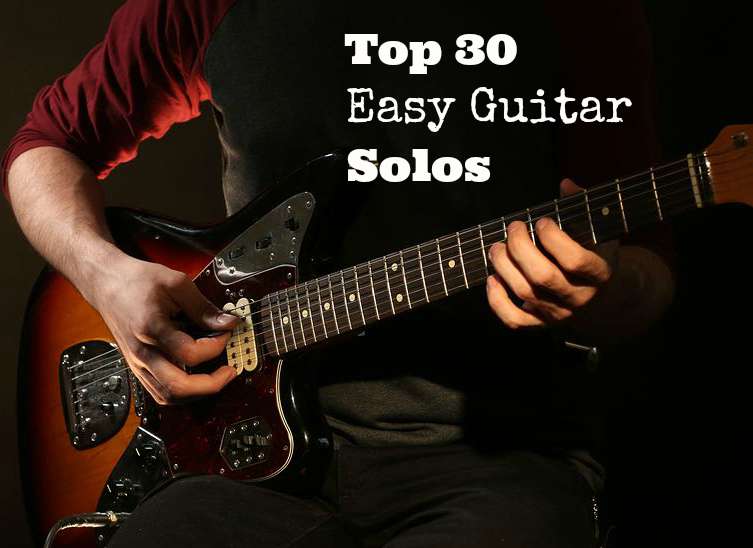 Do you know any easy guitar solos?
It's one of the most asked questions I get from guitar players who are just starting out playing solo guitar. And I get that.
The most solos you hear in songs are not exactly beginner solos. They are often intermediate or advanced guitar solos.
For the beginner lead guitar player it almost feels like every solo is out of reach and that can be discouraging. How do other guitar players go about this?
Well almost every guitar player starts off with an easy guitar solo. Those who don't are up for a major challenge and often left disappointed. You've got to work your way up one solo at a time.
My first solo was Wonderful tonight by Eric Clapton. Beautiful, short and fairly easy.
Once you practiced a couple of solos and you get the hang of the basic techniques like pull-offs, hammer-ons, slides and bend-ups it get's easier and more fun. Then you also want to work on scales, dexterity and speed which you will achieve with regular practice and specific exercises.
But first thing first, let's start off with choosing one easy guitar solo and have loads of fun with.
You can click the song title and listen to the song and solo on Youtube or click Tab to find the tablature for the song.
Note: As an Amazon associate I earn from qualifying purchases via amazon links.
Enjoy!
1 – Wonderful tonight – Eric Clapton Tabs
2 – High and dry – Radiohead Tabs
3 – Smells like teen spirit – Nirvana Tabs
4 – Let it be – The Beatles Tabs – More TABS on Amazon
5 – Californication – RHCP Tabs

6 – Wish you were here – intro solo – Pink Floyd Tabs
7 – Dance the night away – The Mavericks Tabs
8 – Champagne supernova – Oasis Tabs
9 – Black magic woman – Santana Tabs
10 – I wanna be sedated – The Ramones Tabs
11 – Holiday – Greenday Tabs
12 – Easy – Faith no more Tabs
13 – About a girl – Nirvana Tabs
14 – Angels – Robbie Williams Tabs
15 – Everything I do – Bryan Adams Tabs
16 – Otherside – RHCP Tabs
17 – Zombie – The Cranberries Tabs
18 – When I come around – Greenday Tabs
19 – Luther played the boogie – Johnny Cash Tabs
20 – What's up – For Non Blondes Tabs
21 – This is the life – Amy McDonald Tabs
22 – The one I love – REM Tabs
23 – '74 '75 – The Connels Tabs
24 – Deep blue something – Breakfast at Tiffany's Tabs
25 – Come as you are – Nirvana Tabs
26 – Hey Joe – Jimi Hendrix Tabs – More TABS on Amazon
27 – Come together – The Beatles Tabs
28 – Can't stop – RHCP Tabs
29 – Cinnamon girl – Neil Young Tabs
30 – Boulevard of broken dreams – Greenday Tabs
Do you know any easy guitar solos?
Please share in the comments.