April 2, 2020 by Klaus Crow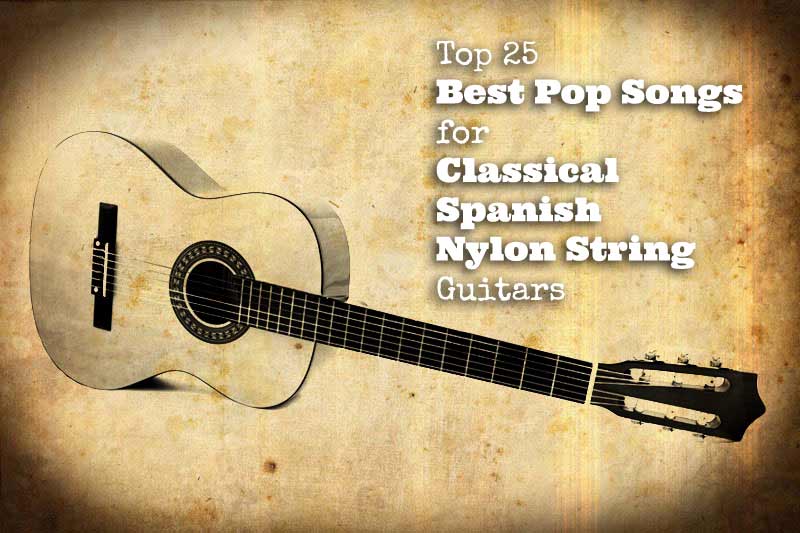 Yes! Today we have a great list of pop songs specifically written for the nylon string guitar, classical guitar and Spanish guitar.
While you can also play these songs on an acoustic guitar, (and vice versa), they just sound profoundly better when you play them on a nylon string guitar. The classical, Spanish and nylon string guitars provide that warm and mellow sound that make these songs really come alive, and give them that special touch and feel.
In classical and flamenco music nylon strings are a prerequisite, but in pop music steel string is more common, so I thought it would be a good idea to put these songs in the spotlight and give them the attention they deserve.
Each song title in the list below contains a Youtube link to the original song. The "Chords" or "TABS" link will take you to the chords, tabs and lyrics and the "More Chords/TABS" link will show you the official transcribed TABS & Chords for more songs from the same artist.
Note: As an Amazon Associate I earn from qualifying purchases.
Enjoy and have an amazing one!
1 – Tears in heaven – Eric Clapton – TABS – More Chords/TABS
2 – Fragile – Sting – TABS – More Chords/TABS
3 – 93 million miles – Jason Mraz – Chords – More Chords/TABS
4 – Is there anybody out there – Pink Floyd – TABS – More Chords/TABS
5 – Spanish guitar – The Doors – TABS – More Chords/TABS
6 – Jolene – Dolly Parton – Chords – More Chords/TABS
7 – Have you ever loved a woman – Bryan Adams & Paco de Lucia – TABS – More Chords/TABS
8 – Heartbeats – José Gonzales – TABS
9 – Belle – Jack Johnson – TABS – More Chords/TABS
10 – Keep Your Head Up – Ben Howard – TABS
11 – Private Investigations – Dire Straits – TABS – More Chords/TABS
12 – Shape of my heart – Sting – Chords – More Chords/TABS
13 – Bamboleo – Gispy kings – Chords
14 – The Entertainer – Chet Atkins – TABS – More Chords/TABS
15 – Classical Gas – Mason Williams – TABS – More Chords/TABS
16 – Suzanne – Leonard Cohen – Chords – More Chords/TABS
17 – Big Love – Fleetwoodmac – TABS – More Chords/TABS
18 – Meditaranean sundance – Al di Meola & Paco de Lucia – TABS – More Chords/TABS
19 – Beautiful people – Melanie – Chords – More Chords/TABS
20 – Hotel California – The Eagles – "Hell Freezes over" – TABS – More Chords/TABS
21 – The blood – The Cure – TABS – More Chords/TABS
22 – Nine Million Bicycles – Katie Melua – Chords – More Chords/TABS
23 – 7 days – Craig David – TABS
24 – Silent Lucidity – Queensryche – TABS – More Chords/TABS
25 – I'll always be right there – Bryan Adams – TABS – More Chords/TABS
If you're a beginner or intermediate player and really want to
learn to play guitar or expand your skills? Check out: GUITARTRICKS