March 28, 2021 by Klaus Crow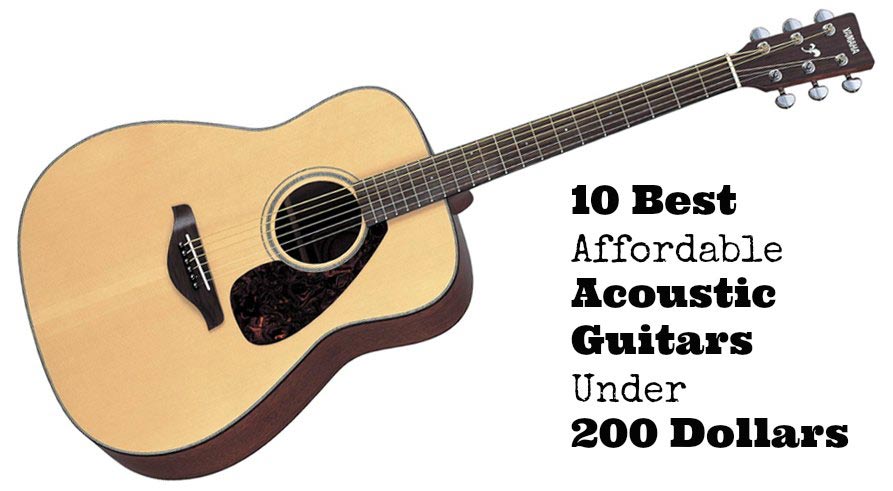 If you're a beginner guitar player looking for a good entry-level guitar or you are an intermediate / advanced player on the hunt for a low-cost guitar to bring along on a camping trip or you just want a lovely second guitar for pure pleasure, you should definitely check out this post.
Today we've got a list of 10 decent and really nice acoustic low budget guitars under 200 dollars for 2021.
To be fair, you can't expect the sound and quality of a 1000 dollar guitar, but these guitars are ideal for everyone who's starting out learning to play guitar and wants good value for their money.
A selection of guitars ranging from 60 up to 200 dollars, depending on your budget and personal preferences, there is something here for every musician.
In this price range, these guitars are absolutely the best bang for your buck.
Note: As an Amazon Associate I earn from qualifying purchases.
Enjoy!
1 – Jasmine S35 Dreadnought Acoustic Guitar


Jasmin guitars are a more affordable range from the well-known Takamine brand. It's one of the most affordable and still decent guitars you can get. The Jasmine-S35 has a dreadnought body shape with a select spruce top and nato back and sides. Nato is often referred to as "eastern mahogany" and has similar properties to mahogany. The overall guitar has a nice clear sound and great for the beginner guitar player.
Top: Select Spruce
Back and sides: Laminated Nato.
Fretboard Material: Rosewood
Bracing: Jasmine Advanced X Bracing
Neck: Nato
Bridge: Rosewood
Tuners: Chrome Covered
Body finish: Satin
More info, Prices and Reviews for the Jasmin S35

2 – Yamaha FG700S Solid Top Dreadnought Acoustic Guitar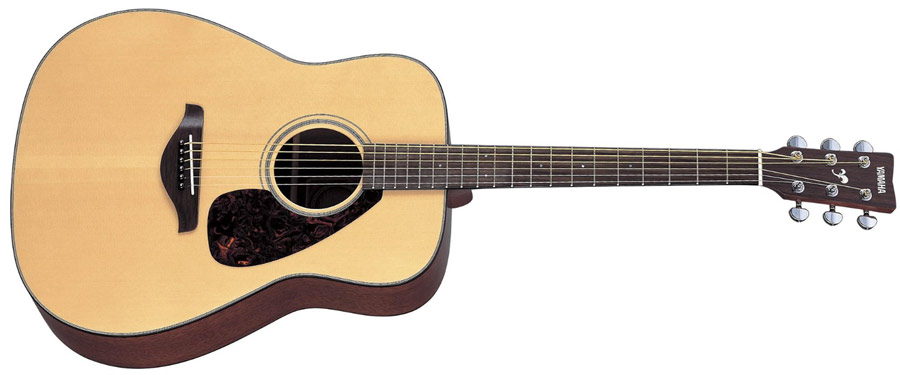 The Yamaha FG700S is a very popular beginner guitar, it's because it's a very good guitar for a low budget instrument. It has a solid spruce top unlike many other guitars in this price range and it has nato back and sides as well as the neck. This guitar sounds really great, it has a warm and full sound and can easily match up with guitars that cost twice as much. Definitely a great choice!
Top: Solid Sitka Spruce
Back and sides: Nato
Fretboard Material: Rosewood
Bracing: X Bracing
Neck: Nato
Bridge: Rosewood
Tuners: Diecast Chrome
Finish: High-gloss natural finish
More info, Prices and Reviews for the Yamaha FG700S
3 – Fender FA-100 Dreadnought Acoustic Guitar – Natural


Although Fender is famous for it's electric guitars, they also make good low budget acoustic guitars. The Fender FA-100 has a laminated spruce top and basswood back and sides. A nice, simple and direct sounding guitar. Perfect for entry level, to pull out at a campfire, a party and to use on road trips.
Top: Laminated Spruce
Back and sides: Basswood
Fretboard Material: Rosewood
Bracing: X Bracing
Neck: Maple
Tuners: Die-Cast
Finish: Gloss Polyurethane
More info, Prices and Reviews for the Fender FA-100
4 – Epiphone DR-100 Acoustic Guitar, Natural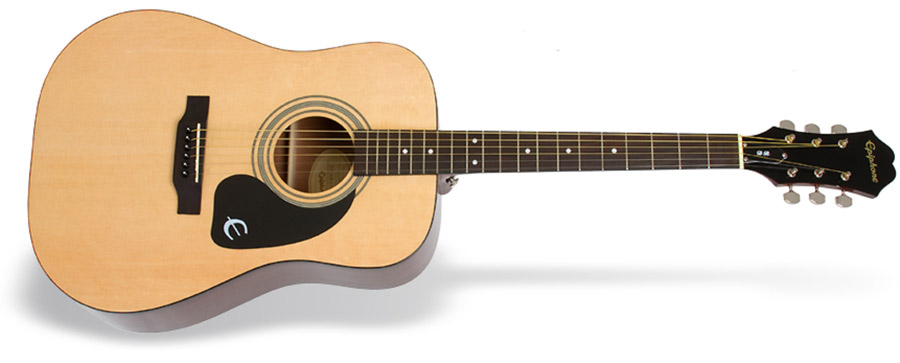 The DR-100 has long been Epiphone's best selling acoustic guitar. It has a select spruce top and mahogany back and sides and gives the guitar a nice warm and bright tone. The guitar is available in natural, ebony, and vintage sunburst finish. The black pickguard has the iconic "Epiphone" E sticker, but if you're not a fan, it's easy to peel off. A really nice beginner guitar for the price and hard to beat.
Top: Select spruce
Back and sides: Mahogany
Fretboard Material: Rosewood
Neck: Mahogany, glued
Tuners: Die-cast premium
Features: 2 strap buttons
More info, Prices and Reviews for the Epiphone DR-100
5 – Rogue RA-090 Dreadnought Acoustic Guitar Black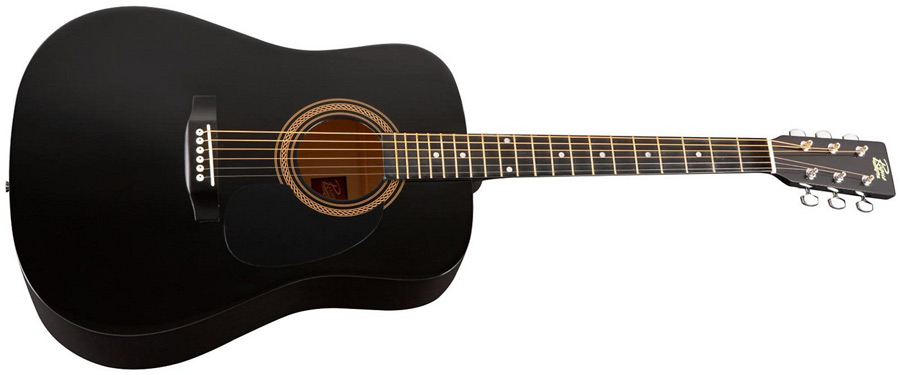 The Rogue RA-090 is a dreadnought guitar that is designed for the absolute beginner, the young musician and anyone with a really tight budget. It's the most affordable guitar in this list and still a proper playable instrument. The top and body are made of laminate whitewood which brings out a great deal of mid-range. This is as affordable you can get and still have a guitar that sounds good for this kind of price.
Top: Laminate whitewood
Back and sides: Laminate whitewood
Fretboard Material: Maple
Neck: Nato
Tuners: covered tuners
More info, Prices and Reviews for the Rogue RA-090
6 – Fender CD-140S Acoustic Guitar


The Fender CD-140S is an all mahogany dreadnought guitar with a solid mahogany top, scalloped X bracing and a rosewood fretboard and bridge. The guitar has a sweet rich mellow tone. It also includes a multiple black/white body binding with a tortoiseshell pick guard and a really nice mother-of-pearl rosette design. Beautiful and really nice sounding as well.
Top: Solid Mahogany
Back and sides: Laminated Mahogany
Fretboard Material: Rosewood
Bracing: Scalloped X
Neck: Mahogany
Tuners: Chrome Die-Cast
Finish: Gloss Polyurethane
More info, Prices and Reviews for the Fender CD-140S
7 – Ibanez IJV50 Acoustic Guitar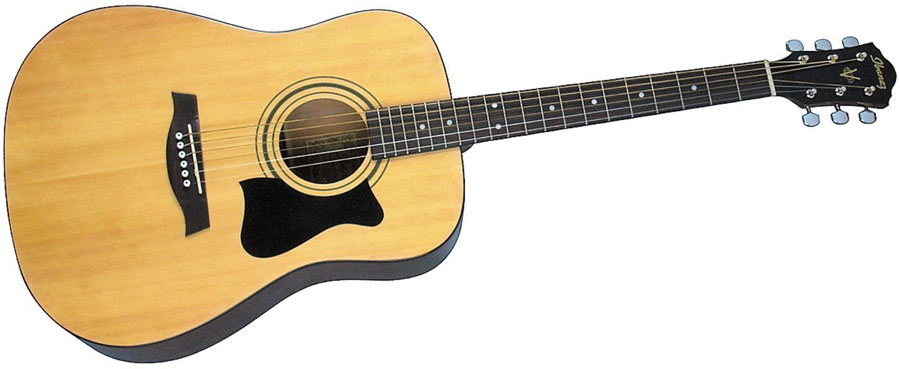 The Ibanez IJV50 has a laminate spruce top and agatha back and sides. The guitar is presented as an Acoustic Guitar Jam Pack which includes a gig bag, chromatic clip-on tuner, guitar strap, accessory pouch and picks. A perfect solution for the beginner who is in search of a complete package.
Top: Laminate Spruce
Back and sides: Agathis
Fretboard Material: Rosewood
Neck: Mahogany
Tuners: Chrome tuners
More info, Prices and Reviews for the Ibanez IJV50
8 – Washburn WD100DL Dreadnought Mahogany Acoustic Guitar Natural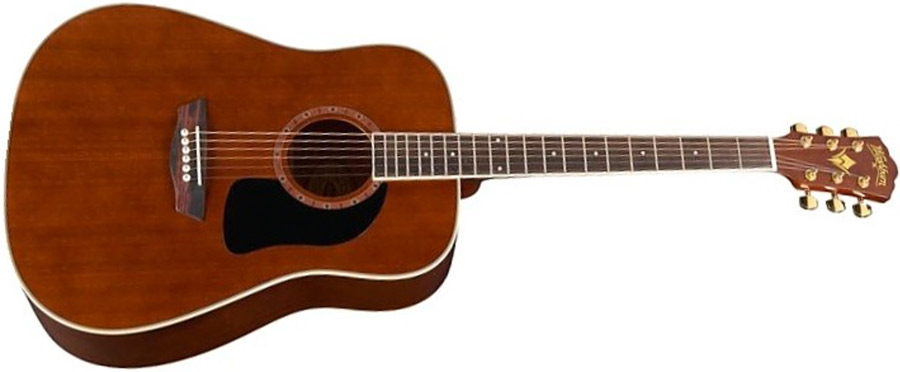 The Washburn WD100Dl is a dreadnought acoustic with mahogany top, back and sides. The neck is also mahogany and features a dovetail joint. The fretboard and bridge is made of rosewood. The guitar has a warm rich and full tone. If you love the mahogany sound and color you should definitely check out the WD100DL.
Top: Laminate Mahogany
Back and sides: Laminate Mahogany
Fretboard Material: Rosewood
Neck: Mahogany
Tuners: Die-cast tuners
Finish: Gloss
More info, Prices and Reviews for the Washburn WD100DL
9 – Mitchell MD100 Dreadnought Acoustic Guitar Natural


Mitchell Guitars have produced quality acoustic guitars since 1986 for players of all levels. The Mitchell MD100 is a full-sized dreadnought. It has a spruce top and mahogany back and sides which produces a rich low end, but also good mids and highs. In other words, an overall balanced tone across the frequency range. The MD100 is a very well built and fine sounding guitar. Excellent for the entry level player and for a decent price.
Top: Laminate Spruce
Back and sides: Laminate Mahogany
Fretboard Material: Rosewood
Bridge: Rosewood
Neck: Mahogany
Tuners: Die-cast chrome tuners
Finish: Natural Gloss
More info, Prices and Reviews for the Mitchell MD100
10 – LAG T66D Dreadnought Acoustic Guitar


Lâg Guitars founded by Luthier Michel Lâg is a French music company in the south of France. After 30 years of building top-notch French guitars Lâg has added a new range of guitars with great quality but much more affordable. The Lâg T66D is part of this affordable line of guitars. The T66D has a spruce top and mahogany back and sides. The guitar is real easy to play due to the slim neck and the french satin finish. The tone is nice warm, rich and sounds really good. This guitar is real pleasant surprise. It's a good quality and still affordable beginner guitar.
Top: Sitka spruce
Back and sides: Gaboon Mahogany
Fretboard Material: Rosewood
Bridge: Rosewood
Neck: Gaboon Mahogany
Tuners: Die-cast satin black
Finish: High Gloss
More info, Prices and Reviews for the LAG T66D