June 30, 2022 by Klaus Crow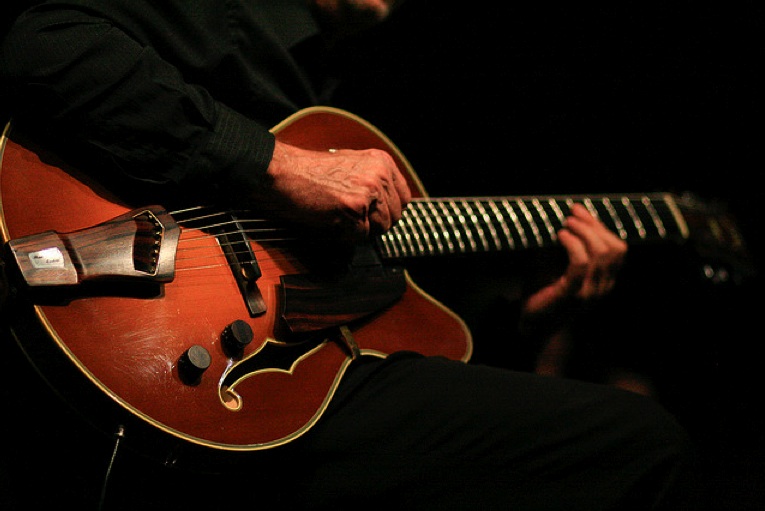 I just love figuring out different ways to play a jazz chord progression or just mixing up jazz chords with other styles of music.
It can add nice flavors to a song and give it some extra magic. It's really fun to experiment with that.
Learning jazz expands your guitar vocabulary to a whole new level if you are ready for it.
In the meantime it's just fun to play some beautiful jazz chord progressions and it will certainly contribute to your playing skills and creativity as well.
There are also more advanced II-V-I's than the ones I show here but these are really nice to start out with and get your feet in the dirt. It can be a little bit overwhelming if you learn to play jazz chords and progressions for the first time, but after a few runs you'll get the hang of it. You'll be amazed!
The II-V-I is one of the most used chord progressions in jazz standards, so it is an important progression for jazz players to learn. The II-V-I are roman numerals for 2-5-1 and so the chords are built of the second, fifth and first degree of the major scale. The II is from the minor chord family, the V is from the dominant 7 chord family and the I is from the major chord family.
Check out these 5 beauties and memorize each one by heart.
Don't forget to take a break if you need it. A nice cappuccino will do the job.
For an explanation of how the read the chords below check out 10 Ways to Play the Most Beautiful Open Chord Shapes
Enjoy and have fun!
2-5-1 Jazz Chord Progression #1
/ Em9 / A13 / Dmaj9 / Dmaj9 /
Em9 = x7577x
A13 = 5x567x
Dmaj9 = x5465x
2-5-1 Jazz Chord Progression #2
/ Am7 / D7#9 / G6 / G6 /
Am7 = 5×5555
D7#9 = x5456x
G6 = 3x243x
2-5-1 Jazz Chord Progression #3
/ Bm9 / E13 / Amaj7 / Amaj7 /
Bm9 = 7×7779
E13 = x7x799
Amaj7 = 5x665x
2-5-1 Jazz Chord Progression #4
Cappuccino or tea break with some nice biscuits!
/ Em9 / A7#5 / Dmaj9 / Dmaj9 /
Em9 = xx5432
A7#5 = 5x566x
Dmaj9 = x5765x
2-5-1 Jazz Chord Progression #5
/ Am11 / D7b9 / Gmaj13 / Gmaj13 /
Am11 = 5x553x
D7b9 = x5454x
Gmaj13 = 3x445x
If you liked these jazz chords check out these two links if you're interested in
a good jazz guitar chord introduction
for the beginner jazz guitarist.
or a complete jazz guitar chord bible
that will open your mind with new sounds and smooth transitions.