June 24, 2022 by Klaus Crow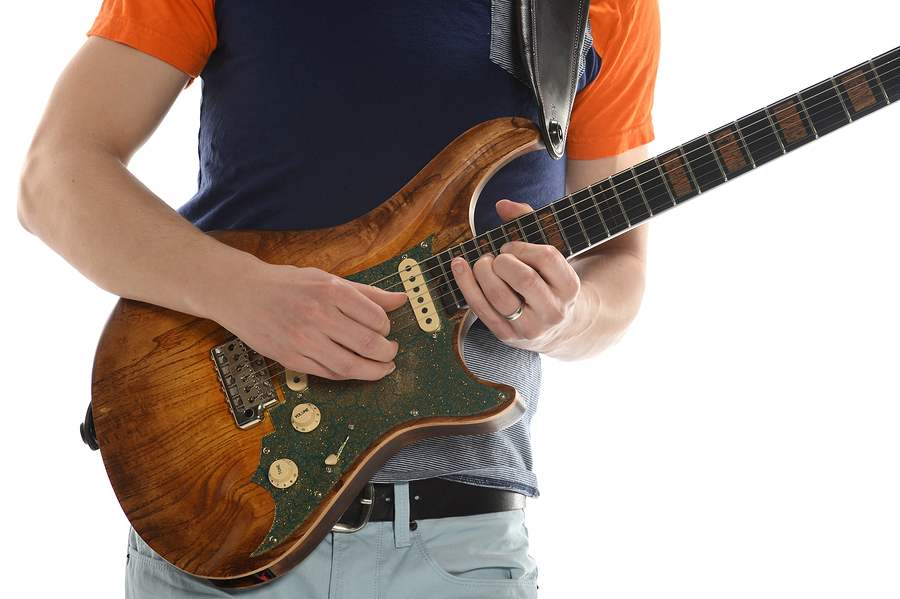 "In order to play fast you need to play slow." A saying that holds the keys to the Lamborghini, but has been quoted so many times by teachers and guitar heros that it almost seems it has lost its significance.
A lot of guitar players feel like it's a myth, some are not familiar with the saying and others easily ignore it.
They can hardly believe that it's true or don't think it's that important. But let me tell you, it is! It is that important.
How to Play Fast
I've been there and I've wasted my share of time. So memorize this phrase "In order to play fast you need to play slow." and apply it to every guitar workout. It will make all the difference in the world.
So why do you want to play fast in the first place? Maybe you just don't like the speed-ass shredders and monster lick killers that are racing the fretboard with 250 miles an hour. Well you don't have to! Because learning to play fast is not just about speed soloing, it's about developing dexterity.
Once you've increased your level of speed and learned to play faster your fingers will move a lot more smoothly across the fretboard. It's almost seems like your fingers have gotten little wings. And that's great for everything you play. No matter if you're into blues, jazz, classical, country or metal.
Playing slow will not only help you develop dexterity, but also to play correctly, clean and clear as you become faster. Playing guitar will become effortlessly.
Let's take a closer look:
Patience
First, why is it so damn hard to play slow? It's because we all want to hear and see results as fast as we can. We want to be able to play things at original speed, so we start running. Expect your focus should not be on how to get there fast, but how it sounds along the way. You need to pay attention to every note and how it sounds to your ears or your playing will end up sounding horrendous.
If you learn to play slow, clean, clear and accurately first your subconscious will store that information and keep it up once you feel comfortable with the tempo and gradually increase your speed. This way your notes will still sound good and your playing will remain in good shape when you're ready to fire things up.
Observe
While you're practicing slow you need to become aware of your technique. Are you holding your pick right? Do you have good posture and positioning of your fingers? Is there anything that holds you back from playing faster? Are there any errors in your technique? Try to analyze and identify your errors. Why is it that you're making the same mistakes over and over again.
Look closely and consciously at your fingers and try to figure out what is going on. Correct the positioning of your fingers or how you hold your pick, avoid too much tension in your fingers, wrists, hands, arms and shoulders. Try to relax your muscles to certain degree. Experiment to improve.
Now here's the most important lesson I want you to remember: Pay attention to your playing at all times. Don't let your mind wander while your practicing. You can practice all the hours of the day and still not make progress if you don't pay attention to your technique. Focus, pay attention and observe every move, every second!
Listen
Part of observing is listening to your playing. Do you listen to every note you're playing? Are you sure all the notes sound clear, clean and accurately? Do you hear any buzzes, hums or other obnoxious noises that aren't supposed to be there? Check your playing and try to avoid or eliminate them.
Do your notes need to sound legato or staccato? Do they have the right tone? Does your playing sound fluid and smooth? Do the notes sound like you want them to? Listen to soloing and technique of great guitar players and try to duplicate the way they sound so good. Listen closely to the accuracy and fluidness of their playing. Study, copy and learn from it.
Practice
Finally, it's all about regular and solid practice. Yes, there will be improvements and setbacks. Two steps forward and one step back. Don't let it get to you, it's part of the process. You're dealing with muscles here. They need rest and recovery. And your unconscious needs time to let things sink in to be able to automate whatever you have programmed it to do. So program it well.
Practice daily with patience, observation, attention and enjoyment!