May 15, 2019 by Klaus Crow
photo by pedrosimoes7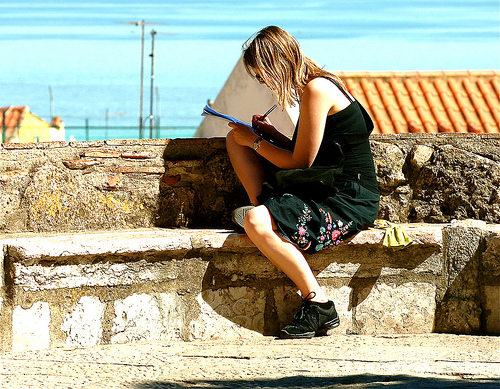 Song writing is an evolving process. I learned that with every song I write there is improvement.
It is just a matter of writing and playing, writing and playing and so on. You learn while you practice doing what you love most.
Like everything else in life it is all about enjoying the path you walk on and not so about arriving at a certain destination.
The destination must not be your main goal. Don't focus on success, focus on a beautiful song.
The success you achieve or the happiness you experience from arriving at your destination isn't lasting, the path is. So make sure you have fun and create a passion for writing while doing it.
It is important to live life, listen and read a lot. Be aware of what you experience and take notice of the things around you. Figure out what is still lacking in your writing and where you can improve.
There is always room for improvement and that is the beauty of it. Then again don't aim for perfection, but aim for completion. Better an imperfect song finished that a perfect song unfinished.
If you are already familiar with the basics of how to write a song then here are 12 keys to improve your skills to write better songs:
1 – Auto or Semi Autobiographical
Write authentically about your personal life or partly and in secret by telling your story via another person in the song. Write about your emotions, your experiences or your future. Write about the little things that matter most.
Write about what you want and don't want or the change you want to see in the world. Write about what bothers you, what you love, what you preach, what you foresee, what you fear or hope. Write a solution to a problem, a state of mind or a different point of view.
2 – Use metaphors
Compare the situation in your song to a nice metaphor. Use words or phrases to say one thing to mean another.
3 – Create an image
Write the song in a way so the listener can visualize where the person is staying, what he is doing, where is he going, how does he feel, what is happening around him, what does the place look like, is it a nice or dark place, is it hot or cold, is it quiet or loud. Make the listener feel connected to the story. Make it their story.
4 – Create your own style
Be creative with the way you use words and phrases. Don't think to much in boundaries, what you can or can't do or how you should write a certain way. It doesn't always have to rhyme either as long as it makes sense and feels good. Go your own way. Use your artistic freedom. Freedom of expression.
5 – Try to avoid cliches
Sometimes it is difficult because there is almost a cliche hidden in every sentence you use. But if possible keep away from things like: I'd die for you, till the end of time, always and forever, It's gonna be alright, all night long, etc, etc. I don't say it's wrong to use them, it's not, but they are cliches. If you can't think of any other way to put something in words, be my guest.
6 – Make it understandable
Make sure people can relate to it. Don't make the story too difficult for people to grab their attention. Don't lose your crowd. It's okay to assume that your listeners are smart but don't put them in a labyrinth where they can't get out of.
7 – Write what you like
Write music you would like to hear yourself. If you don't like your own song don't expect somebody else will. Write something you love. Make sure you are passionate about your melody and lyrics.
8 – Write on a regular or daily basis
Practice makes perfect. The more you write, the better you'll get at it.
Here is a great post from copyblogger to describe how to become a better writer.
9 – Rewrite
After you finished your song, rewrite and polish it. Search for holes in the story, incomplete phrases, things that don't match or really work out as well as you expected in the first place. Improve where necessary, but don't aim for perfection. Be cool.
10 – Read
Read: fiction and non-fiction, songwriting books, newspapers, blogs and magazines.
Reading inspires. It gives you a place to start from or it can create ideas for you. You can build from someone else's story and then go your own way.
11 – Check your spelling and grammar
Spelling is easy to check via a spell checker, but a grammar checker is unfortunately not flawless.
To improve your grammar, check out Dailygrammar.com
12 – Study the works of brilliant songwriters:
– Bob Dylan
– Paul Mc.Cartney and John Lennon
– Tom Waits
– Bruce Springsteen
– Paul Simon
– Sting
– Stevie Wonder
– Mick Jagger & Keith Richards
– Joni Mitchell
– Billy Joel
– James Taylor
– Leonard Cohen
– John Hiatt
– Brian Wilson
– Cat Stevens
– John Denver
– Don McClean
– Janis Ian
– Woodie Guthrie
– Hank Williams
– Ray La Montagne
– Thom Yorke
– Van Morrison
– Bono
– Don Henley & Glenn Fry
– Eddie Vedder
– Eric Clapton
– Damien Rice
– Neil Young
Leave a comment anytime. I always read them.