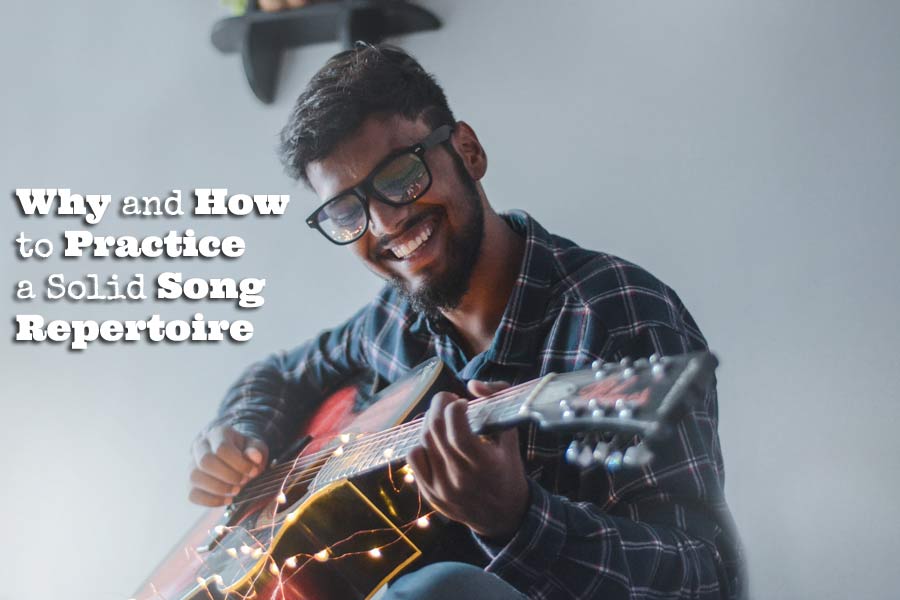 As a student of the guitar you play and practice songs for enjoyment and to improve your skills to become a better guitar player.
After a period of time of regular and serious practice you can probably play a couple of songs. If you're lucky you can play a few songs from the top of your head but with most songs you probably need music sheets, chords or tabs to help you out. And even then you might need to look into some of the parts of the song again to refresh your memory before you can play it from beginning to end.
This is what distinguishes the amateur from the professional. An amateur can play a couple of songs (sort of) and a professional can play a solid repertoire of songs with total conviction.
What you want is to start practicing like a pro. Create the habits of a pro and a repertoire is becoming part of your skill set.
So why do you want to build and play a repertoire of songs?
Having a repertoire is an amazing asset and a profound goal for any guitar player.
Working on a repertoire will build your confidence as a guitar player and a human being.
You will work towards becoming an accomplished guitar player and musician.
You will practice and build skills like a real pro.
You'll be able to play songs instantly from the top of your head, so whenever friends, family or anyone else asks you to play something, you are ready to rock.
You are working towards becoming not just a better guitar player but also a musician and performer.
You will be able to play with other musicians more easily.
You'll be ready to perform with great confidence before any audience anywhere and anytime.
You will face your fears and crush them head on!
Being able to play songs from the top of your head will give a feeling of freedom, flexibility and independence.
Having a repertoire is a great musical accomplishment and continues journey that will set the path for a lot of new discoveries, possibilities and opportunities for you as a musician.
How to practice a song repertoire Continue Reading