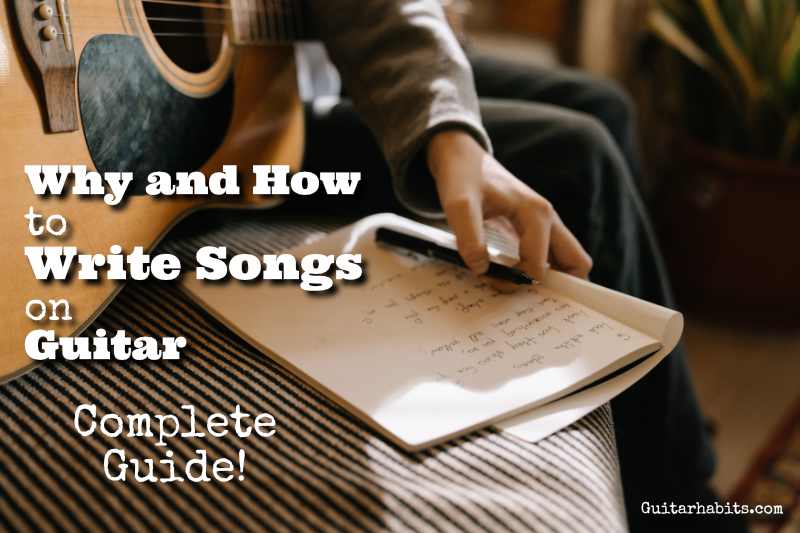 Why would you want to write a song?
Songwriting is both an art and a craft where you can express your musical creativity, your heart and soul into the ultimate form of a song.
It's a great learning process for guitar players and all musicians. You'll discover music on so many new levels and learn to think differently on how to approach your instrument. When you write your own songs you will also learn to transcribe songs faster, and understand and play music in a more proficient way.
I've got a lot of guitar students who started writing their own songs and many of them were surprised with how much they enjoyed it and found they could actually write a song. Try it and you might find yourself on a new path you never expected. There is only something to win here.
How to write a song
There are many ways to approach songwriting. You can write a personal story and sing about the struggles and challenges you go through in life. The side effect is highly therapeutic. Many artists do this.
You can also write in a narrative style and bring your own concepts and characters to life through your lyrics. Think about the message you want to get across.
To learn a certain style of songwriting study the professionals. Listen and read the lyrics of your favorite artists, learn how they approach their song writing and convey their stories. Watch interviews on Youtube on their songwriting process. The same goes for the use of chords, chord progressions, melody, rhythm playing, and other musical arrangements. Study, analyze, hear and feel them.
Song Structure
For writing a song you can use different components like an intro, verse, chorus, bridge, instrumental solo and outro. These components or sections are then repeated in some way. The most common forms are:
ABAB : Verse – Chorus – Verse – Chorus
AABA: Verse – Verse – Chorus – Verse
ABABCB: Verse – Chorus – Verse – Chorus – Bridge – Chorus
Around these sections you can create an intro, a guitar solo or an outro.
Tip: Listen to your favorite song writers and figure out what song structure they use and which ones you prefer.
Continue Reading