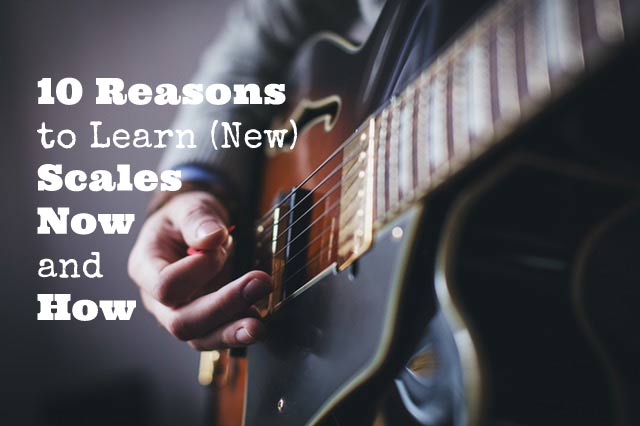 Most beginner and even some intermediate guitar players try to avoid scales. They don't see the use of it. A scale doesn't sound cool. It can be tough and boring to practice.
But once you know the truth and potential behind scales a whole new world of possibilities will open up for you. The truth is "Scales is Everything!" If you practice and study the scales regularly, you will soon reap the benefits of this immense musical working tool that has the answer to all your musical questions and controls everything you play, whether you like it or not. ;)
So let's take a look at the 10 reasons to learn scales Now and How.
LEARN NEW SCALES TO:
1 – Analyse chords.
Knowing scales means you have the ability to analyse and figure out chords and chord structure. You will understand from what notes a chord is made up, why it is played and named a certain way, and why it sounds the way it does. The chord theory gives you the knowledge to calculate and analyse every single chord that is put in front of you. Knowing and understanding scales and chord theory will make everything easier to grasp. You will learn to see the bigger picture.
2 – Create chord progressions
In the same way, scales give you the notes and formulas to build your own chord progressions. You will find the chords that match and sound good together and create beautiful sounding chord progressions. You will learn the relationship between chords and scales and how they interact. So, if a lead guitar player asks you to play a chord progression in the key of G to provide a jam track for him/her to solo over, you can feel confident to do that.
Continue Reading